Khayelitsha residents occupy children's playgrounds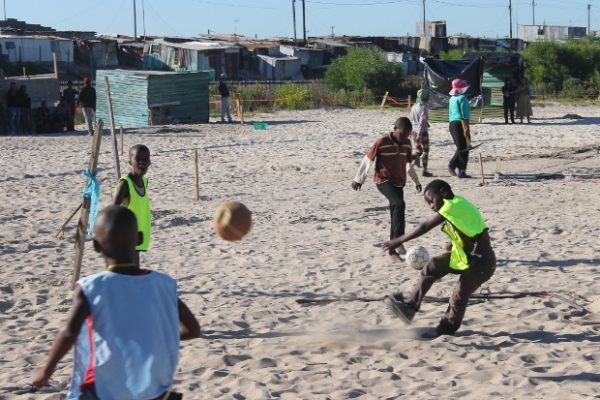 Anger and frustration was written on the faces of All Stars football players when a group of TR Informal Settlement residents allegedly led by Economic Freedom Fighters took over their playgrounds on Tuesday morning.
A group of about 11 young boys, who make up the All Stars team, tried to defend their fields by playing soccer while the occupiers began building shacks. After about ten minutes the occupiers chased the children away and told them to find another place to play.
"All we want is to have at least one playground. They closed three already," says a frustrated ten-year-old Athule Dlakana. He tells GroundUp that they fixed the playground four years ago.
"No one helped us. We cleaned this area by ourselves. These people don't care about our future. All they care about is to build shacks. This is very frustrating. All we want is to have at least one playground," he says.
Another young player Luvuyo Tatobana (13) says, "We are trying to defend this one but as you can see they are pushing us away. They don't want us to play here any more. They already put up three shacks. Next thing they will be telling us [we're breaking their] windows, [and] shouting at us. I'm so angry right now I don't want to speak about this. All we want is our playgrounds."
The boys say they use the playgrounds for gym before they play league on weekends.
"How are we going to win a league if we go there unfit? I just wish these people can see a bigger picture here. This is our future they are destroying," says Asive Mngqibisa (9), who says he would like to play for Orlando Pirates one day.
Their coach Zamikhaya Mkhambi says he's not coping at all. "I'm angry and frustrated. I thought at least residents will respect the soccer grounds and build shacks somewhere else. Already they occupied three playgrounds, now the boys are defending this one and some residents are insisting on building here by force. The boys can make noise but if elder people are not willing to listen there's nothing we can do."
Mkhambi says he reported the matter to the EFF leaders who were part of the occupation and they promised to assist him, but he doesn't think they will be able to stop residents.
"My boys are really hurt with this action. Some are sitting here doing nothing," he adds. Mkhambi says if they managed to defend at least one field that will mean six soccer teams will be sharing one play ground.
"This will cause conflict among us but what can we do if residents are not supporting sport?" he asks.
But one of the occupying residents who identified herself as Thando says, "What is important is to have a roof over their head."
"We understand that they play soccer but what can we do? We also need houses. Where are they going to sleep after gym?" asks Thando.
EFF member Menzi Manyonga says they tried to stop residents from invading playgrounds and for now they seem to have listened.
He says he spoke with Mkhambi and they agreed that they will save at least one playground.
"We will never ask residents to invade the playgrounds" he says.
City Mayoral Committee Member for Safety and Security Alderman JP Smith, says the land EFF is invading is privately owned.
"What I can say about this is that EFF is just trying to be relevant. We had the same problem with Seskhona who led the invasion in Marikana and Siqalo informal settlements. This is just a publicity stunt and the City is not going to allow that, and they are now closing children's soccer playgrounds," he says.
Dodgy people are suing us. Please support us by contributing to our legal costs and helping us to publish news that matters.
© 2016 GroundUp.
This article is licensed under a
Creative Commons Attribution-NoDerivatives 4.0 International License
.