Israel's harsh logic in the Occupied Palestinian Territories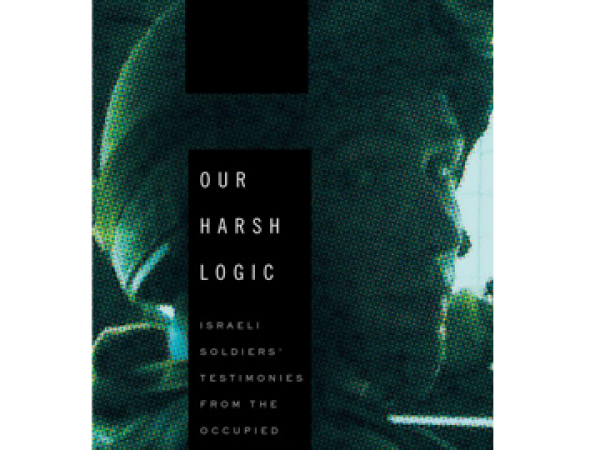 On Monday 19 August 2013, Open Shuhada Street hosted a talk with Yehuda Shaul from Breaking the Silence about their latest book — Our Harsh Logic: Israeli Soldiers' Testimonies from the Occupied Territories: 2000 – 2010.
The book covers Israeli soldiers' testimonies about their experiences in the Occupied Palestinian Territories (OPT), particularly regarding human rights abuses. About 100 people attended the event, some via live stream, from a wide spectrum of society.
Shaul, who served as a soldier and commander in the Israeli Defence Force from 2001 to 2004, said that after reviewing hundreds of testimonies of soldiers – who spoke of similar experiences – it became clear that the IDF's defensive role in the OPT is only a very small aspect of their core function.
He said that what the evidence showed was that the military's role was more about offense and entrenching the occupation.
According to Shaul, Israel employs a number of tactics aimed at furthering Israel's entrenchment in the OPT including using ground troops in so-called defence, separation and law enforcement tactics. He spoke of a number of examples which included assassinations, mock and mass arrests, arbitrary checkpoints and the involvement of settler security officials in the control over Palestinians.
Targeted assassinations are often directed at people whom the Israeli government cannot physically arrest; and sometimes merely as part of a revenge operation. Shaul gave an example where on 19 February 2002, six Israeli soldiers were killed by an attack on a checkpoint by Palestinians. As a result, three Special Forces units were sent to Gaza, Nablus and Ramallah to target police checkpoints in Palestine. 15 Palestinian policemen were killed.
According to Shaul, testimonies given to Breaking the Silence on this operation indicate that the soldiers were notified in the briefing that the purpose of these attacks was revenge.
Mock arrests are often carried out randomly and against people whom the IDF is well aware are innocent. The purpose of these arrests is to make the IDF's presence felt by Palestinians. Shaul said that often a particular house will be randomly selected, the residents arrested and taken away for interrogation. On the way to the interrogation facilities, the commanders will say "end of exercise", at which point the Palestinians will be dropped off and sent back to their homes without interrogation.
Separation techniques are designed to fragment and breakdown Palestinian society and its political freedom. Direct security threats to Israel are merely secondary in many instances.
According to one video testimony that was screened, checkpoints are established and taken down arbitrarily, with the purpose of instilling genuine fear. The speaker, Oded Na'aman, said that for him things stopped making sense when the decisions that he had to make became senseless.
Two different legal systems operate in the OPT. Settlers live under civilian rule, whereas Palestinians live under military rule. Shaul spoke of instances where soldiers would not intervene in settler attacks on Palestinians, but they would intervene if they saw Palestinians retaliating.
According to Shaul, the evidence showed that Israel uses its ground troops to control the Palestinians. The evidence also suggests that the IDF is operating as if there is no intention of eventually exiting the OPT.
Breaking the Silence was formed in 2004 after a group of former Israeli soldiers began collecting testimonies of soldiers who had served in the OPT. To date, they have gathered testimonies from over 900 soldiers, which reveal the reality of life in the OPT. Breaking the Silence does not promote a specific political agenda, but rather collects testimonies of soldiers and lets the evidence speak for itself.
They aim to bring "Hebron to Tel Aviv", and to bring home the moral implications of the IDF's actions to Israelis.
You can read more about Breaking the Silence here.
Dodgy people are suing us. Please support us by contributing to our legal costs and helping us to publish news that matters.
© 2016 GroundUp.
This article is licensed under a
Creative Commons Attribution-NoDerivatives 4.0 International License
.