NEWS
Immigrants soccer players aim for PSL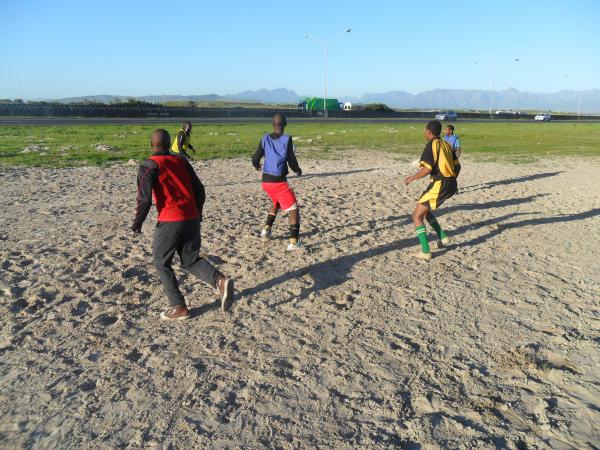 Professional soccer players who are refugees in South Africa have found comfort in establishing an informal soccer club, with the objective of being recognized and playing professionally again, like they did in their birth countries.
Burundi born Ahmadi Hakizimana, 27, said that Tanganyika football club in 2007 to accommodate professional soccer players from Burundi, Tanzania and Democratic Republic of the Congo who could not make it into reputable soccer teams in South Africa after many years of seeking soccer playing opportunities.
Hakizima, who is captain of the 30-member team, plays the striker position. "We are immigrant professional soccer players who are struggling to get back into the soccer business. Last year we approached Ajax Cape Town Football Club to ask if they can hire us and they asked us to present requirements like a letter from our countries stating that we were in fact professional soccer players, and yet we have been playing soccer all our lives and we are passionate about it," said Hakizima.
In response Ajax Cape Town Football Club's Public Relations Officer, Shooz Mekhuto, said that the club only needs foreign players to have a residency permit. "We are the ones who go out looking for players and not vice versa. In regard to this group, I have never heard of them. I advise them to continue playing and inform us when they have a match then we can go watch. If we are impressed then we can hire them."
Some foreign players have managed to get into PSL teams. For example, Platinum Stars goalkeeper Tapiwa Kapini moved to the Absa premiership side AmaZulu. Hakizima speculated that Kapini was spotted while still in his country. "Once you are inside South Africa it is not easy to join big teams. I know some expert soccer players from my country who are finding it hard here," explained Hakizima.
Hakizima said that two months ago they contacted Vasco Da Gama football club to negotiate for a friendly game but were turned down and informed that Da Gama's football club policy does not recognise them as professional players. After that incident they approached Gugulethu Soccer League with the intention to affiliate and were advised to register with SARS first.
He added that they are working on all the registering procedures. Their dream is to be recognised as professional players and play in the Premier Soccer League. The team's other challenge is a lack of resources and sporting facilities. He said that their training ground is just an open space next to a shopping complex in Parow Valley. Sometimes people complain about the noise and call the police who then chase them away. The team is searching for a training ground.
"While we are working on being recognised as professional soccer players, we are playing friendly games with other immigrants teams here in Parow and against some of Khayelitsha's informal teams," said the captain.
The newly elected president of the team, Humudu Harimenshi said, "I am concerned about the unsafe ground the players have to train on but I encourage them to contribute R10 every Sunday when they come for training for the money to be used in times of need such as when one of our players gets injured while playing soccer. We will then use the funds to pay for hospital bills since most of the players are security guards and do not earn much."
© 2016 GroundUp.
This article is licensed under a
Creative Commons Attribution-NoDerivatives 4.0 International License
.