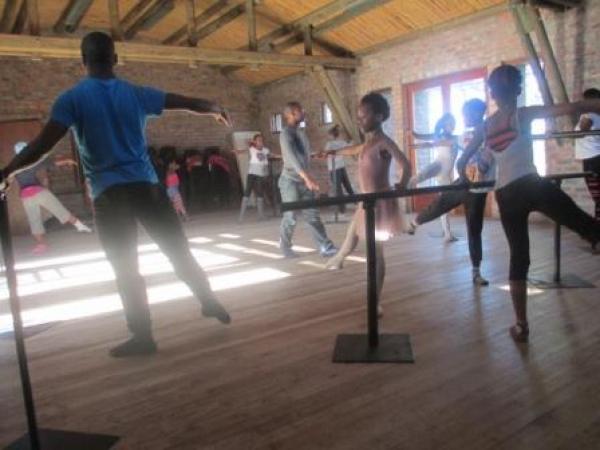 Tariro Washinyira
Ikapa Dance Theatre is a non-profit arts organisation established in 2007 by Theo Ndindwa, Tanya Arshamian and founding member Mbulelo Ngubombini. The organisation focuses on identifying and developing talent among children from the townships around Cape Town.
Ndindwa grew up in the disadvantaged community of Gugulethu. His talent was identified by an outreach 'Dance For All' programme which ran between 1992 and 1999. The programme sent him to dancing academies both national and international. After refining his technical and choreographic skills in the United Kingdom, in 2005 he returned home.
His personal experience motivated him to set up centres in Samora Machel, Tsonga Community Centre, Khayelitsha, Makhaya, Ikwezi and Gugulethu.
Ngubombini trained for ten years in South Africa before he also furthered his career in England for a year.
He said, "Since we were chosen from the community, we are now giving back to the community. We train children from age five to 23. The children really love the programme but their parents are not supportive. For this reason we hold an end-of-year show as an awareness programme for the parents as well as building an audience for children."
The best students from the five centres gather Friday and Saturday at Tsonga Community Centre for rehearsals. These children are now performing dance version of Shakespeare's Romeo and Juliet at the School Arts Festival at Artscape.
18-year-old Neliswa Makanda, a student at Tsonga Community Centre, has been with the organisation for three years. "Every time I come for practice I progress. I started dancing when I was nine at Phoenix Primary School in Manenberg. When the dancing group closed I did not dance for three years. When we moved to Gugulethu, a friend introduced me to iKapa Dance Theatre and I started dancing again. I enjoy myself a lot and I like the dances."
She likes the way they are taught to be disciplined, focused and dedicated. They practice ballet, contemporary, sometimes hip hop and jazz. She sees herself as a professional dancer. She pictures herself performing in New York or London.
Ndindwa says two of their current beneficiaries will be following dance careers. Their organisation has also trained people who are now professional dancers for other companies. The programme has also managed to offer psychological and social support and get children out of criminal activities and substance abuse.
In the future, iKapa Dance Theatre hopes to be a full-time arts school based in the community. Ndindwa hopes he is a role model; he has danced all over the world and been on television and in the newspapers. The school would also connect children who failed to make it in dancing with other professions. IKapa plans to offer scholarships and income generating programmes to contribute to school fees for disadvantaged children.
The main challenge is a lack of parental support. It is difficult to get disciplined and full commitment from the children. Parents could encourage their children to participate in this free project rather than roam around the streets.
The organisation is also appealing for any form of donations, cash, volunteers, food packs, used and unwanted clothing. Ikapa Dance Theatre can be contacted on:
Office telephone - 021 447 0914 or https://www.facebook.com/iKapaDanceTheatre
© 2016 GroundUp.
This article is licensed under a
Creative Commons Attribution-NoDerivatives 4.0 International License
.