"I chose to stay when most people are leaving, but someone has to stay behind to fight" - Zimbabwean student activist
| Barbara Maregele and GroundUp Staff
News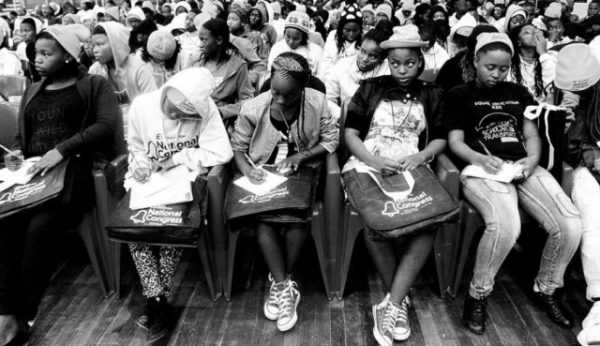 Passmore Nyakureba is the national chair of ZimRights in Zimbabwe. He spoke at Equal Education's second congress on Monday (6 July) about the dire conditions thousands of Zimbabweans face daily.
"I chose to stay in Zim at a time when most people are leaving, but I believe that someone has to stay behind to fight. In my country, people who want to exercise their freedom of speech against state leaders are met with the brutality of the security services," he said.
Equal Education is interested in the common experiences across countries of youth mobilising for better education through new media and other methods. The main session on Monday was aimed at learning about these experiences. Nyakureba was one of three international student leaders who described their campaigns to the more than 400 congress participants.
Nyakureba cited a number of incidents where civilians and activists were brutally beaten and killed at the hands of the police. "Nearly 80% of the population are informal traders. A family of five has to survive on $1 per day. In 2005, our government introduced a programme with the aim of ridding the city of informal structures in urban areas. Research later showed that this too was instigated for political reasons," he said.
In March this year, the Zimbabwean government implemented an examination fee of $3 to each Grade 7 student who wants to write the entry test for high school. "We ask how people living off $1 a day can afford this," Nyakureba said.
He added that child marriages were a big problem in Zimbabwe and were also a result of extreme poverty. "People are marrying off their daughters as young as 12 to get the lobola money in order to provide for the rest of the family," Nyakureba said.
He urged future leaders to join their fight for equality.
Another speaker was Tomas Leighton from Chile. He was the leader of one of the biggest Chilean student movements, National Federation of Secondary School Students (CONES). It held mass protests from 2011 to lobby for free and regulated education for all Chilean students. These protests have so far successfully pressured the state to lower the interest rates of student loans and give more scholarships to the poor, he said.
Leighton said that contrary to popular belief, Chile was not rich as businesses controlled the country's wealth.
"My country keeps growing and there is money, but it doesn't reach everyone. We have natural resources, but only the rich — mainly foreign companies — benefit from it," he said.
Leighton said students in Chile were separated by social class, with the privileged attending the privately owned schools and universities with quality education, and the poor having to settle for worse education.
"Something had to be done. So we mobilized all students and social movements to fill the streets through social media, TV and at schools. We had the support of about 90% of the population. At one march, we mobilized nearly one million people in the street," he said.
Despite being met with resistance from his government, Leighton said their persistence and mass presence over a long period of time is what has lead to their successes so far.
Fadi Quran, a Palestinian activist, addressed the meeting via a video link. He told the meeting delegates about the Israeli occupation and settlement of Palestinian territory. "We have a system worse than apartheid South Africa. The key goal of the Occupation is to force Palestinians off their land," he said.
Quran said his family gets water one day a week. "Outside my window I see an Israeli colony that has swimming pools," he told the congress. "We need South Africa's support with the Boycotts, Divestment and Sanctions movement. Israeli companies do a lot of business in South Africa," he said. "We seek to end the hopelessness that Israel attempts to impose on Palestinian youth though things like arrest and torture in custody."
Equal Education's Noncedo Madubedube encouraged delegates to take opportunities to study in other African countries and abroad to learn from their successes and make a positive contribution to the fight for human rights.
She added that it was important to incorporate new media and social network sites as tools for mobilization in order to reach a larger audience.
The four-day Equal Education Congress which started on Saturday evening is underway at the University of the Western Cape in Bellville. Throughout the event, members have been discussing the numerous problems with education in South Africa. Today (7 July) members are expected to elect a new national council to lead the organisation for the next three years.
On Monday, the University's great hall was filled with the sound of struggle songs and dancing as the group of delegates welcomed the speakers.
The event is expected to end on Wednesday.
© 2016 GroundUp.
This article is licensed under a
Creative Commons Attribution-NoDerivatives 4.0 International License
.