"I am inspired by students' spirit and discipline," says Kathrada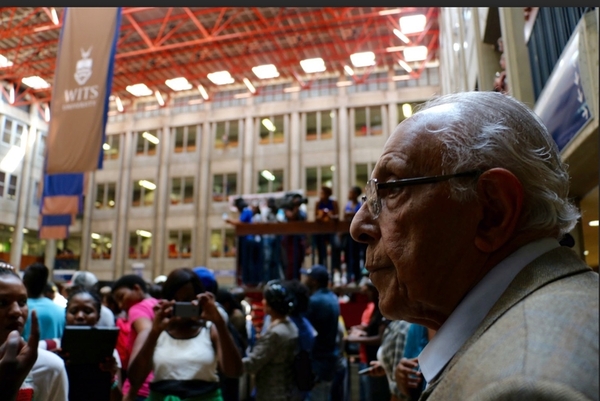 Hundreds of Wits university students took to the floor of Senate House, dubbed Solomon Mahlangu House, singing loudly upon the arrival of anti-apartheid stalwart Ahmed Kathrada earlier today.
Kathrada stood smiling quietly in a corner watching as students sang struggle songs. The student leadership talked about how the various memorandums being delivered to university management across the country was this generation's answer to the Freedom Charter. They emphasised the demand for free access to quality education.
While waiting to be joined by fellow protesting students from the University of Johannesburg, they sang and danced to celebrate Kathrada's presence and many approached him to take photos and thank him for his support.
"It's a true honour to have Mr. Kathrada here," said accounting student Ivy Ramakgopa. "He is one of the fathers of our freedom. So to have his support really means something. It is not just a political stunt."
"I am very inspired by these students' spirit and discipline," Kathrada said. "It's because of this discipline that they will be successful."
Kathrada was reluctant to comment much on the role of government, simply saying: "I am not part of government, but I encourage them to grant the students their very reasonable demands." He fielded questions from media and met with students while lunch was served.
Meanwhile, Winnie Madikizela-Mandela wrote on her Facebook page, "I will be joining my children in protest at Wits today, Rhodes [University] tomorrow and [Nelson Mandela Metropolitan University] on Friday. Let us see if the police will shoot with me in the front line. I dare them to."
Students gather at Wits University. Photo by Yumna Mohamed.
This afternoon, thousands of Wits and and University of Johannesburg students and their civil society supporters descended upon Luthuli House in downtown Johannesburg to deliver a memorandum to ANC Secretary General Gwede Mantashe. There was a brief outcry as some suggested Mantashe sit down on the ground among the students as Wits vice-chancellor Adam Habib did earlier this week, but this was met with disagreement from the crowd. "You don't lose respect in the revolution," said Lungile Dladla, a SASCO member in the crowd.
Former SRC president Mcebo Dlamini took the microphone saying, "It doesn't matter where you sit. You can receive the memorandum in the sky. The goal is free education not petty politics."
Students marched to Luthuli House, the ANC headquarters. Photo by Yumna Mohamed.
Mantashe was then asked by protesters to step down from his raised platform to receive the memorandum which demanded no fee increase and an end to outsourcing of workers.
The gathering ended with a vow by Dlamini to "shut down Union Buildings" tomorrow when students and management will meet President Jacob Zuma.
Meanwhile in Pretoria, police fired water canons on a group of 200 protesters who barricaded the entrances of the Department of Higher Education.
Cape Town
A large number of people converged on the Cape Town Magistrates' Court this morning for the bail hearing of 29 protesters arrested yesterday. Photo by Ashleigh Furlong.
The 29 students who were arrested at or near Parliament yesterday appeared in the Cape Town Magistrates' Court this morning where 23 were charged with public violence and contravention of the Gatherings Act. The other six, held over night in Bellville, were charged with the same charges as well as an additional charge of trespassing.
All were released on a warning and ordered to appear in court on 23 February 2016.
Magistrate Jacky Muller said that their release was in the interest of justice.
A charge of high treason, which was on an original charge sheet for the six who were arrested in the Parliament precinct, was removed.
Aya Bikitsha, who is one of the 23 who has been charged, told GroundUp what happened yesterday when the police had announced that all protesters must disperse or face arrest. "We were right in the front lines and they [the police] were saying to us, 'Don't run.' They started moving a bit quicker and the people [protesters] at the back started running. But we were in the front line not running, showing them that we weren't scared," said Bikitsha.
Bikitsha said that then one of the protesters tripped and another tried to pick him up, but the police grabbed him roughly and "four guys took him down".
"That's when everyone dispersed because they were scared. But we were still holding our ground," he said. He said that then someone threw a rock and the remaining people dispersed because they were scared.
"After that they [police] ran after whoever was in front of them. So even if you were a bystander, you were captured regardless," said Bikitsha.
"They shot at us [with stun grenades] with our hands raised," said Nyakallo Mokgoba, another protester who was charged today. Mokgoba said that there are so many pictures of people with their hands up and that you can see the police very aggressively grabbing them and pulling them into vehicles.
"The only people who are violent are the police," said Bikitsha.
Students on the plaza at UCT this afternoon.
At UCT this afternoon vice-chancellor Max Price addressed thousands of students, but before he was able to address them student leaders addressed the crowd.
One man said, "We have found ourselves in the midst of white power and white privilege. We do not want this discourse of dispossession. White power always responds with violence."
He then said that they would not be letting Max Price address the crowd. This was reiterated by some of the other leaders but the crowd's continued calls of "listen to the people" and "we want Max" resulted in the loudhailer being handed to Price.
Price said that the UCT management and the students have a common interest. "I wish I was on your side of the barricades," he said.
He said that he agrees with the student movements protesting the manner in which higher education is funded. "The amount of money that we get every year [from the government subsidy] is going down. As a public university we should be funded by the state," said Price. He said that the government provides less than about 20% of UCT's budget.
"We have tried to ensure access and support by increasing the fees of those who can afford to pay and decreasing those who cannot," he said.
Price said that increases in fees would not affect those on financial aid, as financial aid increases accordingly. He said that students at UCT pay less than students at other universities with the same level of annual family income. "We make the commitment so that everyone can be funded."
Tomorrow Price and other vice-chancellors are meeting with President Zuma and other ministers to discuss the fees issue. "We are asking the state to ensure that there is no fee increase for those who cannot afford it."
Max Price addresses UCT students and academics.
Price also said that UCT exams, which are due to begin next week, will be postponed by a week.
In a statement released this afternoon Price also said that the university council will meet this weekend to ensure that "students in need do not face a fee increase in 2016" and that "UCT's comprehensive financial aid package for students in need remains in place".
He also appealed to the state to act with restraint and that there was no justification for the "excessive use of force of the kind that was witnessed on television on 21 October 2015".
Police apprehend a protester at CPUT in Cape Town. Photo by Siyavuya Khaya.
Police used stun grenades on students from various institutions, but mostly Cape Peninsula University of Technology and the University of the Western Cape, who marched through Cape Town's CBD this afternoon. Eye witness Thokozile Madonko of the Treatment Action Campaign was in a car with her mother. She said, "The students weren't being aggressive in any way. They just kept coming. There were a lot of them." She then described how the students caught in the stun grenades turned and ran, resulting in chaos in the centre of town.
"The students were really nice. They helped [direct] all the cars [stuck in the ensuing traffic jam]. I don't know why the police used stun grenades." She added that dozens of police vehicles had sealed off Adderley Street.
It has since been reported that thousands of CPUT and UWC students, as well as students from various other colleges marched on the Waterfront, "sealed it off and shut down operations".
Protest on the CPUT campus in Cape Town. Photo by Siyavuya Khaya.
Students from CPUT's Bellville campus also continued their protest against the fees increase today. At about 10.30am, a large group of students left the Bellville campus to go join protesters in Cape Town. By 12pm, apart from two police vehicles stationed on the property, CPUT's Bellville campus was nearly deserted. The buildings showed signs of vandalism, particularly the administration building, as it was evident that bricks had been thrown through the windows.
Eastern Cape
Students from Fort Hare University's East London campus march down Oxford Street. Photo by Siphesihle Matyila
Protests also took place at Eastern Cape tertiary institutions. 21 students from Fort Hare University (UFH) in East London, arrested and charged with public violence on Wednesday after students blocked the CBD with burning tyres, were released on bail by the East London Magistrate's Court this morning. They joined a protest down Oxford Street today.
Student leader Malakhiwe Mbambo said: "Now that the students have been released we are continuing because even the law now agrees with us that indeed our struggle is genuine so it is a victory to us and we are going to continue."
"Our intention is not to fight with the police, but the state, so we will tell the students that we fight in a disciplined way," he said.
Also today, students at the Fort Hare Alice campus blocked entry with burning tyres.
Walter Sisulu University students also began protesting this evening, blocking access to several streets near the Buffalo City campus.
Tyres burning on Fort Hare campus in Alice. Photo by Manqulo Nyakombi.
Reporting by multiple people including Yumna Mohamed, Ashleigh Furlong, Nombulela Damba-Hendrik, Siphesihle Matyila, Pasqua Heard and others.
Dodgy people are suing us. Please support us by contributing to our legal costs and helping us to publish news that matters.
© 2016 GroundUp.
This article is licensed under a
Creative Commons Attribution-NoDerivatives 4.0 International License
.