How I was "ransomed" hitching back from Zimbabwe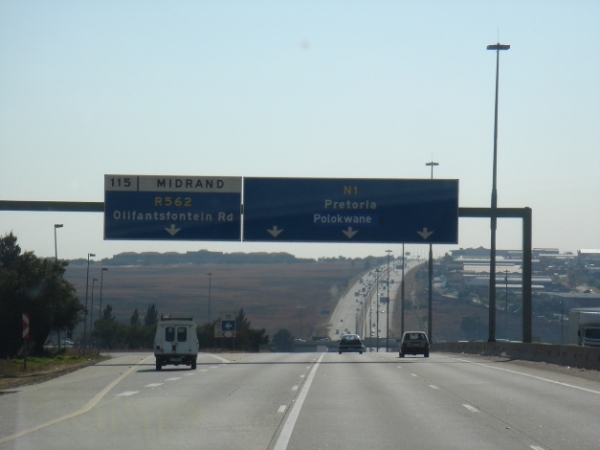 A freelance reporter for GroundUp found himself all but held hostage on his way back hitchhiking from Zimbabwe.
I have done the trip from Masvingo, Zimbabwe, to Cape Town many times. Just last year I did the exact same route, but this time it would be different.
The Engen garage on the N1 highway about 15 kilometres from the Johannesburg CBD is a well-known hiking point. I arrived at around 9am on Monday 20 July, trying to get back to Cape Town.
"Welcome to Engen hiking point my brother. You have joined other fellow Zimbabweans," said a Zimbabwean mother with three small children. She said they had spent the entire Sunday and the whole previous night attempting to get reasonably cheap transport to Cape Town. I thought she was joking with me, because I had only just arrived.
About 20 minutes later, a truck stopped and the driver started negotiating with hikers. Then seemingly from out of nowhere, a white Mazda twin-cab blocked the truck. A tall man climbed out and started some negotiations. Soon after, the driver of the truck pulled away, leaving behind two people who had hoped for a lift with him.
My fellow hikers said the tall man was a taxi "owner". More men – also said to be taxi owners – arrived. One wore a reflective bib with LLTD Association written on it.
I asked the Zimbabwean mother to take care of my bag while I strolled around to find out what was going on. I discovered that there were several of these men hired by taxi owners. Their duty was to make sure that no hiker left the Engen hiking point.
At the public toilets, I bumped into two police officers talking about going to Bloemfontein. Later, I saw one of the taxi owners approach these police officers.
Only a few minutes later, a police van pulled up at the hiking point. The constable shouted to people from his van: "I will solve this problem … We want everyone to get any means of transport [you can] to your respective destinations!"
There was relief on our faces, but as we drew near to listen to the conversation, we gathered there was a conflict of interests between the police who had arrived earlier and the one who had pulled in late. He asked us hikers to leave the matter to SAPS and the taxi owners.
The Zimbabwean mother couldn't take it any longer. "We are all Africans, enjoying same basic human rights. Please bear with us. I was here since yesterday. My children will miss about three day's lessons," she pleaded.
The police asked her to wait for the outcome of the discussion. But from a distance, we noticed the police weren't prepared to listen to each other. The constable drove off.
I waited until 3pm. Then, I manage to sneak away with my bag. I had walked about 500 metres when I managed to stop a truck. But while I was negotiating for a fare, two taxi owners blocked us with their cars. I could see I had no chance. I returned to the usual hiking point.
Later, I approached one of the taxi owners. He told me, "If you want to go to Cape Town, go back to Park Station in Johannesburg, get one of our taxis or buses … We do not allow you here. Alternatively, get into our taxi and pay R500 to Cape Town."
In the past, I have paid truck drivers R200 at the Engen garage for a ride to Cape Town.
It was now getting dark. The taxi operators were looking tired. Several trucks had pulled in for refuelling. We saw the taxi operators approach the truck drivers. Then the taxi men asked us hikers where we were going. They demanded R400 from me. At around 8pm, four of us jumped into a truck.
Our truck driver, who spoke Portuguese and Zulu, said he shared the money equally with the taxi operator.
We thought we were home free, but then I noticed police officers approaching the truck. They indicated to the driver to get out.
After a few minutes, our driver was back and we were on our way. He said he had to pay the police off. He said the situation has been going on for almost two months – a "war", as he put it, between the police and the taxi owners.
Dodgy people are suing us. Please support us by contributing to our legal costs and helping us to publish news that matters.
© 2016 GroundUp.
This article is licensed under a
Creative Commons Attribution-NoDerivatives 4.0 International License
.