How Constitutional are the regulations on public gatherings?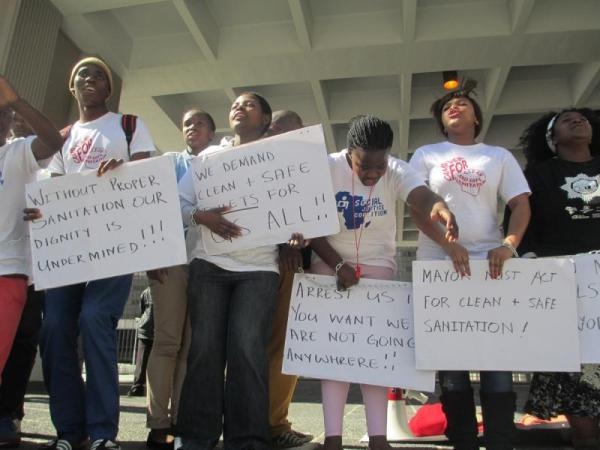 Lobbyists and civil organisations who attended the City of Cape Town's information session on public gatherings this week believe that applying for permission to march is unconstitutional.
Checklist when applying to have a march
Names of convenor, deputy convenor (second in charge) and chief marshal
Contact details (telephone, cellphone, email)
Contact numbers for the day of the gathering
Copy of ID/passport of convener and deputy convener
Detailed reasons for march/protest
Start time, duration, and end time (if in CBD, no later than 2pm)
Detailed route (include assembly point, where are you marching to? and dispersing point)
Realistic estimate of participants
Number of marshalls ( advised 1 to 10 ratio) and how they can be identified
Specify transport used to and from the gathering (ie. private buses, public trains or taxis)
Types of vehicles to be used in the procession
If you submitting less than 7 days, give reason why notice was late
If handing over a memorandum: include name of recipient, contact details and whether they were informed
Application must be signed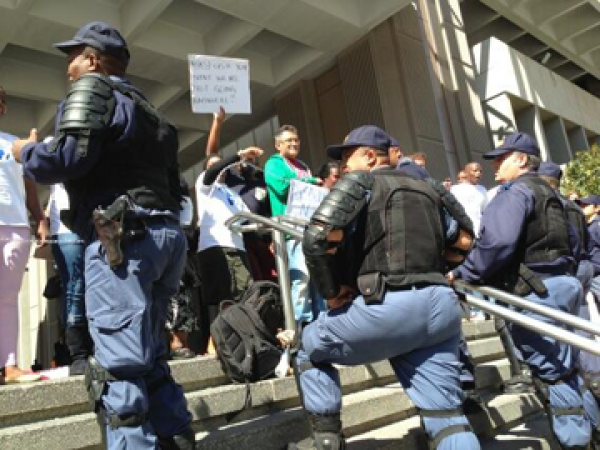 Police and activists face-off outside Mayor's office. Photo by Dustin Kramer. September 2013.
The views of civil society organisations
"Our right to protest is being threatened. The [Regulation of Gatherings] Act says we have to give notice, not apply for permission to protest or march. Various municipalities have made these bylaws and checklists which are not in line with the Constitution," said Nonhlanhla Chanza, Right2Know campaign lobbyist.
Chanza was among around 35 other members of civil and religious organisations who attended the first of two information sessions on the application for public gatherings which was held at the Civic Centre in the Cape Town CBD on Tuesday.
Sections of the Regulation of Gatherings Act 205 of 1993 have been challenged on several occasions by various civil rights groups over the past weeks.
In June, Right2Know accused the Johannesburg Metro Police Department of "acting unconstitutionally" and not understanding the Act. This was after the Department demanded that people who want to protest should pay a R140 "administrative fee" and meet a lengthy checklist of requirements.
In September 2013, a group of 21 Social Justice Coalition (SJC) members were arrested because they did not inform officials about their protest and were convicted for contravening the Act. On 9 July this year, the Cape Town Magistrates' Court granted 10 of the SJC members leave to appeal to a higher court to determine the constitutionality of the Gatherings Act.
According to Chapter Two, Section 17 of the Bill of Rights, "Everyone has the right, peacefully and unarmed, to assemble, to demonstrate, to picket and to present petitions".
But Chapter 1 of the Gatherings Act states that the convener of a picket or march with 15 or more people is required to "give notice in writing" no later than seven days in advance.
"The Act says the convener has to give notice, not go through an application process requesting permission to gather. The language of the Gathering Act needs to be addressed or changed," said Chanza.
She also questioned the City on their decision not to host the information session closer to communities where local leaders would have easier access to attend.
"If they really wanted to educate people, they needed to go to where the people have easier access. They said a lot of people confirmed their attendance, but we are only a handful here; this says a lot," she said.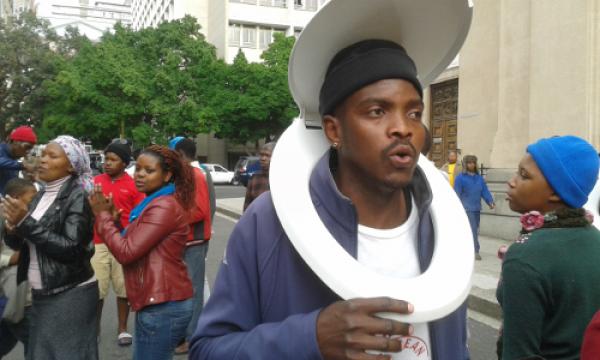 SJC activist Luthando Tokota outside the Cape Town Magistrates' Court in July 2014. He and 20 others stood trial for unlawfully convening and attending a protest at the Civic Centre in September 2013. Photo by Daneel Knoetze.
People Against Gangsterism and Drugs (PAGAD) co-ordinator in Mitchell's Plain, Mogamat Keraan, said he was outraged by the City's requirements. He said it was a clear violation of the public's rights.
"We had a motorcade last week and we were stopped by police under the Gatherings Act which specifies that no more than 15 people can convene without permission. The Act doesn't make any mention of motorcades, so we were within our right, but they said we would be arrested if it wasn't called off. This Act needs to be repealed or replaced with something else more humane," he said.
Keraan said the organisation was consulting with other civil lobbyist and a law firm to lodge a class action case to repeal the Act.
"Mitchell's Plain is known as the drug capital, but when we as the community want to deal with the issues, we get harassed. Metro police are dragging their heels because we know where the drug merchants live, but nothing is being done. When we as Paggad have these motorcades, there are so many police and POP [Public Order Police] unit members that come out in their numbers to escort us."

In September 2014, Ses'Khona People's Rights Movement protested in Cape Town outside the High Court against the City's bid for a court interdict to stop "illegal" protests. Picture by Masixole Feni.
Meanwhile, Carl Maranki from the Central City Improvement District (CCID) who also attended the information session, raised their concerns about the increase of littering during large marches in the CBD.
"We are responsible for most of the urban management and street sweeping in and around the CBD. We have noticed that after most of these pickets, a lot of rubbish and mess is left behind in the CBD. We then need to send extra manpower to clean up. We need to know where and who to send the bill to for these extra services," he said.
Several other people raised issues unrelated to the session about problems in their communities as well as other challenges with various service delivery shortfalls. Members of the Treatment Action Campaign also challenged the representatives of the offices of the Premier and Mayor who both promised to relocate the families affected by a large fire in 2013 from Khayelitsha to Mfuleni.
During the session on Tuesday, a panel consisting of members of SAPS, POP, Traffic Services, metro police, and the offices of the Premier and Mayor each briefly explained their role in the process.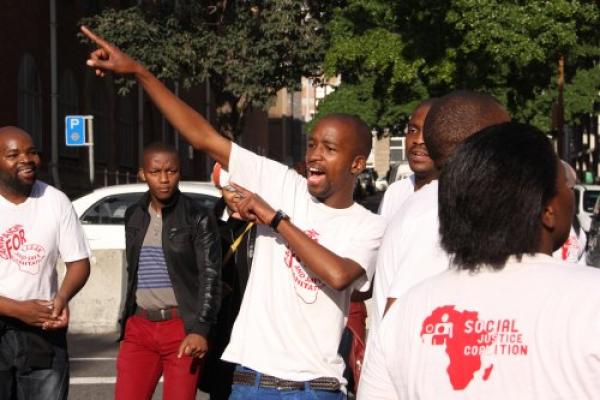 Social Justice Coalition activist Ntuthuzelo Vika leads his fellow accused and supporters in a toyi-toyi outside the Cape Town Magistrates' Court today. He and 20 others are standing trial for convening and attending an illegal protest gathering outside Cape Town Mayor Patricia de Lille's office in September last year. Photo by Daneel Knoetze. July 2014.
The views of the officials
The City's responsible officer for marches and protests, Anele Viti, went through the City's application form. Since January, the City has received 192 applications of which two were declined due to safety reasons, Viti said.
Among a long list of requirements in the application form, groups or organisations intending to march are required to name a convener and deputy convener, include copies of their IDs, their contact details and addresses, detailed reasons for the march, the number of participants and marshalls, and a detailed route.
"Submitting the application seven days in advance will help avoid administrative delays. For bigger marches and protests, we advise that you have one marshall for every 10 participants. Marshalls need to be identified by red arm bands because we find there's often no difference between them and every car guard if they wear reflective bibs in the road," Viti said.
He said once the City receives an application, it is circulated to all interested parties for comment including the police, metro police or any organisation involved.
"They are given two days to comment. If there are no objections, the application is approved. However, when concerns are raised, a meeting is called between all of the parties and the conver. The application is then approved with the agreements made at the meeting or denied if no resolution could be found," he said.

Disabled People of South Africa (DPSA) protesting outside parliament, before the State of the Nation address in June 2014. Photo by Armand Hough.
Viti added that should a procession plan to take place nearby a national key point such as Parliament, the courts or the Provincial Legislature, then special permission is needed.
He said it was the responsibility of the convener and the organisation to arrange for parking space, toilet facilities and rubbish removals on the day of a march.
"The Public Works department will send the conver a bill if large amounts of litter and placards are left behind. The convener and the organisation will also be held responsible for any damages to council property. You could be prosecuted, fined and/or get up to a year in prison," he said.
"Our plan isn't to stop you, we just need a way to regulate these gatherings. We need to ensure that the public who have no involvement in your gathering are protected as well as those participating in it," he said.
Warrant Officer Kleinhans, a POP unit member, told the group that the police prefered organised marches where people expressed their views and concerns in a non-violent manner.
Senior traffic officer Jacques Brand said meeting march organisers ahead of time helped to alleviate vehicle congestion.
"It is important that we be notified of the exact routes and how many people will be participating. We have had situations when the number of participants was far less on the day of the event, which meant we were taking away resources from communities where we would've been needed more," he said.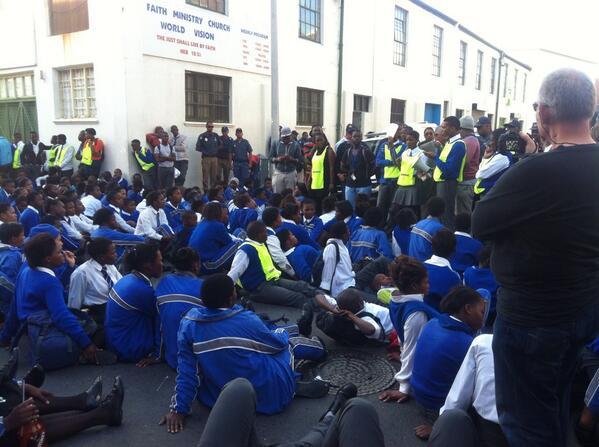 Students sit down and refuse to move at Woodstock train station. Photo courtesy of Equal Education in May 2014.
Caroline Knott from the office of Premier Helen Zille briefly said that it was important to find out which sphere of government your issue involves when tabling a memorandum.
"Many people march to the provincial legislature, but this doesn't mean it is a provincial responsibility. Some issues need to be addressed to the a specific department, like Human Settlements. With elections coming up next year, it's important to remember that marches concerning the DA party should be done to the party offices and not the premier's offices," she said.
Mayoral Special Projects and Community Engagement unit manager, Wilfred Solomons-Johannes and his team promised to avail themselves at all hours to resolve any service delivery matters in communities.
"It's our responsibility to listen to your issues and to try to find a way to resolve it. We will help facilitate community meetings to address service delivery challenges or if there are any problems with the councillors being unresponsive. We can also arrange for you to come in and speak to us at the mayor's office," he said.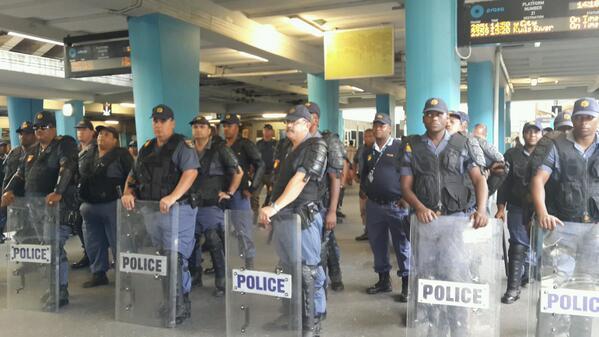 Police presence at a train station after clashes with high school students in May 2014. Photo courtesy of Equal Education.
Dodgy people are suing us. Please support us by contributing to our legal costs and helping us to publish news that matters.
© 2016 GroundUp.
This article is licensed under a
Creative Commons Attribution-NoDerivatives 4.0 International License
.