How the asylum seeking process can be improved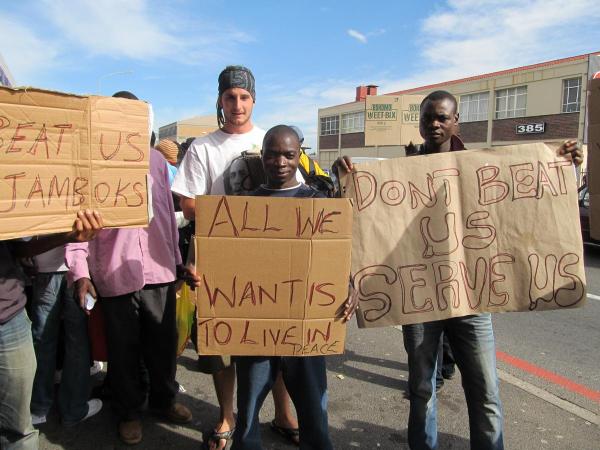 How can the intolerable situations at the Home Affairs refugees centres be improved? We make some suggestions.
Today we report our investigation of the Maitland Refugee Reception Centre.
Everyday about a thousand asylum seekers queue outside the Maitland Refugee Reception Centre off Voortrekker Road. They try to get the papers they need to stay in the country legally so that they can avoid prison, fines and deportation. Many go home unserved or not having got what they came for. People sleep outside the centre or arrive in the middle of the night to get a place near the front of the queue and improve their chance of being served.
We watched security guards chase away immigrants near the back of the queue who had no prospect of being served. We also saw the guards manhandle and abuse the immigrants.
The desperation of many asylum seekers at the Refugee Centre is acute. Several people have died at the centre. In 2007, a man apparently starved to death at the previous location of the centre.
The corruption story uncovered by our journalists is a tiny taste of an extremely serious problem. The Department of Home Affairs might reasonably respond that we have not proven corruption of any of their officials. However, at minimum, our story shows that the security guards are an essential part of the corruption. But this is not the point. Any observant person who spends a few hours watching the centre will see that all kinds of dubious deals are being made and it is the entire system that promotes corruption. We spoke to enough people at the centre to realise that our little corruption story is peanuts compared to some of the big stakes deals going down. Nevertheless, as disturbing as the corruption is, it is secondary to the inhumane levels of distress that asylum seekers have to endure.
Braam Hanekom, director of People Against Suffering Oppression and Poverty (PASSOP), says that for several months his organisation helped manage the queue at the Maitland centre. He explains, "Some of the people in the queue are so desperate. They cannot return home. On the one side there's desperation. On the other side you have officials who haven't been given the capacity they need. It's easy to see how corruption happens in that atmosphere: 99% of people would be tempted." Hanekom says that people tried to bribe him everyday while his organisation was helping. "Any organisation that helps out there will need a lot of capacity and people of high integrity." He continues, "The gatekeepers end up being guards with power over poor people's lives."
To reduce the queues, Hanekom says the centre needs at least another ten employees. It also needs more printers and stationery. GroundUp has previously reported how the centre turned people away when it ran out of paper.
Also, currently refugees need to renew their asylum papers every six months. During that time they are supposed to be interviewed by Home Affairs to determine their permanent status. Most do not get interviewed because the backlog is too large. We spoke to a Pakistani man at the Maitland centre who has renewed his papers every six months for the last 12 years. If Home Affairs changed the system so that asylum papers only need to be renewed every two years, this would reduce the queues dramatically.
Hanekom says the problem is a lack of political will. The state is investing its resources in deporting immigrants instead of improving the asylum seeking process. Deportation is an expensive, time-consuming process. The fundamental problem is government's unstated assumption that it must be made difficult for people to legally stay in the country. South Africa is the most sought after migration destination on the continent. This country offers more economic opportunities and freedom than most other African countries. A large immigrant population is a fact of our society. We deport tens of thousands of immigrants annually, but this does little to resolve the tensions between local people and immigrants. A much more sensible and humane approach would be to have a welcoming policy towards immigrants that helps integrate them into South African society, instead of making it almost impossible for them to stay on the right side of the law. Immigrants bring skills, initiative and cultural diversity. We are losing opportunities by not making it easier for immigrants. Most importantly, it is simply wrong to treat people who are simply trying to make a better life for themselves and their families with such inhumanity.
Centre faces closure
There's a perception that Home Affairs is the most corrupt and badly run government department. Nevertheless it has improved in recent years under the leadership of Nkosazana Dlamini-Zuma, especially for South Africans seeking passports and identity documents. However, for foreign nationals trying to make a living in South Africa the system is horrendous and inhumane. The Maitland Refugee Reception Centre is not the worst. Refugee management in other cities is in disarray. The Maitland centre has actually improved in recent years.
As bad as it is, it is better to have the centre than not to have it. The centre faces closure in the next few months. According to The Zimbabwean, the Refugee Reception office received notice from a landlord to close the centre. PASSOP explains that a 2010 High Court decision, following litigation brought by Maitland businesses that the centre was a nuisance, ordered the centre to either clean up its act or close.
How will the tens of thousands of foreign nationals living in Cape Town stay legal? Surely they cannot be expected to travel to another part of the country every six months? Surely Home Affairs will not be so cold as to move the centre to a township again, where foreign nationals will queue in terror because of the threat of violence?
Dodgy people are suing us. Please support us by contributing to our legal costs and helping us to publish news that matters.
© 2016 GroundUp.
This article is licensed under a
Creative Commons Attribution-NoDerivatives 4.0 International License
.