Heideveld patients protest as disability grant applications declined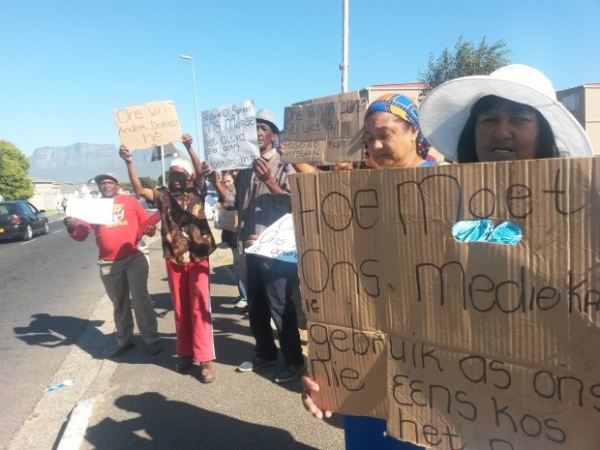 A group of 15 people who have been receiving disability grants for at least five years protested outside the Heideveld Community Day Centre on Monday after their latest applications were declined.
The protesters, from Manenberg, Hanover Park and Heideveld, have blamed a newly appointed doctor for declining their recent applications.
But Department of Health officials say the doctor in question acted in line with "strict" criteria set by the South African Social Security Agency(Sassa) for welfare evaluations.
Before the appointment of the new Heideveld doctor in 2014, patients applying for disability grants were evaluated by locum (temporary) doctors who worked for short periods at the centre.
On Monday, the group of patients, aged between 50 and 60, stood on the pavement outside the centre holding posters which read "Hoe moet ons medikasie gebruik as ons nie eens kos het nie?" ("How can we use our medication if we don't have food?") and calling for the doctor's dismissal.
Manenberg resident, 59-year-old Mymoena Samodien, said she had been a disability grant beneficiary for eight years until her application was declined for the first time in October 2014.
"I suffer from angina, gout (a type of arthritis), and asthma and I'm a diabetic with high blood pressure. I went to the new doctor in October for my grant renewal and he told me that it wasn't his duty to go through my file," she said.
Samodien, who lives in a small council-owned home with her nine-year-old granddaughter, said the monthly grant of R1,350 helped her pay for essential expenses.
"I have to buy food, pay rates and electricity. I'm looking after my grandchild that I also get a R310 (child support) grant for. I really need the money. Who's going to give me a job with all my illnesses? They tell me I'm a waste of time because I get sick most of the time," she said.
Another chronic patient who lives in Heideveld, Shahieda Williams, 47, said she was diagnosed with epilepsy about six years ago and had been receiving a disability grant since then.
Williams said she also had arthritis and fibrositis.
"When I went to see the government doctor in December last year, he told me that I don't have arthritis anymore. I told him I can't walk properly or use my hands sometimes because it becomes so swollen. I had epileptic fits twice during the December holiday. Since then I've had a pain at the top and side of my head. How am I supposed to work like that?" she said.
Williams said she was shocked when her six-month renewal application was declined.
"I have to buy food for my daughter, contribute towards the electricity (bill) and my child needs things for school which I can't cope with anymore. I stress so much that I go into fits more now. I'm worried about what will happen to my child. My mother is 75-years-old. I can't expect her to look after my child. The doctor doesn't even consider all these things we have to go through. It's not fair," she said.
Matthew Booysen, a pastor in the area who has been helping the group of patients to table their grievances, said people were extremely unhappy with the appointment of the new doctor.
"Most of the people have chronic illnesses. People are very unhappy about how they are treated by staff at the clinic. We've been having weekly community meetings to discuss all their issues," he said.
But in response to questions by GroundUp Western Cape Department of Health spokesperson, Sithembiso Magubane, dismissed the group's claims.
Magubane said the new doctor is responsible for assessing patients who request a disability grant through Sassa.
"The doctor's assessment is done according to strict criteria which guide medical doctors in their recommendations to Sassa. Observations such as weight, height, blood pressure and urine are done by the nurses prior to seeing the doctor. The clinical notes available in the patient's folders further assist him to complete the documentation that gets forwarded to Sassa," he said.
Magubane added that attempts had been made this year to improve service at the clinic, such as tracking patient folders and decreasing waiting times.
Sassa regional spokesperson Shivani Wahab, said medical reports were required for temporary disability grants every six to 12 months.
"Sassa uses the findings of the medical assessment report and further required documentation to make the decision to award or to reject a disability grant application. If clients are dissatisfied with the outcome, they can apply for their application to be reconsidered and can also launch an appeal with the Independent Tribunal at the National Department of Social Development," she said.
© 2016 GroundUp.
This article is licensed under a
Creative Commons Attribution-NoDerivatives 4.0 International License
.