Gugs dance school gives children self-worth
Self-discipline and self-worth: Zama Dance school instils these much-needed values in children in Gugulethu.
The school was established in 1984 by Arlene Westergaard. It offers an opportunity for students to become professional performers, choreographers and dance administrators. Zama also created the first black classical ballet group that performed at the National Arts Festival in Grahamstown nearly 30 years ago.
The values of Zama are evident in 11-year-old Sesethu Genu from Nomlingoniselo Primary School in New Crossroads. I watched her and she clearly enjoys dancing. She is the second born in the family of nine, and her parents are supportive; they always tell her to practise stretching her legs, and to persevere.
It's an exciting two weeks for the school. It is hosting a two week intensive American exchange dance workshop at its Gugulethu studios until 14 February 2014.
Andrew Warth, who had been a full-time ballet teacher at Zama, and became director when Westergaard retired at the end of 2011, says, "Three highly acclaimed professional dancers from the United States visit Zama daily where they teach ballet classes, repertoire and choreography to over 90 of our young dance students. The three American dancers are of a group of six who are working similarly at other institutions in South Africa, such as Dance for All, The Cape Academy of Performing Arts."
Currently Zama has 100 students. Three classes are run during the week and a rehearsal class takes place on Saturday mornings. Ballet students are selected from the six-year-olds' beginners' class. According to the school, the dances and exercises are easy to remember, undemanding, and the environment is relaxed. Beginners should be able to communicate, be receptive, and should have a ballet dancer's physique. The school has produced ballet dancers who have gone on to perform around the world.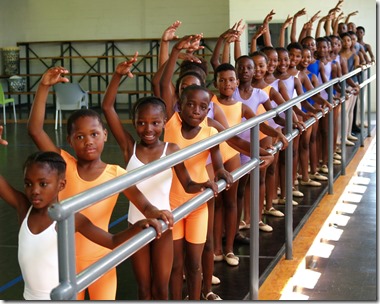 Courtesy of Zama Dance School.
Last year, Zama competed in the Sea Point Eisteddfod. The school came first in the junior category and won three gold medals. In celebration of Zama's 25th anniversary, the Cape Town City Ballet is working with the organisation to perform at the Artscape Theatre.
Last year the school came first in the junior category at the Sea Point Eisteddfod.
The US students are from St Mary's College in California and enrolled in a prestigious degree called LEAP (Liberal Education for Arts Professionals). The degree is aimed at current and former dancers. Dancing is an immensely demanding career and many professional dancers don't have time to do their post-school studies and dance. Programmes like LEAP therefore give dancers an opportunity to do what they love and to earn a degree.
Kristine Elliott, a course director for LEAP, said it is her eighteenth time teaching at Zama dance school. She finds the children enthusiastic, musical and joyous. Elliot said she keeps on coming back because she sees the talent at Zama and the fusion of ballet culture and "African physique".
Lora Cooper, a professional dancer from the United States, said, "I started ballet when I was three. I have been dancing now professionally for seven years. I am here to teach the children and share my experience as a ballet dancer. The children are responsive, compassionate, eager to learn and excited. I am looking forward to see how the children will perform. They have captured the techniques and steps well."
Warth said extra funding is needed for running workshops, buying ballet shoes, clothes, tights and tracksuits, and to pay for transport to competitions and outside events. Students participate in dance festivals and eisteddfods whenever possible to get exposure and to meet other dancers. After completing matric, they have the opportunity to further their training by studying for dance diplomas and degrees at other institutions. Besides running the organisation, Warth sometimes assists with teaching.
At the end of the exchange programme, Zama dance school will host a show on Friday 14 February 2014 for the community, parents and teachers.
Dodgy people are suing us. Please support us by contributing to our legal costs and helping us to publish news that matters.
© 2016 GroundUp.
This article is licensed under a
Creative Commons Attribution-NoDerivatives 4.0 International License
.