NEWS
Growing vegetables in the oddest place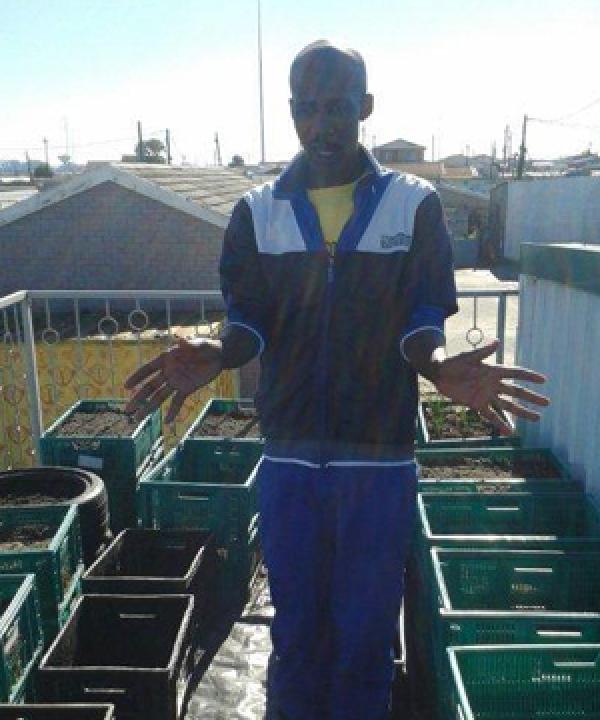 Thabani Marhanjana is growing a vegetable garden in an unusal place - on the roof of a two-story building in Makhaza, Khayelitsha.
He is doing it to help feed his community. The vegetables are grown in crates and car tyres. When GroundUp visited the garden, there were few vegetables to be seen because Marhanjana recently harvested his crops and is now growing new ones.
He started the garden last year on the roof of the Ekhaya Ekasi Art and Education Centre. This, explains Marhanjana, is the perfect spot as it receives lots of sunshine and rain.
"We run a soup kitchen here at the centre and this is the reason why I started the garden. That and because many people in our community go to bed hungry because they don't have food," says Marhanjana. "My colleagues helped me come up with the idea of starting my own garden."
He says the idea of starting the garden on the rooftop came about because there is no lawn at the centre. "So I thought the only space that we do have is on the roof and it's not being used and it will not be in anyone's way."
He underwent gardening training at a non-profit organisation called Abalimi Bezekhaya. "But there is still so much more that I want to learn because my aim is to have the centre's entire roof covered with vegetables for the community," says Marhanjana.
He says he collects soil from different parts of the township as well as crates and tyres. "I have a very good relationship with the youngsters in the community who help me collect tyres. Sometimes they will tell me when tyres have been dumped somewhere and I will go and fetch them."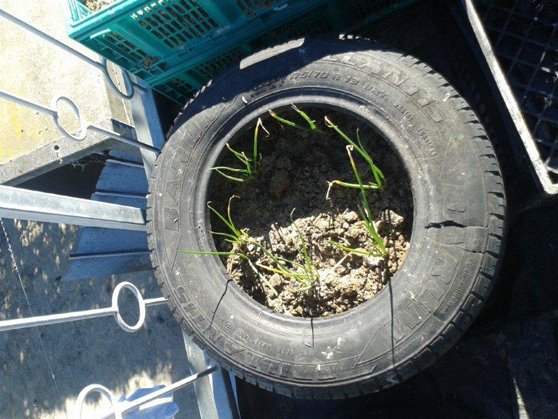 Onions growing in one of the gardens. Thabani plants different types of vegetables in crates and tyres which are used to make food for the community. Photo by Mary-Anne Gontsana.
Marhanjana gets his seeds from Abalimi Bezekhaya and is currently growing spinach, cabbage and onions. The vegetables take about three weeks before they can be picked and eaten.
The Ekhaya Ekasi soup kitchen is opens on Mondays, Tuesdays and Thursdays at 1pm. They serve soup, bread and rice and anyone is welcome to come and get a meal.
"Gardening works with seasons. When summer comes I will start planting butternut, lettuce and mealies. This will mean that the menu for the kitchen will change as well. I am a vegetarian and my interest in gardening started at a very young age because my mother made us plant so that we would have food to eat. With the skills that I inherited from my mother, and the training I received from Abalimi, I am now able to teach people the proper way to plant. I am not doing this for me. This entire garden is for the community. No one needs to go hungry when there is food available," said Marhanjana.
© 2016 GroundUp.
This article is licensed under a
Creative Commons Attribution-NoDerivatives 4.0 International License
.