GroundUp's Masixole Feni wins photography award
|
Text by GroundUp Staff. Photos by Masixole Feni.
News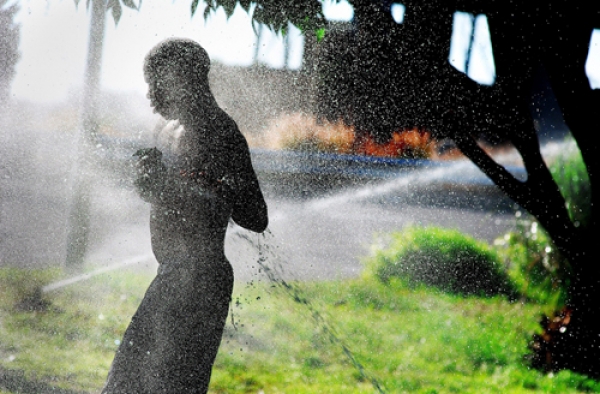 Masixole Feni, GroundUp's photographer, has won the 2015 Ernest Cole award.
This is an annual prize awarded by the University of Cape Town (UCT). It assists a photographer to pursue a project, such that after a year the photographer's work is displayed in a gallery and a book of the photographer's work is published.
UCT's announcement of the award stated:
Masixole Feni is this year's winner of the Ernest Cole Award for his project – A Drain on Our Dignity. Feni, an activist photographer who also works for GroundUp documenting social issues, won the award for focusing his camera on the lack of service delivery and the life of the marginalised. As he says, "I live at the back of an RDP house in Mfuleni on the Cape Flats. I experience issues like poor sanitation, access to clean water and the flooding first hand".

Sixty years after the anniversary of the Freedom Charter which campaigned for basic human rights, one person, one vote and well South Africa's democracy, many South Africans still find themselves struggling for basic living conditions. As Feni points out,"Marginalised people were neglected by the apartheid regime. Twenty one years into our democracy, it is a reality that has stayed the same for many."

Feni's work echoes the groundbreaking images produced by Ernest Cole in the early 1960's showing black life under apartheid. The book called House of Bondage, published in exile and immediately banned, reflected on the lives of the marginalized and the poor and became a universal reference point for anyone who wanted to know more about the apartheid system. Feni will travel to another four townships to explore life from this perspective and develop a book and exhibition.

Honourable mentions for this year's award are Paul Botes for his work on Marikana: The Aftermath and Jerry Gaegane for his project, Tsena on hostels.
Find out more about Ernest Cole on Wikipedia.
The photographs on this article are a selection from Feni's portfolio.
Protesters throw faeces on a government Premier Zille's convoy in Harare Khayelitsha in June 2013.
A child walks past a canal in Masiphumelele.
Mshengu toilets in Site C, Khayelitsha.
Service delivery protest in Mfuleni in 2014.
Dodgy people are suing us. Please support us by contributing to our legal costs and helping us to publish news that matters.
© 2016 GroundUp.
This article is licensed under a
Creative Commons Attribution-NoDerivatives 4.0 International License
.