NEWS
The Greatmore Long Walk Project empowers young artists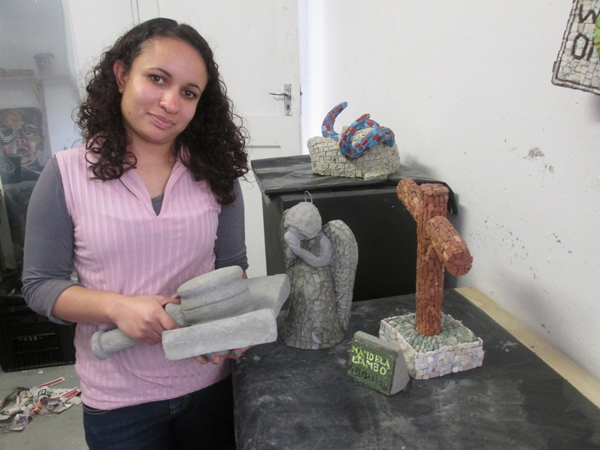 Established in 1998, and located in Woodstock, Greatmore Studios is a dynamic environment in which South African artists and international visitors co-exist. The studios have played an essential role in the career development of many highly successful South African artists.
Greatmore is involved in outreach programs, workshops, and exhibitions. Currently, they are running a Long Walk Project that empowers young artists by covering their basic financial needs while developing their work and careers.
Artists who have completed a training workshop are paid to produce cement figurines and objects. Other artists are paid to 'clothe' the works in mosaic. It is hoped that in the longer term, the project will become self-sustaining.
Long Walk Project started at the World Design Capital pitching sessions in April 2014, and has since been on ThundaFund.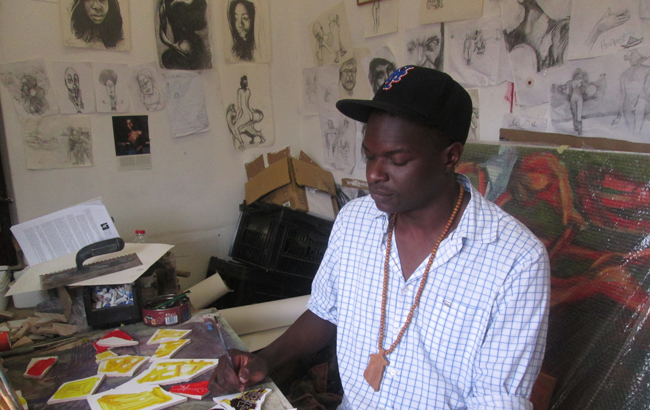 Ronald Muchatuta working at Greatmore Studios. Photo by Tariro Washinyira.
Linsey Lucy Samuels, 28, from Kuils River is one of the Long Walk project beneficiaries. She told GroundUp, "The project started in March 2014. I came to know Greatmore Studios through Ruth Prowse College of Art, where I studied fine art from 2010 to 2013. My first encounter with them is when they organized the 2013 end-of-year function and invited different artists to showcase their work. I showed my voluntary work from Alta du Toit School for learners with intellectual disabilities."
In the one-week Long Walk workshop, they were taught how to build and mosaic the armature (wire frame) in the sculptures.
Samuels said doing mosaic is challenging for her since she studied sculpting and painting. Students are paid R1200 for building and doing the mosaic; she gets R600 for building the armature.
She said, "The biggest challenge is that without money you cannot develop any art idea. I am grateful to the Long Walk project because all the material is sponsored and we are paid for our sculptors. I used to work as a PA for an accounting firm and I resigned to go to art school. I exhausted all my financial benefits on school fees. My family understand and they do support me financially".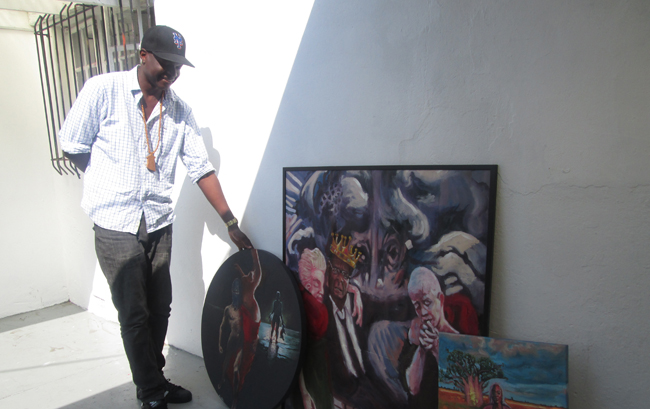 Ronald Muchatuta displays his work. Photo by Tariro Washinyira.
Ronald Muchatuta, 30, came to know Greatmore Studios in 2008, when he participated in an experimental workshop. He is a Zimbabwean artist who came to South Africa in 2007 to develop his career.
Muchatuta said, "When I grew up, I enjoyed art and would spent most of my time drawing. My father supported my dream, but when I was 16 years old he passed away. My dream to be enrolled at Peter Birch School of Art in Zimbabwe was shattered. It is an expensive school. My mother fell sick as well and could not afford it. At 17, I started working at a pottery company in Ruwa. While I was working I got accepted by Delta Gallery. I stopped working and did art painting at the gallery for four years. Life was difficult then. I would sell my art and I stayed with relatives".
He said, "Delta Gallery is not a school but I am grateful. They molded, groomed, and mentored me. In Zimbabwe, I could not get such kind of assistance and become who I am today, if it wasn't for Delta Gallery.'
Like all other immigrants, the road to success was not easy for Muchatuta. He said, "If you are a foreigner you are always viewed as a threat by other South Africans. However, the challenges I face when I am doing my work inspires me to become creative and produce more work without killing the original idea."
Most galleries in Cape Town like to sponsor artists who are already established and who will bring in more money rather than grooming upcoming ones. Even established artists may find themselves replaced by the next hot property.
When Muchatuta arrived, he made crafts to sell in Simon's Town. The money he made from selling crafts was little. He ended up working in an art gallery in Stellenbosch. In 2010, he went to learn mosaic at Spier Arts Academy.
The year looks good for Muchatuta, as his work is gaining recognition. His works can be found in Cape Town galleries. This year, a firm of architects approached him to do a mosaic in a private home in Constantia. And last year, his work was selected by Nandos for their menus.
Currently, he is preparing for exhibition in Sandton, Johannesburg in October. The exhibition, organized by Art Afrique, has social justice as a theme. He will focus on gays and lesbians, black money in America, power, equality and how people are abused.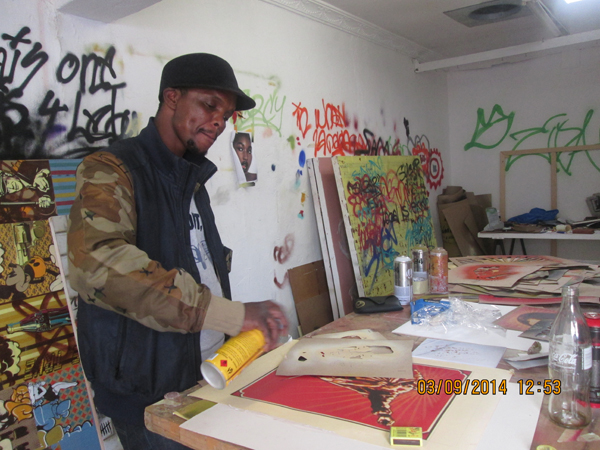 Khayalethu Witbooi specialises in urban art. Photo by Tariro Washinyira.
Khayalethu Witbooi, 37, from Khayelitsha, specialises in urban art. He said, "Urban art is a mixture of stenciling, graffiti, pasting, posters and tagging". He has been a resident artist at Greatmore for three years. He works with artists from different countries. Every three months, they put their works together for an exhibition at Greatmore premises.
Witbooi said, "I am gifted— I never went to a school of art and I did not get much support. Coming from a black family, support means getting food and going to formal school. I develop my concepts from life's experience and listening to people's discussions. My work is not based on orders. I just make art objects and send them to galleries in Cape Town."
© 2016 GroundUp.
This article is licensed under a
Creative Commons Attribution-NoDerivatives 4.0 International License
.