Foreigners the target of frustration with inequality ," Cape Town archbishop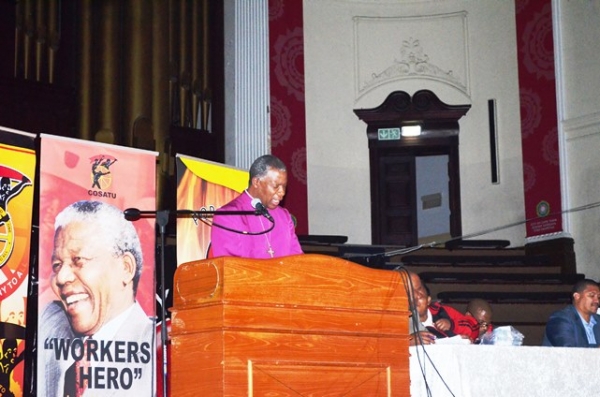 In his opening address on Wednesday night at a rally against xenophobia organised by COSATU in the Cape Town City Hall, Archbishop Thabo Makgoba said pressure should be put on government to come up with a comprehensive immigration policy and provide refuge to those fleeing danger and violence without worsening the plight of South Africans.
On Monday, the archbishop visited the family of Emanuel Sithole in Alexandra and the Jeppe Hostel in Johannesburg. He says, "There I was challenged as a church leader when a young man commented on our visit by telling us, I hope the government is not using the might of the church to silence the poor."
Addressing about 300 participants, the archbishop said, "We need a policy to resolve the legal status of all migrants in such a way as to welcome those whose skills, initiatives and hard work can build our country, help create jobs and serve our people, and to discourage criminals who take advantage of our porous borders."
"We must condemn the irresponsible talk of those South Africans, whether leaders from public platforms or ordinary citizens on social media, who fan the flames of violence."
"We all know the causes of the anger which so many South Africans from all walks of life are giving vent to in these difficult days. We know why service delivery protests have become so commonplace that we are more likely to hear about them on radio traffic reports than in the news. We know the root cause of Rhodes must fall, aimed at an inanimate metal object …We all know the heart of all this anger is frustration that inequality continues to plague our country, 20 years after our liberation."
Lindani Mhlanga from Philippi said not even load shedding by Eskom or anything could change his mood or stop him from showing his solidarity with the African brothers.
The Western Cape Refugee and Migrant Forum held a meeting to outline the state of preparedness in the province to respond to xenophobic attacks and how to restore social cohesion. The meeting noted that foreign nationals have an obligation to take part in community development meetings and offer help where it is needed.
Dodgy people are suing us. Please support us by contributing to our legal costs and helping us to publish news that matters.
© 2016 GroundUp.
This article is licensed under a
Creative Commons Attribution-NoDerivatives 4.0 International License
.