Foreign nationals despondent after police raid their stalls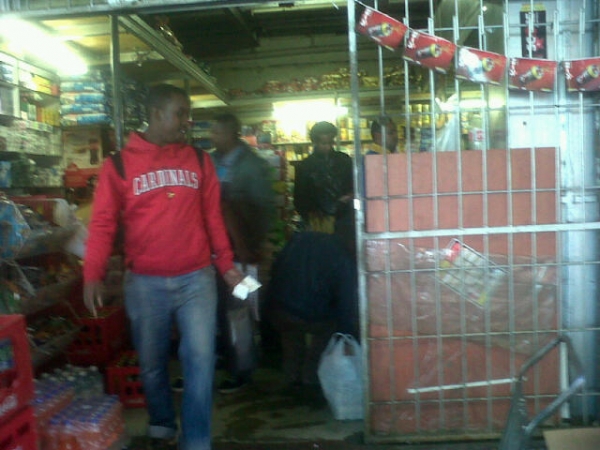 "What these people are doing is not right. Most of my relatives do not know what to do. All their goods were taken yesterday. They do not know what to do next," says Fatima Hassan, 29, a Somali who owns a stall in Bellville.
On Thursday police raided stall owners in Bellville, confiscating goods that filled several trucks.
On Friday morning, stall owners were despondent when they spoke to this reporter.
"Today my neighbours and relatives did not put anything in their stalls because all their stuff is gone now. They are suffering now. If the government wants us to stop selling counterfeit goods then it should first stop companies that manufacture such goods. Government should tell us that they no longer accommodate foreigners," says Hassan a mother of three children whose stall is a few metres from Bellville train station.
The situation was no better for stalls at Durban Road. Most workers were waiting in groups outside closed shops. They were discussing Thursday's raid but most refused to speak to media.
Osman, 40, a Somali who sells cosmetics said, "Business was not good yesterday [Thursday] because for the rest of the day we closed our shops. Though they did not take anything from my shop they disturbed us and you can see people are afraid to move around for shopping today. It was a surprise. They ordered us to close shops and no one was allowed to move. Six trucks were full of goods taken from stalls and shops."
Osman also said, "I cannot find myself against the government. Let it do what it believes is appropriate," he says.
A DRC stall owner who did not want to disclose his name condemned Thursday's operation.
"Since 2010 I have lost R79,000 worth of goods due to similar raids. Yesterday was another day. They jumped from their vehicles and rushed to break into shops collecting counterfeit goods. I never wasted time. I quickly packed my stuff and hid them. Today [Friday] we do not see many people coming to our stalls because they are afraid."
A cellphone shop owner, Amide from Afghanistan, had a different view from most people interviewed. "The government is doing the proper thing. People should have the required documents. It is not good for shop owners to make profit and not pay tax to the government.
In an email Colonel Tembinkosi Kinana of Western Cape SAPS said Thursday's operation is one of a series of operations conducted to ensure safety and security of the citizens of the province. Kinana said, "Our mission is restoring law and order." He said that counterfeit goods to the value of R9 million, illicit cigarettes worth R500,000 and six boxes of Khat were confiscated.
He also said that twenty undocumented foreign nationals were arrested. Two Ethiopian men aged 28 and 29 were arrested for possession of drugs and illicit cigarettes.
© 2016 GroundUp.
This article is licensed under a
Creative Commons Attribution-NoDerivatives 4.0 International License
.