Fleeced! How Ellerines and African Bank misled a customer into debt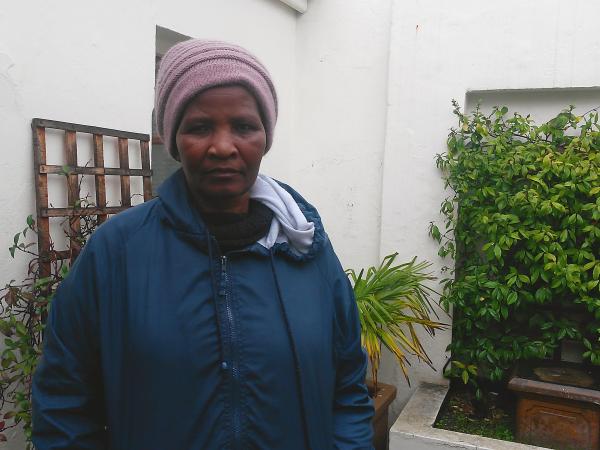 "Making Life Easier For You" is Ellerines' promise to customers. But the high-profile furniture outlet has made life anything but easy for Patricia Qwase.
In September 2012, Qwase bought three items from Ellerines—a cupboard, bed, and oak wardrobe—underwritten by a 48-month payment plan from African Bank. She did not receive her oak wardrobe. What she did get, however, was a bill for nearly three-and-a-half times the furniture's original price. The items cost R7,700, but with added fees and unspecified interest, African Bank charged her over R26,000.
Ellerines and African Bank are not what most people would think of as loan sharks. These are well-known brands. African Bank is listed on the JSE and owns Ellerines.
Qwase's original contract obligated her to pay off the total through 48 monthly instalments, which she has been faithfully doing since the purchase date. The contract did not, however, explain how the total was calculated.
With extended warranty, delivery charges, and goods insurance, the subtotal amounted to R9,794. Interest for the period was stated as R8,877. This brings the bill to R18,671. But Qwase was charged R26,463, meaning over R7,700 remains unaccounted for. Her contract claims the R26,000 figure as the instalments "including interest, fees & credit life insurance, excluding optional insurance."
Qwase says she "wasn't clear on that," and her attorneys are not clear on it, either.
They have sent a letter to Lungi Noxanyana, the manager of Ellerines' Claremont branch who has been dealing with Qwase's case, demanding clarification about the calculations. Given the 240 percent price hike, it appears Qwase is paying a large amount of vaguely defined interest for an item she did not even receive, as the wardrobe was damaged upon initial delivery and immediately returned with the promise of a replacement.
Qwase waited 18 months for that replacement.
This March she consulted with her employer, who called Ellerines to cancel the purchase on her behalf and request a refund, as Ellerines was in breach of the contract for failure to deliver the wardrobe for so long.
Then suddenly, the wardrobe showed up at Qwase's doorstep. Qwase had been inquiring about it on a monthly basis, but says only when her employer called Ellerines with the threat of a refund did the wardrobe materialize. Qwase believes it was the intervention of her employer that prompted Ellerines to heed her case.
Now, the wardrobe sits untouched at Qwase's home in the Eastern Cape. The day after it was delivered, she requested a return and still awaits a response from Ellerines. Ellerines asserts that Qwase's employer was not legally authorized to cancel the order, so the transaction, despite the delay, is valid.
But Qwase's attorneys disagree, saying the contract was rightly cancelled. They demand that the wardrobe be returned and Qwase be refunded, else they will pursue a civil claim or lodge a complaint with the National Consumer Commission.
Regarding the original charges, the attorneys further assert that insurance on the furniture was neither necessary nor explained to Qwase, and was therefore unlawfully charged. They also emphasize "with concern" that Qwase was sold this insurance despite having almost no understanding of legal contracts.
But Qwase's story is far from unique. "The phenomenon of exploitation of consumer credit is a long-standing issue, and government has woken up to how perverse and extractive it is," says Elroy Paulus, the national advocacy manager of Black Sash Trust. "It is long overdue that these extractive practices are recognized by government, and lenders should be criminalized as much as borrowers are suffering."
The persistent language barriers of a country with eleven official languages only complicate matters of contract-signings. Qwase is Xhosa-speaking and not fluent in English, but the contract was explained to her entirely in English.
According to Louise Brugman, media spokesperson for African Bank, there are a number of steps taken to ensure that customers have a full understanding of contracts. She says African Bank contracts are translated into different languages based on the geographical region, but she was unsure if translation must be requested.
Legal Aid South Africa says the consumer has the right to request that a contract be explained in her language of choice. But people are not always informed of their consumer rights, so this knowledge comes too late for people like Qwase who end up signing contracts without full understanding and are left with exorbitant debt.
This type of asymmetry is "a huge problem," Paulus says. "I think [the onus is] on the service provider to make sure the person they are screening has full comprehension of the contract. There's a bit of social responsibility there."
The Consumer Protection Act mandates that suppliers must not "take advantage of consumers who are unable to protect their interests" due to factors like poor literacy or "inability to understand the language of an agreement."
Paulus says, "I don't think people in South Africa appreciate the power of the pen—that they will be indebted forever when they agree to a set of conditions. The flipside is everything we're signing into is protected by law. Lenders should also be criminalised when they know they're breaking the law."
A domestic worker in Cape Town, Qwase lives in Delft with her family. She moved from the Eastern Cape to find better financial opportunities, and she now makes R2,900 per month cleaning houses. She has been here for 25 years. She supports her grandchildren and has been saving up for an anticipated retirement back in the Eastern Cape, where she built a house in 2010 and 2011. The furniture purchased was intended to beautify that home, she says, but now she is left disappointed and burdened by her monthly payments to Ellerines.
She does not know what to do, she says. Ellerines did not adequately address her complaints, and she only wishes to see this problem put to an end.
Noxanyana refused to speak with GroundUp, saying she does not have the mandate to address any questions about Qwase. Ellerines told GroundUp that the relevant departments are investigating the matter and will address it through Qwase's attorneys.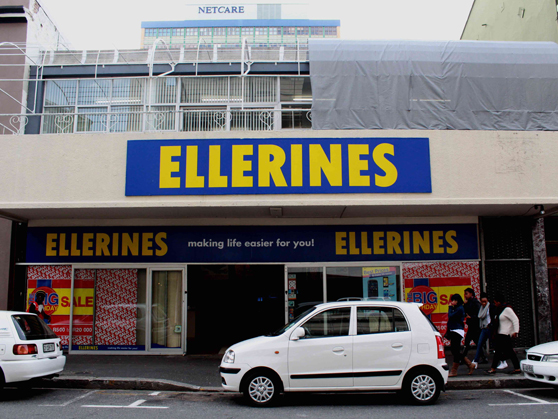 Ellerines is a reputable company, owned by Africa Bank. Yet their interest rates are what you'd expect from a loan shark, not a big brand name company. Photo by Masixole Feni.
© 2016 GroundUp.
This article is licensed under a
Creative Commons Attribution-NoDerivatives 4.0 International License
.