From Flavier to Flavina: a refugee's story of courage and survival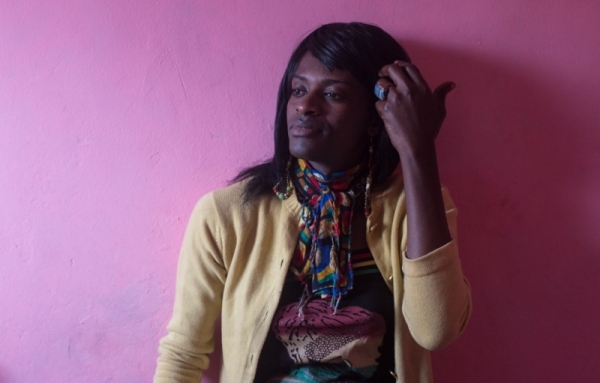 When Flavina walks the streets of Delft, with her long earrings, nose piercing and colourful clothes, people turn around to stare. Tall, elegant and feminine, Flavina used to be Flavier. Born as a male in Burundi 33 years ago, she came to South Africa to live openly as a woman.
Flavina first came to South Africa in December 2008 to attend an international transgender conference in Cape Town. For the first time, she was able to share her experience and her struggle with other activists.
"I was out from the age of 16. When I was 18, I told my family I had feelings for men. That is my truth, my life. You can accept it or not, this is my decision. But it is not easy with the culture in Burundi. When you are born a boy, your family think you are special. You are the man of the house and represent the heritage of the family. When people find out about your sexuality, they think you are Satan and bring bad luck."
Tired of incessant comments and questions, but more importantly because of safety reasons, Flavina decided not to return to Burundi. "I heard that some participants from Rwanda and Uganda got kidnapped after they returned to their countries. My friend called me from home and told me not to come back." With just pocket money and a one-month visa, Flavina did not know where to go and what to do. Following advice, she applied for asylum seeker status on the basis of her gender identity and sexual orientation.
But like other gay, lesbian and transgender individuals who fled their country to find refuge in South Africa, with its progressive constitution, she soon came up against documentation problems.
She managed to get asylum seeker status in 2009 after a struggle.
"People told me to go to Pretoria to Home Affairs. I slept there from Saturday to Tuesday, and did not get anything. On the Wednesday, I got my asylum seeker's papers but I got a paper from Congo and it was not my real name. During the interview, I did not understand what the official wrote for me as I was struggling to express myself. I did not speak the language. I did not know what the interpreter said for me. I was so tired and hungry."
When she tried to renew her papers a few months later, officials at Home Affairs did not take her story seriously. "People at Home Affairs don't believe you and they traumatise you. They asked me why I was gay and why I wanted to be a woman."
She managed to renew the document once but it has now expired and she cannot afford to go to Pretoria to renew it.
Facing both transphobia and xenophobia, Flavina says she could not find employment in South Africa.
"I did not get a job here in Cape Town because of my sexuality, how I dress and also because of my language. On my CV I have to put my ID as a male, but I look like a woman."
In 2011, with no other way to make a living, Flavina became a sex worker on the street. "I know it is cold and raining, but I have to go out and look for money. I have no choice. It is very hard."
She met other sex workers and got involved with SWEAT (Sex Workers Education and Advocacy Taskforce). She says SWEAT brought her hope and dignity.
"I feel that with that group you can speak out, share your secrets and the pain in your heart. When I am at SWEAT, I feel like I am at home. We listen and encourage each other."
Flavina is now a SWEAT "ambassador", working in the townships to create awareness, provide female and male condoms in taverns, explain safe sex and educate sex workers how to protect their rights. She earns a small stipend.
But, she says, she faces intolerance every day. "I am still proud of who I am. But it is so difficult for me."
"Every day when you walk, people are judging you. Everywhere you go, people don't stop talking about you. You are so different from others. You feel alone."
Once her documents are in order, Flavina hopes to be able to travel and share her story and those of others. "People in Europe and America read about us in the press and on Facebook. What about people in Africa? They don't read about our stories. We need to share our ideas with others."
"I want people to recognise, understand and accept us as human beings."
As she walked back to the taxi station after the interview, children stared at Flavina and neighbours on the street spoke to each other as she passed. But Flavina kept walking, head high, proud and out.
Dodgy people are suing us. Please support us by contributing to our legal costs and helping us to publish news that matters.
© 2016 GroundUp.
This article is licensed under a
Creative Commons Attribution-NoDerivatives 4.0 International License
.