Fire starter blames load shedding for Franschhoek shack blaze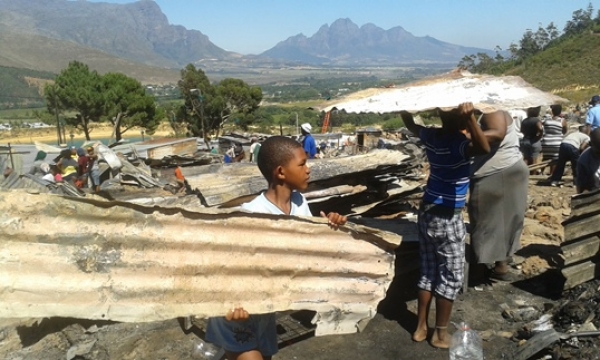 A shack fire that tore through Langrug informal settlement in Franschhoek on Saturday has been blamed on a combination of negligence and unexpected load shedding.
The fire broke out at around 5.30pm, and had destroyed around 70 structures before eight fire engines and a helicopter brought the fire under control, a Stellenbosch municipality report read.
On Sunday, dozens of households that were left homeless by the fire were seen picking through the rubble and debris. In spite of being offered emergency accommodation at a nearby church hall, many of the victims claim to have slept outside on a vacant mountain slope nearby.
"We are in need of all the essentials," said Betta De Villiers, 29, holding her 5-year-old son
"My boy started in Grade R in January and he doesn't have any clothes left except for that which he is wearing. We need food, clothes and, especially, building materials so that we can have a place over our heads."
Community leader Alfred Ratana said that the fire was started in the shack of a woman who had forgotten her stove was on during loadshedding.
"When the electricity came back she had already gone to work," he said.
"We are a little bit disappointed, because we don't feel that the schedule for power cuts is being communicated to the community by the municipality. Sometimes law enforcement warn us with a loud hailer, but this did not happen on Saturday. For us, this is now an indirect outcome of that poor communication, and many people have lost all they own."
But, Stellenbosch municipal spokesman Vernon Bowers said that an SMS notice was sent to users, including those in informal settlements, to warn of scheduled load shedding for the month of February.
On providing aid and assistance in the aftermath of the fire, Stellenbosch municipality would provide food, temporary shelter, building materials and assistance in reblocking the affected section of the Langrug to ensure that there is an access road for fire engines in the future, Bowers added.
Meanwhile the woman in whose shack the fire started has reportedly fled the community after she was "attacked" by angry neighbours affected by the fire, said Ratana.
© 2016 GroundUp.
This article is licensed under a
Creative Commons Attribution-NoDerivatives 4.0 International License
.