Farm workers still fighting for dignity and their rights in the Western Cape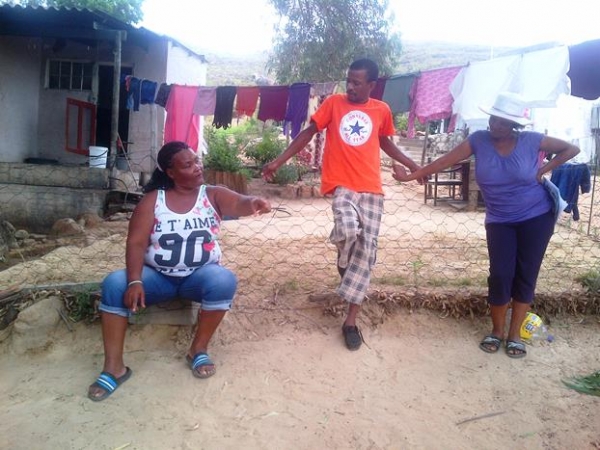 All kinds of nice things are being said and promises are once again being made by all the political parties around the State of the Nation speech and debate in parliament, writes Henriette Abrahams. But the reality on the ground for farm workers is very different.
Yesterday, I had a telephonic conversation with a farm worker in Citrusdal who wishes to join our union, the Sikhula Sonke Farm Workers Union. The worker complained relentlessly about his employer. He was begging us to come and look at the unbearable conditions he is living in, to visit him at his "hok" (his word) with a broken cement floor. They were struggling to get the farmer to pay their wages into their bank accounts. According to him, they are paid in a plastic bank bag with a piece of paper with their name and farm groceries shop debt written on it, the amount already deducted from their wages. He said the week before he was left with only R23 after deductions.
A piece of paper and plastic bank bag is not in compliance with the Basic Conditions of Employment Act and Sectoral Determination Act (13) on farm workers as it makes no reference to hours and overtime worked, deductions and so forth. The worker believes the farmer is overcharging his workers for the products they are forced to buy from him.
Even more shockingly, the farmer beats and physically assaults his workers. He also operates a tot system and pays male workers with alcohol for overtime or weekend work.
We all know about the horrific legacy of the tot system, from foetal alcohol syndrome to making our communities slaves to alcohol. It is high time farmers were made accountable and paid for the rehabilitation for these farm workers.
Last Saturday, we had to assist one of our members and her three children in Barrydale after she was badly assaulted by her alcohol abusing partner, chased with an axe, and left to sleep in the pigs' pen to be safe. We had to move her and her children to a place of safety for women and children.
But when we followed up with the employer for the woman's outstanding wages and her UI19 (Unemployment Insurance Form) we learned that the farmer did not deduct UIF, and refused to pay female workers' wages into their own bank accounts, but instead paid their money into their partners' or husbands' bank accounts. The farmer didnt want to be "bothered with all the admin work involved" in making too many EFT payments.
In another case, told to us in person, two female farm workers in Citrusdal were punished by the farm manager for debt on alcohol through the tot system. He forced them to physically remove Port Jackson trees with a huge iron tool pulled by both women as if they were oxen, while fellow workers and neighbouring farm workers watched. The second time, one of the women resigned as she chose not to be humiliated this way.
It is harvest time in the Western Cape and many workers are working overtime, mostly from 6am to 6:30pm. We are inundated with complaints from farm workers working 11 to 12 hours (excluding the prescribed resting periods) a day, while farmers refuse to pay workers their wages as set down in the law.
There is the case of a farmer in Citrusdal who has not paid his workers overtime for three weeks. The workers have laboured from 6am until 7:50pm. No overtime is indicated on their makeshift payslips. The same farmer is paying his workers between R60 and R80 in cash for 8 to 10 hours overtime worked on a Saturday and Sunday.
On one Tesco accredited export farm in Wellington, women are complaining that the farmer received toilets that are meant to be in the vineyards, but have stood in storage for years. The workers must go to the toilet in the bush. This is common on many farms; we continually have female workers complaining about such health issues.
In January, a Worcester farmer called our offices for assistance as his workers walked out of the orchard. Meeting with the workers, we learned that the farmer (who won 15 farms and a "model farm" in his words) swore at the female workers as they refused to carry and empty heavy peach buckets in a bin at the end of the tree rows. The male workers stood by the female workers; the whole work force went home and insisted on meeting the farmer to address their grievances. The farmer threatened that if the workers did not push up production, he would take away their transport to town and their children's transport to school. Little did he know that an organised workforce is not an easy push over.
We have complaints from all over of farmers verbally abusing and humiliating workers with foul language.
It has become common practice of late to forbid workers from giving any worker, dweller or dependent a lift in a farm vehicle, even a child or elderly person who needs a lift to school, clinic or hospital.

Sikhula Sonke Barrydale farm worker leader Dora Pieterse and her daughter and Vice President Sara Claasen. Picture by Henriette Abrahams.
Seasonal workers, who makes up the majority of the approximately 700,000 workers in the agriculture sector, the majority of which are female, are one of the most vulnerable groups in the South African workforce.
Apart from exploitation by farmers, there are also labour brokers taking their pound of flesh.
We have other horror stories – workers in the Piketberg area sold into labour by their headmen in Kuruman. A foreman goes to Kuruman and speaks to the headmen who signs a contract. The workers are loaded on trucks to go and work for less than the minimum wage. The headmen get a kick-back, and if workers protest or question why they are paid less than other workers, they are fired and thrown out in the road. They are left to sleep in the bushes and must find work on a neighbouring farm in order to pay the travel cost to get home.
We know of a labour broker in Citrusdal that shocks his workers with a Taser gun if he thinks they are working too slowly, and that he and his foremen sexually harasses female workers.
In the Suurbraak area, a labour broker employed workers on six-month contracts but never gave the workers copies of their employment contracts. One Friday, he told his driver not to fetch the workers, leaving them with only their last week's pay. The labour broker pocketed their harvest bonus.
Accommodation on farms often does not meet the standards as laid out in the Extension of Security of Tenure Act, yet farmers deduct rent from their wages for houses unfit to live in.
On one farm in the Barrydale area, there are small dilapidated rondawels with no electricity and toilets outside. The houses haven't been painted since they were built over two decades ago. The walls inside are pitch black from smoke, as the workers must cook on an open wood fire in the house.
On another farm, the farmer moved a retired worker into a house without windows and with parts of the iron roof sheets missing. The farmer promised him year after year to fix it. The pensioner gets bitterly cold during the winter months in the Klein Karoo.
Seasonal workers are accommodated in tents and hostel compounds. Workers have to pay high electricity tariffs, charges levied by labour brokers for the use of gas stoves and mattresses. They are barred from having visitors.
Farm worker communities are the forgotten segment of our society, hidden away and ignored in our rural areas, where exploitation is rife. Many employer-employee relationships on farms are still paternalistic, where the farmer appears to see the workers as subjects and property. Trade unions have difficulty accessing the workers. On those farms where we have recognition agreements, farmers often victimise our members and even offer farm worker leaders and shop stewards bribes to resign from the union. The struggle for decent lives and decent work for farm working communities is a long and arduous fight by small, independent, under-resourced trade unions in the agriculture sector.
Henriëtte Abrahams is General Secretary of Sikhula Sonke Farm Workers Union.
The opinions expressed in this article are solely those of the author. No inference should be made on whether these reflect the editorial position of GroundUp.
Dodgy people are suing us. Please support us by contributing to our legal costs and helping us to publish news that matters.
© 2016 GroundUp.
This article is licensed under a
Creative Commons Attribution-NoDerivatives 4.0 International License
.