"˜A place where we ought to love one another'
Emasithandane home, founded in 1994 in Nyanga, currently looks after 39 children, most of them HIV infected and affected. 20 years later, it is still going strong despite financial constraints.
"We accommodate both genders — boys and girls," says founder Gogo Zelphina Maposela (64). "Most of the children were abandoned by their parents, and some were left with no one to look after them after their parents' deaths. Others fled their homes because of the abusive nature of their parents."
Herself brought up by cold-hearted parents on the outskirts of Willowvale in the Eastern Cape, Gogo Maposela says she saw the need to establish such a home when she noticed a number of children with no one to fend for them after their parents' died from illnesses such as TB and HIV/AIDS. At the time, she was a nurse, working for SANTA (The South African National Tuberculosis Association).
"We would visit the homes of patients reluctant to take their treatments and compel them," says Maposela. "Some of them died, leaving behind their little ones, and I took them in."
At first, Emasithandane became a home to two children whose parents died from AIDS. It went on to house more children, including some abandoned by their parents or children who fled their homes because of abuse.
Maposela was not on her own during the early days of the project; she had help from five volunteers.
"I could not do it alone. No one does it alone. I got assistance from five volunteers, who would do household chores such as the cooking, cleaning and child minding," says Maposela.
After struggling for a long time without funds, the home was spotted by the National AIDS Coordinating Committee of South Africa (NACOSA) which introduced them to a number of business people.
"It was in 2005 when NACOSA noticed our work, and they loved it a lot, to such an extent that they even invited us to one of their summits. We met a lot of business people there, who donated us R100,000," says Maposela.
Emasithandane used the funds to buy computers and marketed itself online. In so doing, it was noticed by the University of Cape Town (UCT), which built a five-room double-storey flat. More people followed suit.
"We got support from kind people, who included overseas tourists who built us a four-room double-storey flat," says Maposela.
The kind-hearted who provide an ongoing support to the home include a UK athlete, Vicki Butler, and her friend; CHOSA (Children Of South Africa); Pastor Chris of the Christ Embassy and local churchgoers.
Maposela says even with this kind of support the going can get tough at times.
"We still need more support for different things. We have children who attend college and education can be expensive, and some of the boys here are yet to go to initiation school and that's also costly."
The South African Social Security Agency (SASSA) is yet to provide them with support.
"SASSA came by in December last year to do an inspection of our work and said they will come back to us soon. We are still awaiting their response."
The financial constraints have caused the home to prioritize certain things over others.
"Every year from January to May, we run short of food, as we have to buy clothes for winter," says Maposela. There are days where the children go to sleep having eaten little food or nothing at all.
"But we always trust in God. At such times, we pray to him," she says, "and to our amazement someone will come through the following day and donate some money."
The positive attitude of the young dwellers of this home becomes evident when one sees them partaking in activities such as sport and dance.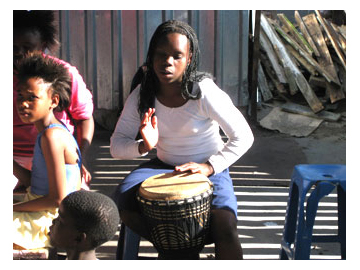 Masithandane dance group. Photo by Bulelani Ngovi.
"The boys have a football club and have won numerous trophies in the Nyanga Local Football Association League and in tournaments, while the girls do dancing at cultural events," says Maposela.
When asked about the future of the home, she says it is in the hands of God.
"May the person who will come after me take good care of these precious children like I do," she says, while deeply lost in thought.
Loosely translated, the word emasithandane means 'a place where we ought to love one another'.
© 2016 GroundUp.
This article is licensed under a
Creative Commons Attribution-NoDerivatives 4.0 International License
.