Dying and the law: the Dignity SA case explained
| Timothy Fish Hodgson
News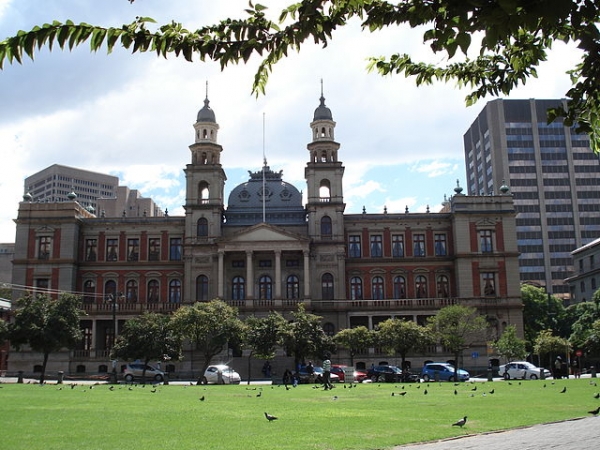 Yesterday Judge Fabricius of the Pretoria High Court handed down an order in the case of Robin Stransham-Ford.
Stransham-Ford was a 65-year-old man who was dying of prostate cancer. He had asked the court to determine whether a doctor could legally assist him to end his life.
Although, because of the urgency of the matter, a full written judgment will only be provided by Judge Fabricius in the weeks to come, the judge's order indicates that Stransham-Ford had at most a few weeks to live and was "suffering intractably" and should therefore be permitted to end his life with the assistance of a doctor. This order which Stransham-Ford, supported by Dignity SA, asked Judge Fabricius to make, was opposed in court by the Department of Justice and Correctional Services, a Christian lobby called Doctors for Life and the Health Professions Council of South Africa.
Validating the urgency with which Judge Fabricius treated this matter, Stransham-Ford passed away peacefully, but unassisted while under the care of medical professionals and in the presence of his family in the early hours of this morning. He never got to hear of or benefit from the Court's ruling.
Up until Judge Fabricius handed down this order yesterday, it was clear that assisting a patient to take his or her own life was illegal in terms of South African law and could potentially open doctors up to civil claims, criminal prosecution and disciplinary action from within the medical profession.
In 1999 President Mandela had tasked the South African Law Commission with investigating assisted dying. The Commission, which was chaired by former Chief Justice Ismael Mahomed, published its findings which included two different options of positions which would allow a terminally ill person to be assisted in the process of dying. These findings, which included draft law, were not seen as a priority and have not since been debated in Parliament. Recently former Archbishop Desmond Tutu has come out in support of assisted suicide and "the dignity of the dying".
Stransham-Ford, a former advocate himself, had approached the Pretoria High Court urgently, assisted by Dignity SA, an organisation which campaigns for "the right of terminally ill, chronically suffering people to choose the time and place of their death". This right, Dignity SA argues is grounded in the constitutional rights to life, dignity, bodily and psychological integrity and to be free from cruel, inhuman and degrading treatment. Parliament's failure to pass a law to protect these rights is in Dignity SA's view a violation of its obligation to respect and protect the rights in the Bill of Rights and therefore in conflict with the Constitution.
The case appears to centre on Stransham-Ford's right to have his inherent human dignity respected and protected. Human dignity is also a foundational value upon which the entire Constitution is built. The right to live with dignity, according to Dignity SA, includes the right to choose to die with dignity.
Judge Fabricius's order gives an indication that it is a combination of some of these rights and other provisions of the Constitution detailing the state's obligations upon which his decision is based. He finds that the crimes of "murder or culpable homicide in [the] context of assisted suicide by medical practitioners, insofar as they provide for an absolute prohibition, unjustifiably limit [Stransham-Ford's] constitutional rights" to dignity and bodily and psychological integrity. His judgment is therefore likely to acknowledge a right to choose to die with dignity and have professional medical assistance in doing so.
Although Judge Fabricius, according to news reports, appears to be attempting to limit the scope of the influence of this decision, it is a decision which will have far-reaching implications. In the order itself the judge notes that this decision is not to be interpreted as endorsing the proposals contained in the Law Commission's 1999 report or the draft law which accompanied it. The judge was also careful to include in his order a proviso that although, doctors may have in terms of the order, been legally permitted to either administer a "lethal agent" to Stransham-Ford's or provide him with a lethal "to administer himself", no doctor is "obliged to accede to accede to [Stransham-Ford's] request".
In making this order, Judge Fabricius is filling a gap which the law, in the absence of the finalisation of the Law Commission's 1999 process, has left open. Whether or not the expected judgment is appealed to a higher court, which seems likely, a ruling that our legal rules are unconstitutional and require development in terms of the Constitution will ultimately require the confirmation of the Constitutional Court.
The order, if confirmed, will provide some much needed clarity for both terminally ill patients about their options in ending their own lives and doctors in assisting them to do so.
Previously there have been many situations in which doctors have felt ethically obliged to assist suffering patients to end their lives despite the serious risk of criminal prosecution.
Unlike Stransham-Ford, other members of Dignity SA, short of legal options to acquire assistance in ending their suffering, have taken matters into their own hands. In August last year, Inkhata Freedom Party Member of Parliament, Mario Oriani-Ambrosini, a friend of Stransham-Ford's, who was in the final stages of terminal lung cancer took the decision to shoot himself in his room in Cape Town.
Most recently, Avron Moss, a 49 year old Capetonian paediatric neuropsychologist and patron of Dignity SA, went to the extraordinary length of illegally importing lethal drugs from Mexico and then ensuring their effectiveness by having them tested using a testing kit sourced in Australia to ensure that he could take his own life. His final statement to Dignity SA before taking the drugs and ending his life was:
"That healthcare professionals cannot assist [terminally ill patients], and that these patients are forced to buy questionable medication to end their lives from unscrupulous websites, or suffer the terror of having to shoot or hang themselves, ought to be abhorrent to any caring professional … The relevant law in South Africa actively perpetuates suffering, in conflict with our Constitution and with Human Rights, and is indefensibly unjust. All caring health care professionals ought to be actively involved in campaigning to change the law."
Judge Fabricius's order, and the anticipated judgment, mean that although Stransham-Ford died unassisted and before the order was handed down, he may have begun a process towards South African law's recognition of a right to die with dignity.
Timothy Fish Hodgson, social justice activist and human rights lawyer. He tweets at @TimFish42 and works as a Legal Researcher for @SECTION27News. The views expressed here are his own.
Here is Judge Fabricus's order: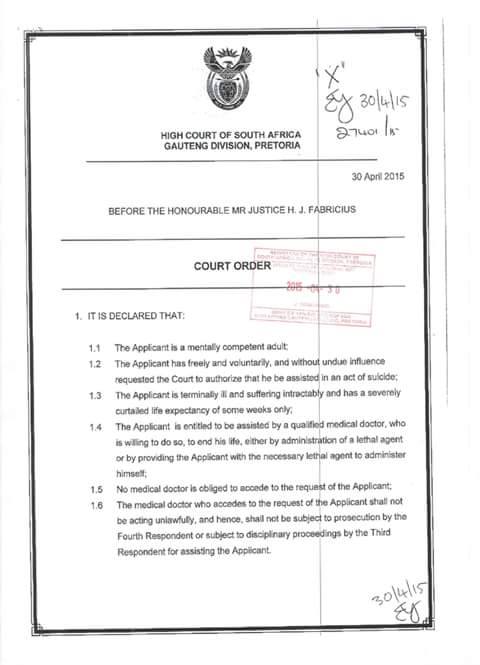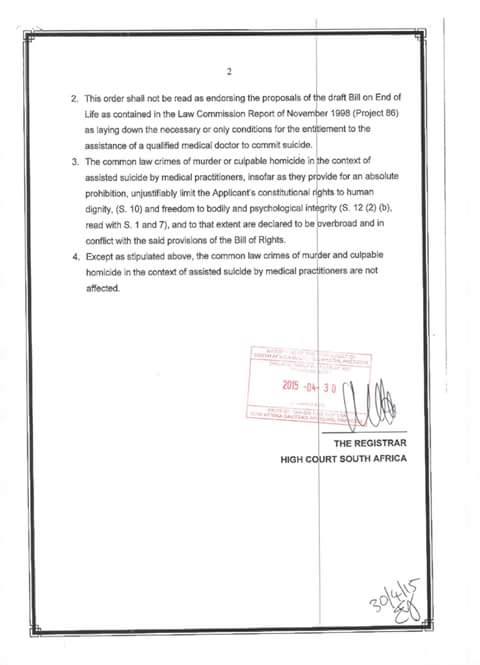 © 2016 GroundUp.
This article is licensed under a
Creative Commons Attribution-NoDerivatives 4.0 International License
.