Dunoon family face eviction after father sells their house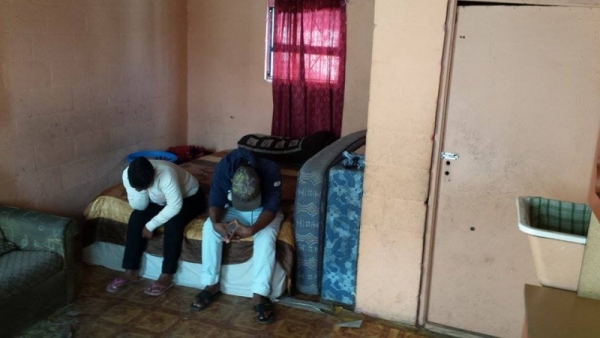 Two brothers and a sister face eviction from their home by a man who bought the house from their father without the children's knowledge.
The Western Cape Department of Social Development (DSD) has made arrangements for the three to be placed in a temporary safety care.
Siphamandla Macekiswana, 19, has been taking care of his 16-year old sister and 10-year old brother since the death of his mother in 2007. He said his father had left the family and sold their RDP house in Dunoon to a man from Parklands.
Macekiswana said that he did not go to school and was unemployed but every day he tried to find work to bring food to the table. If he did not find work the brothers and sister had to survive on R500 rent paid by a tenant living in their backyard.
Inside the one-roomed house there is a bed, broken kitchen cardboards, and a torn couch.
Macekiswana said last December a man had come to the house with a document showing that the home had been sold to him for R90 000.
He said his father had gone to the Eastern Cape without telling his children what he had done or sharing the money with them.
The father could not be reached for comment.
"We do not have money and we do not want to be left homeless," said Macekiswana.
"We do not know who to run to", he said.
"I want my sister and my brother to be educated and I will do everything to make sure that happens. I am not sure how we are going get the house back but I am going to do my best", said Macekiswana.
Sihle Ngobese, spokesperson for the Western Cape Department of Social Development, said a request had been received from the Children's Court to help the three. Social workers had investigated and made arrangements for the two brothers and sister to be placed in temporary care.
He said while Macekiswana was taking legal steps regarding the sale of the house, the department would try to ensure that there was as little disruption as possible to the children's lives. Social workers had contacted colleagues in the Eastern Cape to try to get information from the children's father on relatives who could provide a home and care, Ngobese said.
The department would continue to work towards reuniting the three with their family, especially in time for the 2016 school year.
According to a neighbour, the three do have family members in the Dunoon area, but they could not take the children in because they were too poor.
"The children have uncles but they say they are too poor to take care of children", said the neighbour.
Dodgy people are suing us. Please support us by contributing to our legal costs and helping us to publish news that matters.
© 2016 GroundUp.
This article is licensed under a
Creative Commons Attribution-NoDerivatives 4.0 International License
.