Disabled man says Kimberley municipality let him down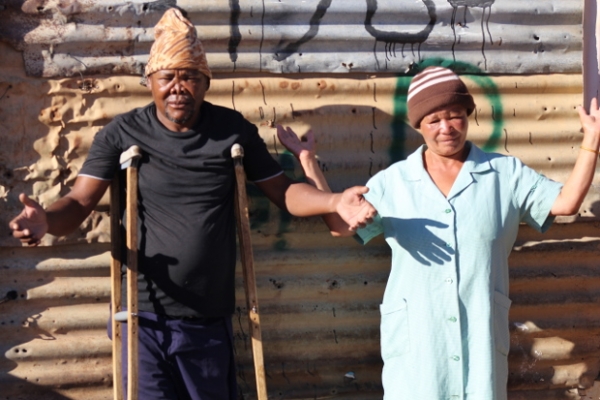 Kimberley resident Frans Bernd has needed to use a wheelchair since his leg was amputated in 1991. He thought his dream of owning a house would come true when the municipality told him in 2014 to move to a site where houses and services would be available. But the dream has turned into a nightmare.
In June 2014, the Sol Plaatje municipality ordered Bernd, 57, to break up his shack in Eagle Street, Roodepan, and move about a kilometre away to a designated erf in Aspen Street, Jacksonville.
He says, he was relieved to leave Eagle Street because he needed a house and municipal services and, especially, a proper toilet because he has only one leg.
True to the promise of the municipality, a week before the 2014 elections, a municipal truck came and his shack was taken down.
But, instead of taking him to a new house, the truck dumped him with his belongings at an empty site. Municipal workers hastily helped him rebuild his shack.
"They put the corrugated iron that was leaking on the roof, and for three days, I had to endure terrible weather conditions due to the cold rain," said Bernd.
He is part of a group of people who were moved from the informal settlements in Eagle Street, Doek Doek and Ivory Park in Roodepan. These settlements do not get municipal services.
The group has accused the municipality of misleading and then deserting them by dumping them at the Jacksonville site.
Councillor Vaughn Settley, chairperson for human settlements in the mayor's office, said 72 houses were being built in Jacksonville and foundations had already been laid. He said that two houses would be for disabled people.
Municipal spokesperson Sello Matsie apologised for "any inconvenience". He said the municipality had "tried to help with transport".
"Surveyors have identified 373 erfs for municipal services and this may not necessarily translate into housing structures," he said.
Matsie said authorities would try to "remedy the trouble struggling families face". According to him, there was no intention for houses to be ready at this stage, and that it will take two or three years to build them. He also said, "Nobody has been moved against their own volition."
Matsie explained that in the area where Frans Bernd previously lived there were no services, water or electricity, and that access to emergency vehicles was difficult.
"This new area will be properly serviced," he said.
For now, Bernd just wants a proper toilet and for his shack to be rebuilt. His wife, Katrina, has tried mending the leaking roof iron. Bernd has to use the bush nearby as a toilet.
© 2016 GroundUp.
This article is licensed under a
Creative Commons Attribution-NoDerivatives 4.0 International License
.