The debt machine and the politics of 0%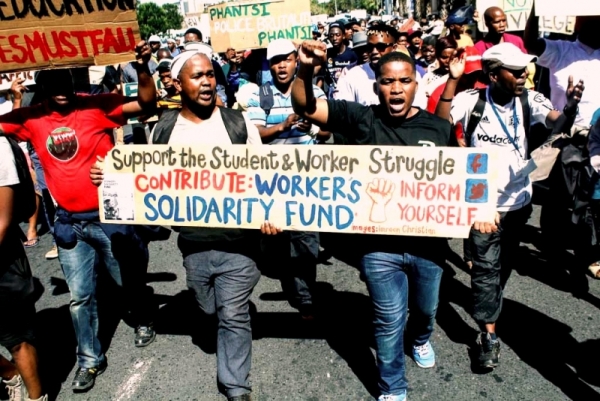 The current wave of student protests in South Africa has been mostly analysed from a national and local perspective.
Following a long - hard to break - tradition of insularity, the protagonists themselves have seldom interpreted their own actions as part of a broader critique of social life under contemporary capitalism.
And yet, besides the now familiar themes of black pain, psychic injuries and black suffering (some of which are lifted almost verbatim from the African-American Handbook), most of the narratives produced during the recent events – on hunger on campuses, struggles over basic income, rising spiral of indebtedness, outsourced workers, most of them single mothers or orphans literally reduced to scavenging in order to make it from today to tomorrow - potentially point in this direction.
That such a direction has not been explicitly taken is all the more surprising. After all the protagonists' own "lived experiences" suggest that any plausible critique of today's political economy must, of necessity, begin with a political critique of debt as one of the dominant structures of post-Apartheid social relations.
Yet - one should insist - outsourcing, the defunding of higher education and rising tuition fees in South African universities are but manifestations of the global financialization of existence – a systemic process that is an integral part of the changes affecting the organisation of capitalism worldwide.
The violence wrought on people's lives by the "debt machine" – most of which is borne by the poor - is therefore far from a South African predicament only.
It is a crucial device in the planetary reproduction of the global regime the ANC found in place after it came to power. Could it have done anything about it? Consciously or not, it fully embraced it.
From 1994 to 2010, South Africa's exposure to credit in the private domestic sector increased from R230 billion to R2.1 trillion according to a December 2012 Consumer Credit Market Report.
A recent study by The World Bank concludes that South Africans are among the biggest borrowers in the world. Almost 86% of those who have an account at a financial institution borrow money for houses, cars, cell phones, farms and businesses, school fees and health care, or simply to cover day-to-day costs. Many are ensnared in a cycle of debt that is almost impossible to break.
Meanwhile, the country's net debt as a percentage of Gross Domestic Product has grown from 21.8% in 2008-2009 to 40.8% in 2014-2015.
Today, rising government expenditure outstrips tax revenue. The South African government's borrowing costs have grown steeply in nominal terms since 2009. They are estimated to reach R153 billion in 2017-2018.
Should interest rates go up and should annual growth rate prospects remain as depressingly low as they currently are, the combination of even higher servicing costs for future debt and a potential tax revolt would inevitably cripple the fiscus and would likely precipitate a social crisis of major proportions.
For the ruling party to now turn around and declare its support for those marching against the debt machine it has actively propped up over the last two decades only shows the extent to which the former liberation movement has turned into a pharmakon – once poison and now antidote.
Whatever the case, much of the economic violence which students, outsourced workers and single mothers have been denouncing is increasingly exercised at the debt nexus rather than within the classical capital-labour relation.
To be sure, factory work has not entirely disappeared. But it is no longer the primary source of value extraction. The classical wage relationship alone no longer determines the actual life of millions of people.
The most generalised power relationship today is that between debtor and creditor.
This is true of South Africa where debt is ecumenically distributed.
Whether they like it or not, workers and the unemployed, consumers and producers, working and not-working populations, retirees and welfare recipients nowadays must assume the costs as well as the risks and the losses of an economy that has become increasingly financialised.
Furthermore, as we saw during the structural adjustment years in other parts of the African continent in the 1980s and 1990s and as we see in Greece and other parts of the world today where austerity is the rule, debt is no longer simply an economic mechanism.
It has become a technology of discipline and punishment, wielded for the most part by a transnational financial class.
Capture and expropriation
As far as South Africa is concerned, there is enough in the stories told by black students, their (mostly) single mothers and outsourced workers that powerfully speaks to the way debt nowadays functions as a predatory and racialised apparatus of capture and expropriation.
I use the term "expropriation" - and not dispossession - for good reasons.
There is – and that is the paradox – always a lot to take away from people who, in the first instance, do not have much.
Precisely because they do not own much, the little that is taken away from them – and which usually is all they have - is always likely to catastrophically damage their already limited life-chances.
To be deprived in this manner of the capacity to hold onto the minimal resources necessary for the creation of a semblance of human life is what is meant by "expropriation".
For many poor and low income black families, exposure to the debt machine and to its logics of entrapment has become the main risk attached to sending a child to the university.
Poor and low income black households are not the only social category for whom the end of Apartheid has coincided with being trapped in the debt machine.
Between 2004 and 2014, the percentage of South African populations in the red has increased exponentially.
In fact, much of the so-called black middle class is an indebted class.
More than often, education is the only asset they can realistically transfer to their descendants both in the form of inheritance and in the form of a patrimony.
They live under the constant threat of a car, a house, home appliances being repossessed by a bank; or a garnishee order being put through the payroll system in order to nail them down or to force them to pay back a lot more than their original debt – in the worst instance with court costs, penalties and interests included.
Social insurgencies
Without doubt, what used to be taken for democracy and the political has been thoroughly hollowed out and redefined by finance. For those in search of unprecedented sites of social protagonism and militancy, indebtedness is obviously the new terrain of class resistance and race and gender struggles.
As the crisis of representation affecting political parties, trade unions and other civil society organisations intensifies, the question of who represents whom and by which mandate has become crucial. What kinds of organisations and networks are best suited to fight these new struggles over redistribution (wages, income, social spending) and over voice, the right to be heard and the terms of recognition? Is "decolonisation" the best theoretical concept to capture their multiple significations and their complex dynamics?
Democratically constituted structures now hardly represent the multiplicity of social (and mostly unorganised) voices that are clamouring to be heard.
Existing formal structures having been actively delegitimised and figures of authority vilified, the risk is that the public space will be colonised by those who shout the loudest and are prompt to curse. Ironically, they claim to speak on behalf of amorphous and ever-changing constituencies that have never elected them in the first instance.
To this effect they tend to blur any distinction between ends and means. In the name of the end, all means are rendered legitimate. A state of exception is declared, which authorises the suspension of existing mechanisms, including the law itself. To succeed, such mobilisations must rely on the ability to assemble crowds, to inflame passions and to excite victimised modes of identification – a quasi-millenarian form of mob politics parading as radical democracy.
If everything must fall …
It is one thing when levels of political violence keep going up while levels of economic and social violence remain stationary or, in fact, decrease.
It is an entirely different predicament when levels of economic violence intensify to the point of triggering, in return, rising levels of political and social violence.
Everything seems to indicate that South Africa is fast entering the second scenario. The endlessly repeated call for almost everything to "fall" is largely indicative of this trend.
It now looks as if the ANC will have a hard time quashing the new social insurgencies or neutralising their challenge in the way it has done for the last two decades.
For a long time, it has appeased a restless population with welfare grants and plethoric civil service jobs. As the time of profligacy nears its end, the ANC now hopes to tap into – and perhaps appropriate for itself - the existing reservoirs of mob politics parading as radicalism - through phagocytosis. It remains to be seen whether it will succeed or not.
But for any of the new social insurgencies to truly displace the ANC hegemony in organisational, cultural and symbolic terms, their leaders and constituencies will need to go beyond a politics of expediency that strives on the vilification and demonisation of a few straw men while conveniently forgetting that the real target is the capitalist mode of valorisation – and thus of production of life as such.
Transformations of capitalism require new modes of thought – and most importantly new practices of the imagination.
If everything "must fall", then what exactly must stand in its place?
Unless we extend our imagination and properly articulate what "must stand" in lieu of what will have been overthrown, we might end up privileging the politics of ruins over a genuine politics of creative emancipation. To distribute property and the wealth of the nation in a different way, we will need to massively reinvest in various generic human potentialities.
We will have to rediscover the centrality of the social in any future-oriented political or economic project.
We will have to learn how not to squander what belongs to future generations and how to ring-fence what is common, and thus priceless precisely because its value exceeds any form of measurement (education, arts, culture, health, care and the imagination).
In no way is the future pre-ordained, and most of the choices we face are not always mutually exclusive.
If consensus is always a provisional outcome to be reconstituted at every step, not all differences necessarily lead to radically incompatible worlds. Therefore they do not need to be settled by the violent, total victory of one fraction over other fractions.
Unless we take seriously this endless work of contestation and negotiation as the starting point of our praxis, democracy (liberal or radical) will have no future here.
Views expressed are not necessarily GroundUp's.
© 2016 GroundUp.
This article is licensed under a
Creative Commons Attribution-NoDerivatives 4.0 International License
.