Deaf man's long wait for RDP house
|
Nombulelo Damba-Hendrik
News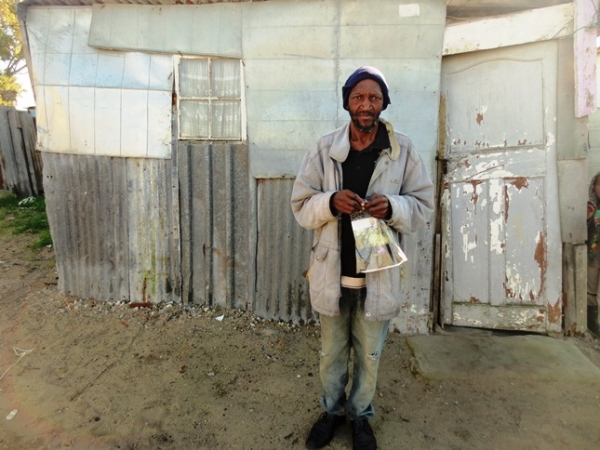 When Zandisile Khobeni (61) received a letter showing that his housing subsidy application had been approved in 2011, he was over the moon with joy. He didn't know that four years later he would still be waiting for a house, even as the other people in his street received their RDP houses.
Nathan Adriaanse, communications director in the Western Cape Department of Human Settlements, says, Khobeni's subsidy was withdrawn. Now in order for him to receive an RDP house, he must re-apply for the subsidy which had already been approved.
Khobeni, who cannot hear well, lives alone in a one-room shack in Philippi. The shack is leaking and there are holes in the roof. He told GroundUp that he built the shack as a temporary lodging after he removed a bigger shack to make space for an RDP house. But this house was never built.
When GroundUp visited Khobeni, neighbours sitting outside their houses begged, "Please help the old man". Neighbours also said they suspected fraud.
One woman, who did not wish to be named, said, "He's been living in this one-room shack for a very long time and no one knows what happened to his subsidy money. It is very strange that he's the only one who never received a house."
GroundUp accompanied Khobeni to the Fezeka Municipal offices in Gugulethu. After being sent pillar to post with no help forthcoming, the old man said he was giving up as he'd been in the Fezeka offices so many times and no one had ever explained to him what he should do to get a house.
In the last office that he visited, a woman at the front desk said Khobeni must go to Plumstead where maybe he could get help.
"What I don't understand is why I'm the only one left. All the people in my area got their RDP houses except me," said Khobeni. "I'm old, that shack is very cold, and no one seems to help me."
Khobeni, a pensioner, said his only child had passed away and no one was taking care of him.
"I have a plot number and a house number, but no decent house," he said.
Adriaanse said the Khanyisani housing project consisting of 306 houses had been approved in 2006 and completed in 2010. At first, Adriaanse said Khobeni's subsidy had been withdrawn at his own request because he wanted to participate in another housing project. "In view of the fact that Mr Khobeni's subsidy application was withdrawn and that no funding has been paid out against his name, he is at liberty to apply to participate in another project as he intended to do," said Adriaanse.
But Khobeni denied withdrawing his subsidy so GroundUp asked Adriaanse for further clarification. He then replied in writing that Khobeni submitted his first housing subsidy application with his partner Nomngeniselo Ndabeni during November 2005. The application was approved in January 2006. Adriaanse said a request was received from Africon in February 2009 to withdraw the application as Ndabeni wanted to participate in another project. Adriaanse stated that Khobeni re-applied with cohabiting partner Thobela Kobeni in June 2011. Khobeni's application was incomplete due to outstanding documentation, namely the Deed of Transfer.
"This office requested that the application be withdrawn in 2014 as applications cannot be held in abeyance for an indefinite period," wrote Adriaanse.
Adriaanse admits that the status withdrawn by applicant should in fact read withdrawn, but "the Housing Subsidy System, which is managed by the National Department of Human Settlements, does not give any other options to choose from."
"In view of the fact that Mr Khobeni does not have a subsidy application on approved status, his claim to be housed is not valid," according to Adriaanse.
Khobeni says no one told him about his application being withdrawn. He said he can not speak for his wife as she is no more, but it would have been good if the housing officials told him what was happening.
"I've been in and out of housing offices in Fezeka. I never got any explanation," said Khobeni.
© 2016 GroundUp.
This article is licensed under a
Creative Commons Attribution-NoDerivatives 4.0 International License
.