De Waal Drive residents' option to stay on, for now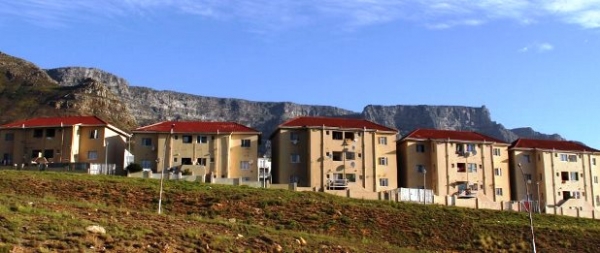 On the weekend, some tenants at the De Waal Drive flats received notices that they can stay on, provided they pay their rentals going forward. In this latest message to the residents, the Western Cape Department of Human Settlements has asserted a softer approach than it had done in the past. The change has been welcomed.
After an April meeting with Department officials, for instance, the tenants were left with the impression that everyone who could not afford market related increases to their rentals would be given the option of relocating to the Pelican Park housing development in Grassy Park. This message was reiterated by officials who started visiting households door-to-door in May.
Earlier this month, after a public outcry over this apparent proposal, Human Settlements MEC Bonginkosi Madikizela held a public meeting with the tenants to explain his department's position. Madikizela suggests that the department's intent was either miscommunicated to- or misunderstood by the tenants.
He reiterated that there had been rental defaults from some tenants in the past, resulting in an unsustainable situation for the buildings' upkeep. But, he added, that there would be no threat to people who pay their rent going forward. If any residents were getting mixed or contradictory messages from department officials, they should report it to the Department, he said.
Since Sunday, Fuad Isaacs of the Drive's residents association has been visiting tenants at their flats to gauge whether everyone could agree to this condition of compliance.
"This is a very different situation to the one people were led to believe, so there has been a generally positive response. Most people say that they can and will keep up with their rent from now," he said yesterday. He and fellow committee members had called at around half of the ninety odd flats since Sunday afternoon.
"There may be some families who are in a spot of bother at the moment. We have asked them to come to the committee and to be open with us so that an arrangement can be made until they are self-sustainable. In fact, anyone who runs into trouble in the future must come to us early, so that we as neighbours can pull together and help if needs be. This is an opportunity that has been given to us. These days we are better organised, better informed and in a better position to stand together as a collective."
The committee also had no issue with people who wanted to accept the department's offer to become home owners in Pelican Park, Isaacs added.
"It was just important to us that everyone had the correct information and could make a decision without feeling intimidated or confused."
© 2016 GroundUp.
This article is licensed under a
Creative Commons Attribution-NoDerivatives 4.0 International License
.