NEWS
Cycling awareness event in Gugulethu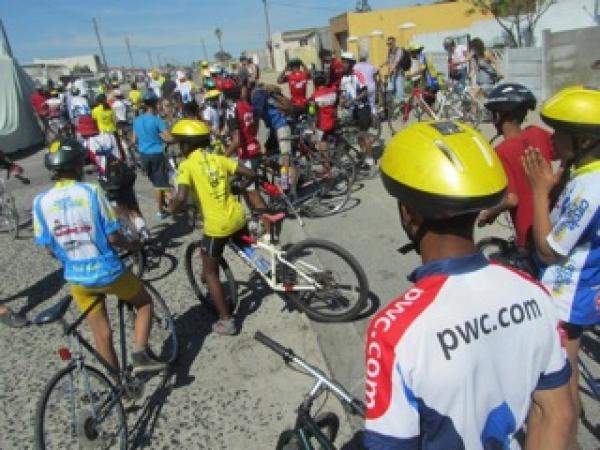 Gugulethu Township was abuzz this weekend as cyclists from all over Cape Town participated in a bike ride from Cape Town central station to Gugulethu and back.
The event is an initiative by the City of Cape Town and the Western Cape Department of Transport, with assistance from other organisations such as Bicycling Empowerment Network (BEN) and Bicycle Cape Town. The aim of the event was to encourage Cape Townians to look at other feasible transport options to get them to and from work. The event started at Cape Town Station. The riders cycled to Athlone Stadium where more riders joined. They then proceeded to Heideveld where more people joined. They then cycled to Gugulethu and ended at Pisto's Pub, where there was a braai, drinks and speeches.
It all began with community bike rides, which started four months ago to promote a culture of cycling for professional, leisure and health reasons.
"We want to see more people cycle more often and we want to achieve this through community events that take place on a monthly basis. We want to bridge the gap between the city and township cycling. We want cycling not to be seen as only a sport for the privileged or just another means of transport," said Lynn Streit, member of Bicycle Cape Town.
Streit shared how overjoyed she was upon arriving in the Lavender Hill and Steenberg area—which she said are both known for being rough areas of Cape Town—to see community members out riding and using cycling for sport. She further explained how cycling boosted the confidence of young people still at school and made them feel part of a team.
Streit explained that while the sport is growing, there are a number of challenges that face people living in townships. Many township roads do not make provision for cycling paths and a number of roads are in a poor state. However, probably the biggest challenge faced is the lack of facilities which limits the cycling culture in townships. Despite these challenges there are cycling academies found in townships. Velokhaya–The Life Cycling Academy—is a professional club in Khayelitsha. Streit says this is just one example of an academy that is available to the public dedicated to training and developing professional cyclists in the townships.
Several of the organisers, including Bicycle Cape Town, Greenpop and Bicycling Empowerment Network raised R1 000 towards buying three bikes to be donated. The process to receive one of these bicycles is open to the public. People are welcome to write a motivational letter nominating someone best suited to get a bicycle and email it to lynnstreit [at] gmail.com.
© 2016 GroundUp.
This article is licensed under a
Creative Commons Attribution-NoDerivatives 4.0 International License
.