Countrywide protests by education activists over delayed government plans
|
Mary-Anne Gontsana
News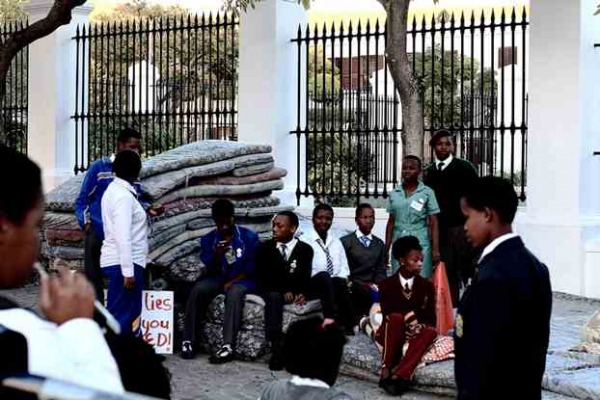 Excitement and frustration were evident outside Parliament when students and Equal Education (EE) members slept overnight on the pavement in protest at the delayed release of the provincial implementation plans for Norms and Standards for School Infrastructure.
Big red banners could be seen hanging on the Plein Street railings of Parliament, with the words "We want school infrastructure now!!!". Mattresses were laid in rows, close together on the first night of the two day protest. Students slept in their in school uniforms. Protests were also held by EE in the Eastern Cape and in Pretoria.
Buhle Booi, Grade 12 student from Sizimisele Technical High School in Khayelitsha, said they were protesting because they wanted Minister Angie Motshekga to release the plans so that "as the youth we can monitor them and see that the government is doing something. We want things such as poor sanitation, no electricity in classrooms and mud schools to be eradicated. We want all schools in South Africa to be up to standard and to have basic necessities. In my school we don't have enough resources for science apparatus, which makes it difficult for some of us to participate in chemistry tests. Other schools in other provinces are dealing with much worse."
Grade 12 student, Kedibone Legoale described the atmosphere of the event, "We were singing and dancing and no one felt the cold or anything like that. We all had the same vision, that we were fighting for our education and the education of generations to come. … My parents know where I am and they support me and they are behind me through this cause because they understand the importance of education."
A statement by EE said that on 28 November last year the Department of Basic Education (DBE) released a statement saying it would make the plans public after the Minister had considered them. EE states that the Minister has now had 120 days to consider the plans, and still they have not been made public.
DBE spokesperson Elijah Mhlanga said recently "The plans will be published in the next few weeks. The processes needed to be followed first."

Equal Education members slept on the pavement outside Parliament. Picture by Mary-Anne Gontsana
The EE statement says in response, "We find this unacceptable because we are nearly halfway through the first binding three-year timeframe contained in the Norms and Standards. According to this timeframe, by the end of November 2016, all schools with no water, electricity and sanitation will have to be provided with these services, and all schools made entirely out of mud, wood, and asbestos will need to be rebuilt."
EE wrote to the Minister on 9 December 2014, formally requesting the plans and asking that they be made public. The organisation also wrote to all nine provincial education MECs requesting that they release their plans. EE wrote again to the Minister on 27 February 2015 and 12 March 2015. On 19 March 2015 the Equal Education Law Centre (EELC) submitted a promotion of access-to-information request for the plans.
In the Eastern Cape, EE members held a night vigil outside the Eastern Cape Education Department while in Pretoria, DBE spokesperson, Elijah Mhlanga accepted a memorandum from the protesters.
On Tuesday, the DBE released a media statement in response to EE's planned protests saying the Minister of Basic Education would publish the provincial plans for school infrastructure as she promised last year upon receiving the drafts from all provinces.
"In the last meeting of the Council of Education Ministers two weeks ago the infrastructure plans were discussed and it was agreed that provinces would finalise and prepare them for publishing. The Department has nothing to hide, and it is unfortunate that some organisations want the plans to be rushed at the expense of internal processes. The insinuations by these organisations that Minister Motshekga and the MECs are hiding something are misleading, devoid of truth and disingenuous."
In response to this, EE insisted that the plans be released "immediately".
The Western Cape Education Department's (WCED) Jessica Shelver said they were are aware of the protest outside Parliament and "the WCED has submitted its plans to address the norms and standards for infrastructure to DBE as required. DBE has requested that the provincial departments do not release their provincial implementation plans as it is still under discussion and consultation."
Philippi High School students, who on 6 March were involved in a violent stand-off with the police in the Cape Town CBD after marching for lack of school infrastructure, also came out in solidarity to support the protest.
Dodgy people are suing us. Please support us by contributing to our legal costs and helping us to publish news that matters.
© 2016 GroundUp.
This article is licensed under a
Creative Commons Attribution-NoDerivatives 4.0 International License
.