Confess or else! Threat in Angy Peter trial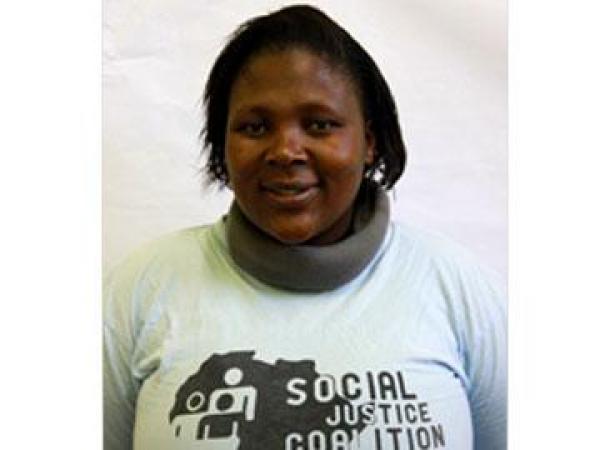 Dustin Kramer, Deputy General Secretary of the Social Justice Coalition (SJC), says he has received a threatening SMS, demanding that he gets Angy Peter and Isaac Mbadu to confess to the murder of Rowan du Preez.
The SMS, which Kramer, age 32, says he received on his cell phone at 2:31pm today, states:
Mr kramer u have 3 days to force angy and isaac to admit that they killed and murded rowan. That is if u still luv your job and u still want to come to khayelitsha hassle free.
The SMS was apparently sent from mobile number 061 715 2121. Kramer says he tried calling the number. At first it rang without answer. Then on a subsequent call, Kramer says, it went straight to voicemail.
Kramer lodged a complaint at the Cape Town Central Police Station this afternoon at approximately 4pm.
Peter and Mbadu are on trial for the kidnapping and murder of Rowan Du Preez in October 2012. Azola Dayimani and Christopher Dina are also charged with the kidnapping and assault of Du Preez.
Peter is a leader of the Social Justice Coalition, the organisation at the forefront of the call for the commission of inquiry into policing in Khayelitsha that has taken place during the first half of 2014. The commission has heard extensive testimony criticising the South African Police Service.
Peter had first met Du Preez, a member of the Hard-Living gang, in 2010 after he was assaulted by community members for alleged theft. The pair continued to meet regularly as Du Preez tried to reform his ways.
But Du Preez was suspected of stealing a television set from Peter's home in August 2012, and selling it to a sergeant in the Crime Intelligence Division at the Mfuleni Police Station. Peter set out to have the sergeant investigated by the Provincial Commissioner's Office and the Independent Police Investigative Directorate (IPID), but no action was taken against the officer.
Then Peter was repeatedly arrested – in April 2013, May 2013, and August 2013 – on different kidnapping and murder charges, and placed under house arrest. These charges were never brought to prosecution.
Peter has maintained her innocence throughout the trial. She is now under cross-examination by the prosecution after testifying in her defence.
While Peter was being cross-examined today, her lawyer, Advocate William King, told the court today, "The aim of this evidence is to show that she was the face of the Social Justice Coalition [call for the] inquiry [into policing]. She was quite literally putting her face in the line of fire," said King. "We are establishing that this is a political case."
Kramer says, "The SJC takes this matter very seriously. Whoever it is appears to be trying to intimidate the organisation's leaders and defeat the ends of justice. It's unclear whether this is a real threat or some kind of grudge against Peter, Mbadu or myself. However, at this stage we are taking it seriously."
Dodgy people are suing us. Please support us by contributing to our legal costs and helping us to publish news that matters.
© 2016 GroundUp.
This article is licensed under a
Creative Commons Attribution-NoDerivatives 4.0 International License
.