NEWS
Choosing the lesser evil: taxi or train?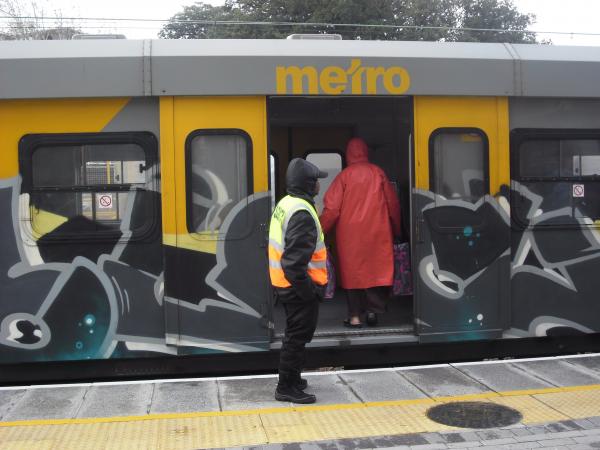 GroundUp journalist, Tariro Washinyira, describes the aggravations of taking a minibus taxi from Bellville to Cape Town. But taking the train instead has its own hassles.
The Bellville to Cape Town taxi route passengers are not happy with the way taxis operate. Blessing Kamuriwo of Thornton said, "If you board a taxi from Bellville to Cape Town, the conductors will force you to pay immediately, then they stop all the way looking for more passengers. The most irritating part is that when passengers complain, they pretend to be going then they drive and stop at Halt road in Elsies River, waiting for more people to fill the empty seats. The taxi will never be full because passengers are always getting off. Sometimes when you arrive in Maitland the driver will refund you and tell you that he is no longer going to Cape Town and you should look for another taxi. Because you are already frustrated and late for work you are just forced to get out of the taxi quietly and look for another hoping that it will be better than the previous one."
Passengers I spoke to also complained they are asked to collect and count money for the driver, saying the drivers should have conductors, and it is not their job to do that.
I had an unpleasant experience on the Parow to Bellville route. A taxi conductor told me to pay a full-fare for my five-year-old child who was sitting on my lap. I explained to him that I did not have money to pay for the child, and requested to be dropped off the taxi instantly, opting to go to the train station. The conductor became rude calling me names and refused to either drop me off or give me my money back. The situation got rough. I shouted back at the conductor and grabbed his money bag, intending to take my money. When the driver saw things were getting ugly, he told the conductor to cooperate with me. The conductor then threw R50 outside the taxi shouting at me to get out. My child cried and said, "I got scared when you fought with him."
Some taxis charge for young children, even if the child is sitting on a lap. With trains, children under five years do not pay. Metrorail also gives pensioner discounts, which are not available on taxis. I asked my fellow passengers why they wouldn't rather take the train. Their main concern is time. Metrorail commuters are not happy with the common delays of thirty minutes to an hour.
An example of the bad experiences on the trains happened to me on Monday 25 June at about 08:00. I boarded the train with other commuters at Salt River station. It remained motionless for a long time. Then we were told to go to another platform to board another train. On our way to the new platform, the train we were supposed to take left, then leaving us stranded. As a result, I was an hour late for work, because the next train only came about 08:45.
That afternoon on my way home, I waited for almost an hour at Rondebosch Station where the 15:28 and 15:50 trains were delayed. Metrorail apologised, saying they encountered problems with signals in Claremont.
In response, Metrorail said a confluence of events led to major delays on the Simonstown route last week. Metrorail's telecommunication is provided by a third party service provider. Investigations into the main cause of the delays revealed the service provider Transtel Telecoms' data transmission cables became waterlogged. This was caused by a defective compressor in their basement in Salt River. Metrorail regional manager Mthuthuzeli Swartz apologised unreservedly to customers.
One Metrorail customer I interviewed commented, "I take the train from Bellville to Cape Town almost six days a week. It is safe, especially on weekends in the morning, between 07:30 and 09:00. Sometimes the police patrol. Ticket checkers also help chase thieves from carriages. The cost is fair, but at times the service is not good. There are delays and cancellations. The worst thing is not knowing what is happening. Metrorail only informs customers about delays on main stations."
Zoe Van Niekerk said, "I travel the Bellville to Rondebosch route daily. I feel safe because I travel during peak times with acquaintances, but I feel unsafe during off-peak times when the trains are empty, or while waiting on a station for a train and there are not many commuters. I am happy with the cost of the train fare because I do own a car and I am battling with the price of petrol. I do, however, feel that I am paying for a service, and therefore services should be improved on all train lines. Improvements could be made by checking commuters tickets daily and not occasionally. Also, perhaps more trains could run during peak times in order to avoid overcrowding. I realise, though, that broken or faulty facilities may be due to vandalism or lack of funds. Things that need maintenance are broken windows, slashed seat covers and dirty toilets."
© 2016 GroundUp.
This article is licensed under a
Creative Commons Attribution-NoDerivatives 4.0 International License
.