Cape Town's informal recycling squad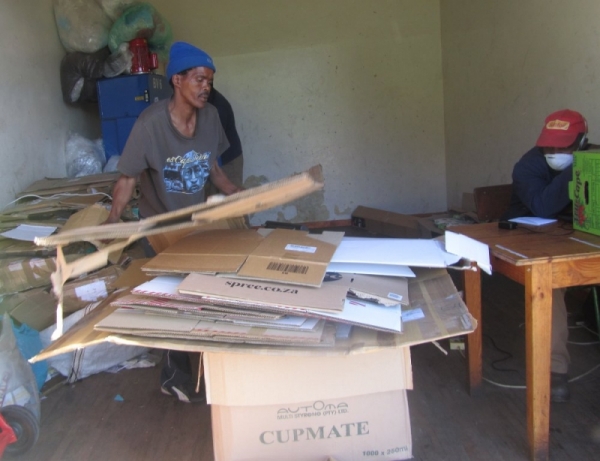 Robert Thompson has been collecting material for recycling in Cape Town since 1999. On an average day he makes R100, selling the cardboard and paper he collects to Harrington Buy Back Centre (HBBC) in the city centre.
Thompson, 47, who is originally from the Eastern Cape, lives on the street though his family is in Crossroads.
Every day he collects cardboard and paper from businesses in Roeland Square, from nearby Chinese shops and from other businesses near HBBC's offices.
"At times before I go for collection I phone these places to find if recycling material is available. I now have a good relationship with them, so when they have a lot of the material they bring it for me in Canterbury street."
Like many other informal recyclers, Thompson does not have an identity document or bank account — he says he applied for an ID in 1999 but does not yet have one — and HBBC has set up a payment system using fingerprints.
The centre has been operating for two years. It started at 115 Harrington Street and has now opened an office in Canterbury Street.
"We discovered that in the CBD in Cape Town there were no recycling centres, yet we saw street people roaming the street collecting material and taking their stuff to Woodstock which is a distance away from the CBD," says HBBC manager Amy Warner.
The company is helping to keep the city clean, she says.
"We get material from informal collectors, weigh it and give them money equivalent to the material brought. For those who do not have IDs, we scan their fingers and take down their names. Each time they come to sell stuff we scan the finger and the name appears."
The collectors can leave their money with HBBC and make withdrawals whenever they like, she says.
"Every time they bring in stuff for recycling the amount is added to the balance on their account."
Collectors are paid per kilo: 40c for cardboard, 35c for newspapers, R1 for white paper and 80c for plastic.
The material is stored at the Salvation Army in in the city centre, ready for collection by big companies.
Thompson says he makes about R100 a day, except on Thursdays when he makes more than R150.
"On Thursdays there are two guys from a transport company who bring me a lot of material making me walk on top of other collectors," he says.
Mostly he carries the materials himself, but if there is too much to carry he requests a trolley from the HBBC offices. When he has finished delivering his material he cleans the front of the HBBC office.
"Everytime I send part of the money or buy food for my three children in Crossroads. "I really want to stay together with my children and other family members but I cannot do that because I do not have sufficient money."
Dawood Julious, 30 from Strandfontein, has been in the recycling business for five years. He also collects material from around the town.
"I do not want to go rob, steal or ask for money from people. All I want is honest living. HBBC is helping me every day," says Julious.
An 18-year-old collector, who identified himself only as Cheslyn, says conditions at home forced him onto the street.
"My dad is not formally employed so it is difficult for the family to get food everyday. So I decided to stay in the streets and sell recycling material."
On average Cheslyn says, he makes around R50 a day and withdraws R20 for food.
He says he has no ID but is planning to get one.
Charles Tiren, 37, has been selling recycling material for the past 15 years and is happy selling to HBBC rather than going further afield.
"Going as far as Woodstock is a problem. I need a trolley to put all the material. I have to steal the trolley from Pick 'n Pay or Shoprite but this is no good. So I feel happy to sell at HBBC which is within my convenience."
Tiren says he cannot think of any other way of survival.
"There is no better way of earning a living. If we roam around this area the people will chase us. We end up going for food dumped in rubbish bins. This is the only way possible for me to earn an honest living," says Tiren.
He makes about R80 a day and uses part of the money for food.
"Most of the people who come selling their stuff at our place do not want to be formally employed," says Warner.
Dodgy people are suing us. Please support us by contributing to our legal costs and helping us to publish news that matters.
© 2016 GroundUp.
This article is licensed under a
Creative Commons Attribution-NoDerivatives 4.0 International License
.