NEWS
Call to make secret police document public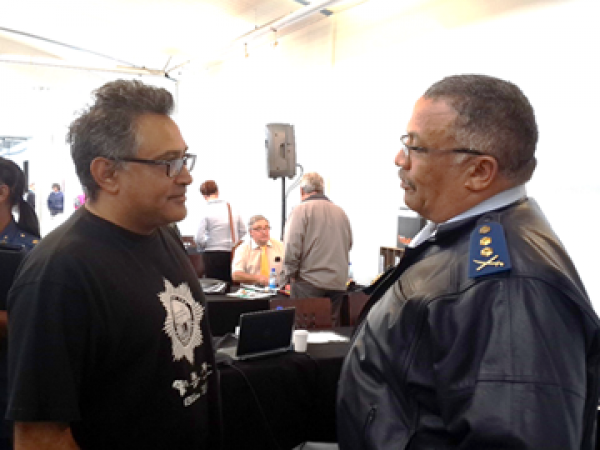 SAPS provincial commissioner General Arno Lamoer is to recommend to the National Commissioner that the police resource allocation guide, which outlines the resources available at each police station, be made available to the public.
Lamoer was testifying to a packed hall at Lookout Hill on Tuesday, the last day of Phase 1 of the Khayelitsha Commission.
The resource allocation guide, drafted in Pretoria, has come under scrutiny during the Commission, with station commanders complaining that it is unhelpful and limiting. So far the guide has been kept secret by SAPS, who have not released this document to any research, academic or NGO organisations.
Lamoer agreed with Evidence Leader Advocate Nazreen Bawa that the national guide should be made publicly available. He said he would recommend to the National Commissioner that it be made available to the public.
In testimony coverring many aspects of policing in Khayelitsha and in the Western Cape, Lamoer conceded shortcomings and said he hoped the Commission would lead to specific suggestions and guidance as to how to improve policing in Khayelitsha.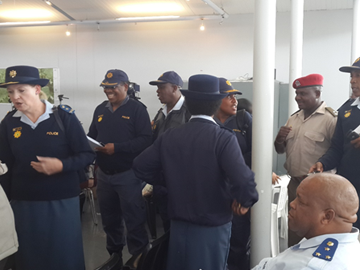 Show of support: A number of Senior SAPS officers attended the Commission on Tuesday to hear General Arno Lamoer's testimony. Photo by Adam Armstrong.
During the hearings it has been unclear why officers are not moved from low-crime areas, such as Camps Bay or Rondebosch, and re-deployed to areas such as Khayelitsha, that have high levels of crime and violence. The Provincial Commissioner has explicit power to reallocate police officers from one station to another. But on Tuesday the Commission heard that the Provincial Commissioner's power to reallocate officers is limited to temporary transfers for specific purposes. To move an officer permanently to a different station, a new funded post would have to be created at that station - something which can only be approved in Pretoria.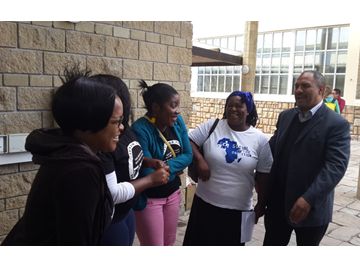 Major General Peter Jacobs, on the right, laughing with women from the SJC. General Jacobs is the Provincial Head of Crime Intelligence. Photo by Adam Armstrong.
There are three police stations in Khayelitsha: Lingelethu West, Site B and Harare. Harare Station is the worst performing of the three stations, dealing with highest levels of crime and violence in Khayelitsha. One solution that has been proposed is the construction of a fourth station in Makhaza. This would effectively halve the burden on the Harare Police Station. Lamoer had said that the construction of this fourth police station would start during 2014. Questioned by Bawa at Tuesday's hearing, he said the administrative and planning processes had started, and construction of the station should start soon.
Prompted by Advocate Peter Hathorn, the head of the Complainant Organisations' legal team, Lamoer apologised to residents for the failures of policing in Khayelitsha.
Hathorn urged him to apologise for high crime rates but he said he could not do so since the responsibility for high crime rates did not rest only with SAPS.
When Hathorn insisted, Commission chairperson Kate O'Regan told him he was harassing the witness and should drop that line of questioning. The Commission was an inquiry and would not assign guilt or innocence to any party, she said.
General Lamoer's testimony comes at the end of Phase 1 of the Commission. During Phase 1 community members, police officers, academics and researchers submitted evidence on policing in Khayelitsha. Hearings in Phase 2, featuring testimony from experts on policing, will take place between 12 May and 16 May.

Advocate Peter Hathorn, the head of the Complainant Organisations' legal team, and Zackie Achmat, a member of Ndifuna Ukwazi, poring over evidence during the morning interval. Photo by Adam Armstrong.
© 2016 GroundUp.
This article is licensed under a
Creative Commons Attribution-NoDerivatives 4.0 International License
.