Butterworth's R9 million swimming pool is still empty after seven years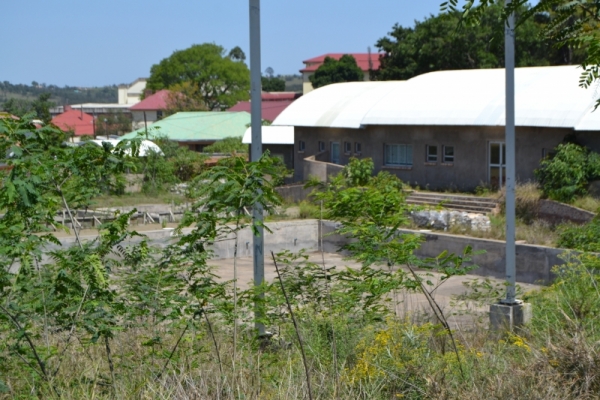 Seven years after building started, Butterworth's R9 million swimming pool is still not finished.
Andile Nduna, spokesperson for the Eastern Cape Department of Sport, Recreation, Arts and Culture, said the pool would only be opened in December 2016.
Residents said they had lost hope that it would ever be finished.
The pool is in Extension 2, a few kilometres from the town centre. It is surrounded by old sheets of corrugated iron. The fence has been vandalised or stolen. Inside, small boxes of tiles lie abandoned. Long grass proves that no one has visited the pool for months.
Residents interviewed by GroundUp said that guards hired to look after the swimming pool during construction had left early this year without explanation.
"We have been waiting for the pool to be finished for years now," said resident Siseko Mali.
He said earlier this year there had been a construction company at the site. "We were happy thinking that the pool was going to be finished, but then within a few weeks the construction people just stopped and left," said Mali.
While GroundUp was taking pictures a number of passers-by asked when the pool was going to be finished.
"Not so long ago this pool was the talk of the town. It was the only thing people spoke about, but now everyone is quiet. Even those who came to our community bragging about their government building a pool are now quiet," said a resident who did not want to give his name.
"They were bragging about the construction of a new pool that would cost R17 million, but now they are quiet," he said.
Another passer-by shouted: " Our government is failing the people. The pool was a good idea but we are led by people who are busy feeding themselves."
Mnquma Local Municipality spokesman, Loyiso Mpalantshane said the construction of the pool was being undertaken by the provincial department of Sports, Recreation, Arts and Culture.
He said the municipality continued "to engage with all stakeholders involved in this project" and "further reaffirms its commitment that it is completed timeously for the benefit of bathers in the jurisdiction of Mnquma Local Municipality."
Nduna confirmed that his department was dealing with the matter.
He said the delays were caused by poor performance, severe cashflow problems, and contractor staff issues.
"A second contractor was appointed but abandoned the site. The contract for these contractors was then terminated because all the contractors did not comply with the regulations of the contract so they had to be dismissed," said Nduna. The initial budget of R7 million had increased to R9 million, he said. This amount had been spent already.
He did not say how much more his department would have to spend to finish the swimming pool.
© 2016 GroundUp.

This article is licensed under a Creative Commons Attribution-NoDerivatives 4.0 International License.