In the business of building shacks
|
Joyce Xi and Mary-Anne Gontsana
Feature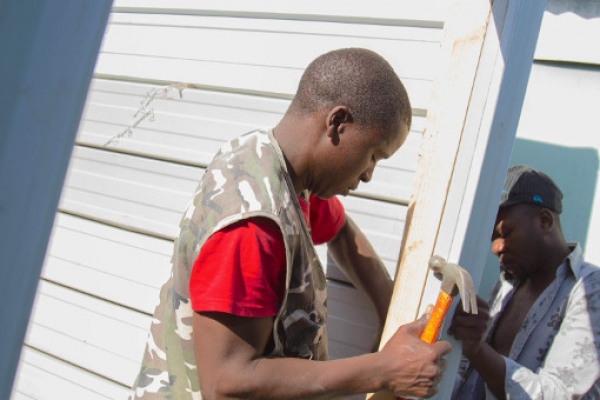 Sheffield Road, one of the busiest roads in Philippi, has become one of the city's best-known places to buy a shack. Here, builders make a living providing affordable housing for township residents.
Shack construction is a popular business for people with building skills as demand for housing increases in the area. Along the road, rows of empty pre-fab shacks of all colours— red, green, blue, white and even striped and patched designs— are displayed to attract clients wanting to move into new homes.
Some shack builders sit in front of their shacks waiting for customers while others leave their phone numbers posted on the shacks in the hope of a call.
Mara Mdunyelwa, originally from Transkei, has been selling shacks for six years along Sheffield Road after studying carpentry in Khayelitsha. His business, Nced' Uluntu Services, attracts customers from Philippi, Khayelitsha, Gugulethu, Strand and Grabouw, among other places.
Mdunyelwa's shacks are painted red or green and put on display along a busy intersection. They are built using a standard model— four walls made of sheets of corrugated metal nailed together on a wooden frame, with one wall containing empty cutouts for the door and one or two windows. It is a simple, easily reproducible design.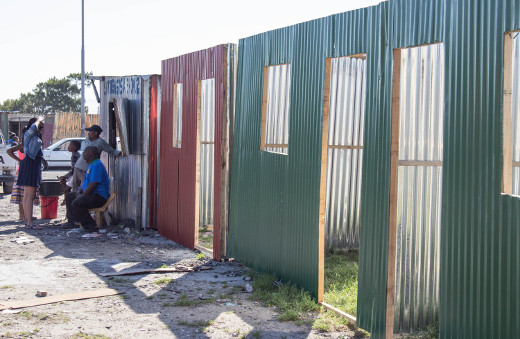 Nced' Uluntu Services' shacks sit on display along Sheffield Road to attract customers.

The shacks look unwieldy, but the builders have mastered the art of shack construction, deconstruction and reconstruction. After a customer purchases the shack, its walls must be taken apart for transport to the customer's plot, and then the shack must be rebuilt in its permanent location. For Mdunyelwa, rebuilding takes roughly 30 minutes.
Mdunyelwa says his customers are often young people looking to move into a backyard or informal settlement who cannot afford a proper roof over their heads.
Competition is fierce and quality and reliability are important, he says.
"If you look at these shacks that I have just finished, for example, they are formal, beautiful and neat, and a person can live in this structure for up to seven years.
"This time can be used for the person to organise money to get a subsidy house. So in essence we cater to those who are starting work and who are saving and budgeting to buy a house in future. Most of my customers are those who have finished Grade 12 and are working constantly and cannot find the time to build themselves a shack," he says.
A standard one-room shack, which is about three metres on each side, costs R2,800, while the biggest size, a spacious two room shack, costs R5,500. If clients have problems with their shack, for example if it leaks, they can let him know and he will fix the problem at no extra cost.
Mdunyelwa also allows customers who cannot afford the full price of a shack to pay back part of the cost at a later date. "Our target market is not rich, so we make the price as affordable as possible," Mdunyelwa said.
Another builder on Sheffield Road, who identified himself only as Obey, has been in the business for four years and says he started shack building for a living because there is a lot of money in it. He starts his day at 6am every morning and opens up shop along Sheffield Road at 8am. He says that on a good day he can sell two shacks.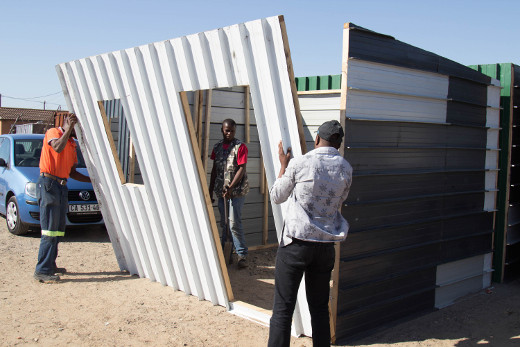 Lelethu Rayi helps the shack builders deconstruct his shack for transport to the construction site.

Lelethu Rayi, a newcomer to Philippi, bought a one-room shack from Obey. He chose Obey's business for quality and convenience. "I paid R2,700 for this shack and I bought it at Sheffield Road because in my opinion they make the best shacks. Their work is tidy and quick."
GroundUp followed Rayi through the process of installing his new shack.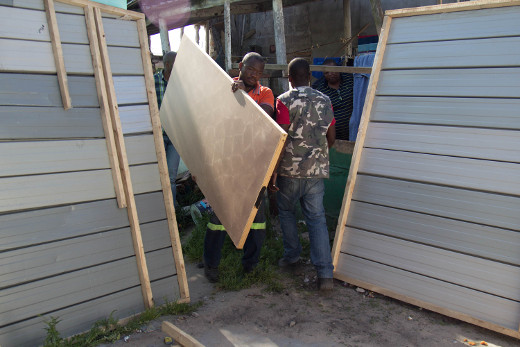 Obey, right, hammers the shack walls together while Rayi, left, holds them in place.

First, the builder used a shovel to pry apart the walls of one of the white shacks on display along Sheffield Road. Rayi, Obey and an employee carried the deconstructed shack walls to the the transport truck, and within minutes all four walls, a window, door, and roof panels, were stacked on the truck, tied down, and ready for transport to the building site.
Obey and Rayi led GroundUp to the plot where his shack was to be erected, where a small, concrete foundation was surrounded on all sides by other houses and shacks.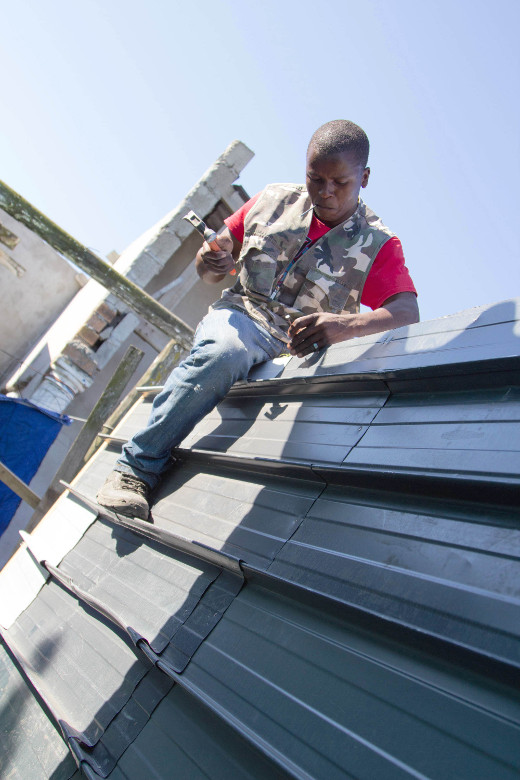 Obey nails down the roof panels of the shack.

Obey quickly got to work with unloading and building, using a hammer, nails, a few wooden poles, and a handsaw. With Rayi passing the materials to the builder, he nailed together the four walls of the shack frame on the new foundation. Then he climbed atop the shack to place and secure the roof panels, and finally he installed a window and door. Within 30 minutes, the shack was completed and Obey's work was done.
"I am moving here because I wanted to move out of my parents house and live on my own," said Rayi.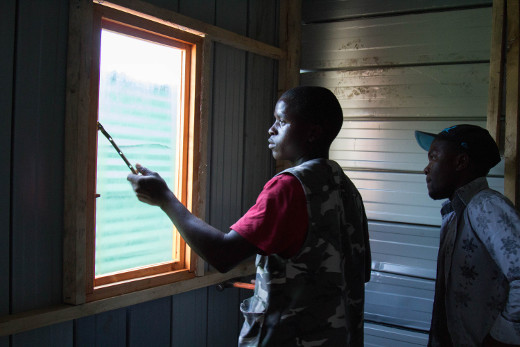 Obey, left, installs a window as Rayi, right, observes.

Photos by Joyce Xi.
Dodgy people are suing us. Please support us by contributing to our legal costs and helping us to publish news that matters.
© 2016 GroundUp.
This article is licensed under a
Creative Commons Attribution-NoDerivatives 4.0 International License
.