FEATURE
|
EASTERN CAPE
Buffalo City janitors have to pay for their own toilet cleaning materials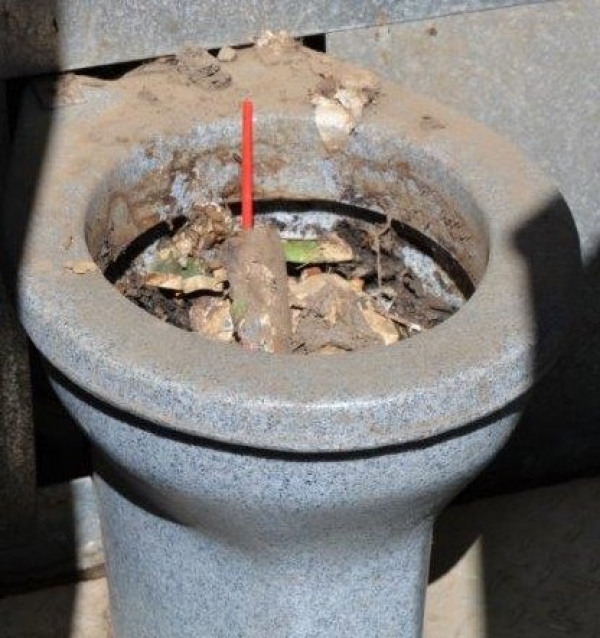 Janitors employed by the Buffalo City municipality in East London to clean toilets say they are forced to pay for cleaning materials and gloves from their own salaries.
The janitors from Khayelitsha informal settlement in Duncan Village are working without masks and do not have chemicals to clean the toilets.
When GroundUp visited the area on 1 September, one of the janitors, who asked not to be named as he fears that he might lose his job, was trying to unblock the toilets using a long wire.
The janitor said when he was hired to clean the ten toilets in his areas, he was very happy because he would be able to put food on the table for his family. But he did not know that he would be putting his health at risk.
The area has at least 150 shacks and ten toilets. Two janitors are employed to clean the toilets. Nine of the ten toilets were blocked when GroundUp visited, with human waste overflowing the seats while the janitors tried to unblock them. The smell was unbearable.
The janitors said when the municipality unblocked the toilets after a week they were usually blocked again.
When GroundUp asked the janitor why he was not wearing a mask, he said he did not have money to buy one. "We were never given working equipment. Even the gloves I'm wearing now I bought myself," said the 54-year-old father of four children.
The janitors say they earn R2,400 a month. They use R150 to buy gloves, which they change after three months. Then each janitor contributes at least R100 for cleaning material, which does not even last a month and they are forced to add more money before the month ends.
"Everyday I come here to clean these toilets. When they are blocked I try to make a plan to unblock them. As you can see now I'm trying to unblock them using this wire," the janitor said.
He said he had stopped trying to look after his health.
"I was once admitted in hospital for a month. Working here affected me mentally, but doctors managed to help me. I do not bother much about my health. I try to look on the positive side even though the money is too little and we have to use it to buy our working materials. At least I'm working," said the janitor.
He had also given up hoping to be provided with the right materials.
"We don't even have a broom to sweep the floor. All the things I'm using here are mine," he said.
The other janitor said she had been in and out of hospital.
"These people do not care about our health and there's nothing we can do. We are just grateful that we have a job," said the woman.
"I have to deal with blocked toilets almost every week. Even now only one toilet is working. We don't know where we can get masks and people say they are expensive. We are not getting paid much and it is sad that we still have to divide the little money we have to buy our working materials."
She is supporting two daughters and a grandchild with her salary.
Sometimes when the janitors have no money they just use water to clean the toilets.
"The smell and stains stay there. But chemicals are very expensive. Sometimes I end up with only R1,500 for my family," said the single mother.
Ward 6 councillor David Mbinqo said as far as he knew the janitors were given all the necessary material.
He said it was not his duty to monitor janitors or check if the toilets were working.
"Those people know who they must complain to when they have a problem. They have a supervisor who is there to make sure that they get everything. They must call him. If they do not have an airtime they are free to come to my office to make that call," said Mbinqo.
He described janitors' work as simple.
"The municipality is doing everything to service the area," he added.
GroundUp contacted the janitors' supervisor known only as Bonisile, but he refused to comment, saying his job was only to visits the sites.
The Buffalo City Municipality had not responded to requests for comment at the time of publication.
© 2016 GroundUp.

This article is licensed under a Creative Commons Attribution-NoDerivatives 4.0 International License.