Boxing ref shows it's not just for men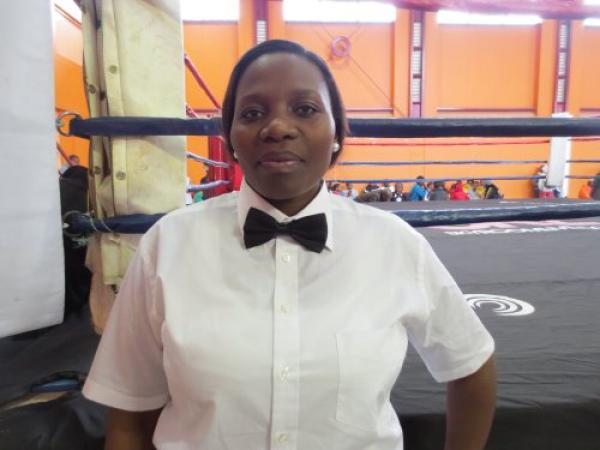 Most women don't go far in boxing, but Zodumo Ndude from Imizamo Yethu in Hout Bay did not let that stop her. Today she is a referee and a judge.
GroundUp: Tell us about yourself.
Zodumo: I'm a young woman passionate about sport- specifically boxing, I am not a talkative person but I tend to open my mouth and speak when I feel I am right .
GU: Where are you from?
Zodumo: I'm originally from the Eastern Cape but now live in Hout Bay.
GU:How were you introduced to the sport of boxing?
Zodumo: As a round girl (one of the women who walk around the ring holding up board with the number of the round on it), by Mr Hongana - a professional boxing promoter, it was 14th December 1997 at the hall in Hangberg, Hout bay.
GU: When and how did you start refereeing and judging boxing?
Zodumo: Western Province had a shortage of officials – I volunteered and from then I've never looked back. It's a challenging task that needs focus, honesty and a lot of experience.
GU: Were you a boxer yourself?
Zodumo: At the time, female boxing in Western Cape was not taken seriousl. I was just enjoying training with the boys and getting fit and learning boxing skills for self-defence, and I decided to stick to being an assistant coach at Imizamo Yethu Boxing Club in Hout Bay and introduce more girls to the boxing environment.
GU: What do people say about what you do?
Zodumo: Most people in the community and at my workplace are inspired. Girls now are showing interest in boxing and you would be surprised how tough a girl can be in the ring.
GU: How do people in boxing treat you?
Zodumo: I get a lot of respect from my colleagues and they have helped me gain the experience that I have in boxing.
GU: Do boxers respect you in the ring?
Zodumo: The athletes are very disciplined in the ring. The coaches at club level are doing a great job training and disciplining the boxers.
GU: What difficulties do you come up against as a female in the sport?
Zodumo: Lack of support.
GU: What would you say you've achieved in the sport so far?
Zodumo: Getting kids out of the street to train and coaching them and seeing them kicking ass in the ring: for me that is a great achievement. And to see a boxer take your advice, your training and put it into action motivates you to do more.
GU: What are you still hoping to achieve?
Zodumo: I would like to see more female boxers in Western Cape rising professionally. And I would like to see local businesses funding and supporting local clubs and female boxers in the Western Cape.
GU: Do you have a message for young girls who'd like to be where you are?
Zodumo: If you have a passion for something , go for it, push hard until you reach your destination, and once you are there hold on tight and never let go. It takes a lot of hard work, sacrifices and sweat.
GU: What kind of support do women get in the sport of boxing?
Zodumo: There isn't much being done to support the girls. I think being a woman in sport - boxing - is a great challenge needing financial assistance. To get into shape one needs good nutrition and intense training which one can get from the advanced boxing clubs in town, but it's expensive and one must travel to get there. I don't even want to talk about medical expenses .
Dodgy people are suing us. Please support us by contributing to our legal costs and helping us to publish news that matters.
© 2016 GroundUp.
This article is licensed under a
Creative Commons Attribution-NoDerivatives 4.0 International License
.