Bail for ten Nomzamo residents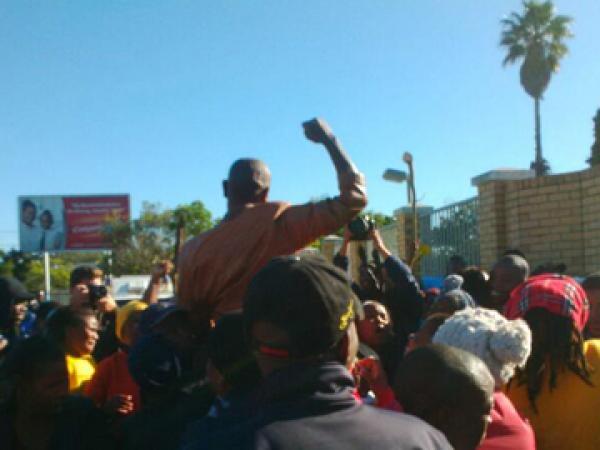 The ten people arrested during violent clashes between police and Nomzamo (Lwandle) residents during the evictions last week were given a hero's welcome from supporters when they were released on bail today.
They were released this morning after spending a week in Pollsmoor Prison.
Last week, the homes of more than 800 people were demolished in Lwandle, Strand after the S A National Roads Agency (SANRAL) obtained a court interdict.
According to SANRAL, the land had been set aside for a future N2 freeway project.
This morning Albert Masakala and nine other Nomzamo residents made a brief appearance in the Strand Magistrate's Court on public violence charges.
State prosecutor Clement Abrahams told the court there was no reason to keep the group in custody and the state had no objection to them being released on bail.
Magistrate Karen Scheepers granted the group R500 bail each and ordered them to sign in at Lwandle or Blackheath police station every Thursday between 8am and 8pm.
Land at Blackheath has been set aside for the Nomzamo families but Blackheath residents have objected to their arrival.
"I understand that the eviction matter is not finalised so you have a choice to sign in at Lwandle or Blackheath stations."
The accused are warned to stay out of trouble until their next appearance," Scheepers said.
She remanded the matter until 1 August for further investigation.
Outside court, about 50 Nomzamo community members holding branches and knobkieries chanted and danced waiting for the residents to be released.
The group erupted in cheers and clapping, lifting some of the residents onto their shoulders as they walked out from the holding cells.
"We are so happy they are out. It was a big concern that they were at Pollsmoor for so long. Now we can focus on the eviction situation," said resident Mandla Moyakhe.
The large group was escorted by a police van as they marched back to the Nomzamo community hall, where they are being housed.
Residents are expecting Cape Town mayor Patricia de Lille and provincial and national government officials to address them later today.
Dodgy people are suing us. Please support us by contributing to our legal costs and helping us to publish news that matters.
© 2016 GroundUp.
This article is licensed under a
Creative Commons Attribution-NoDerivatives 4.0 International License
.