Arrested UWC students make bail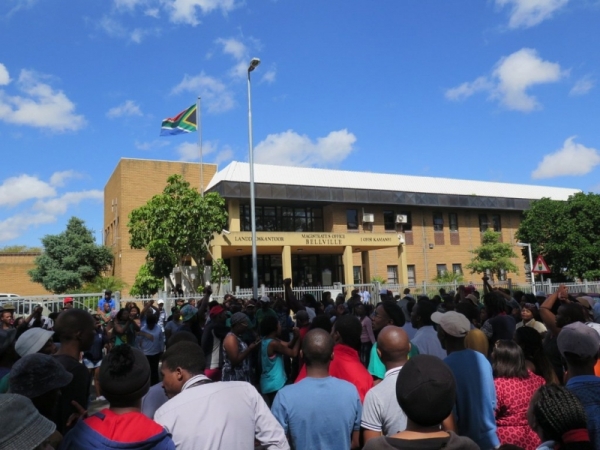 Fifteen protesters arrested yesterday during the standoff between students and police at the University of the Western Cape (UWC) were released this afternoon on R3,000 bail each, after their supporters managed to raise the R45,000 in total bail money in about an hour.
The bail requirements are that the students are not allowed on campus while the case is being heard and they will be escorted onto the university's premises to collect their belongings.
An additional protester who was arrested is under-age and so his bail application was held in-camera today.
Following the court appearance of the 15 students, a press conference was held at the Numsa offices. This conference was meant to give parents, students, workers and the students' supporters a chance to speak directly to the media in an attempt to counteract reports on the protests which were considered inaccurate.

Pastor Xola Skosana. Photo by Ashleigh Furlong.
Pastor Xola Skosana told the audience they were there because of the "reckless" and "sickening" email from the Chairperson of Council Mthunzi Mdwaba at UWC. Skosana said that the email "rubbished everything that had happened at the university" over the past few weeks.
"South Africa is held hostage by the preservation of white privilege," Skosana said.
Marcus Solomon, parent of a UWC student, told the audience he had heard of distorted media reports and urged the students to "create their own press" as had been done during apartheid.
"Third force or rogue elements are not in the university, they are in seats of government," Solomon said to loud agreement from the students.
UWC student Kamva Rubulana said that the press had an "astonishing" amount of power and that every story had two sides, and then the truth. He said the media should be reporting the truth. He said the portrayal of the protesters as students who were avoiding exams was incorrect.
"These are not stupid people; if they were stupid they would not be in university," said Rubulana.
He said that the university had responded to students' arguments with brute force.
"When intellectuals respond with brute force, what must we, intellectuals in training, do?" he asked.
Another UWC student, Palesa Mcophela, said that the violence experienced from police in "black universities and white universities" was very different, with "black universities" experiencing much more violence.
"Our black pain is not written about," said Mcophela.

Celebrations in Numsa offices on hearing that R45,000 bail money has been raised for arrested UWC students. Photo by Ashleigh Furlong.
Dodgy people are suing us. Please support us by contributing to our legal costs and helping us to publish news that matters.
© 2016 GroundUp.
This article is licensed under a
Creative Commons Attribution-NoDerivatives 4.0 International License
.