ArcelorMittal and environmental groups battle it out in court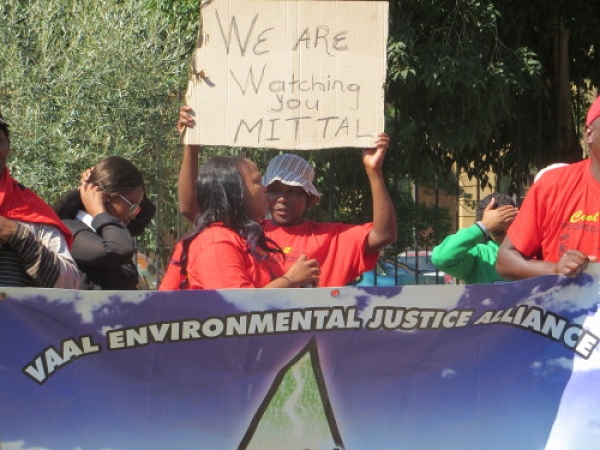 Can civil society organisations compel private companies to provide documents about their impact on the environment? This is the central question in a court battle that reached the Supreme Court of Appeal (SCA) in Bloemfontein yesterday.
In 2011, the Vaal Environmental Justice Alliance (VEJA) asked ArcelorMittal, the world's largest steel producer, for its Environmental Master Plan. VEJA's request was made under the Promotion of Access to Information Act (PAIA), which is the legislation that gives effect to Section 32 of the Constitution. That section says:
Everyone has the right of access to any information held by the state; and any information that is held by another person and that is required for the exercise or protection of any rights.
According to VEJA the environmental master plan is needed to see how ArcelorMittal would "rehabilitate pollution at its Vanderbijlpark site".
Samson Mokoena of VEJA told GroundUp that the organisation wanted to examine the recommendations in the plan and see if ArcelorMittal had implemented them. He described at length the decades-long environmental damage allegedly caused by the company (going back to when it was ISCOR) that affects his community. "It continues even now," he said.
In 2012, VEJA asked for further records from ArcelorMittal, this time relating to what VEJA describes as the "illegal dumping of hazardous waste" at the company's disposal site in Vereeniging.
ArcelorMittal refused to provide these documents. The company argued that VEJA's request did not meet a requirement of PAIA to show that the documents were required to exercise VEJA's rights, and that VEJA was trying to be a "parallel enforcement agency".
The matter went to the South Gauteng High Court, and in September last year, the judge ruled that the company had to provide the documents.
At the time, Robyn Hugo, an attorney at the Centre for Environmental Rights which is representing VEJA said, "With this judgement, the court has confirmed that organisations like VEJA are entitled to protect and exercise the right to a healthy environment by seeking information to enable them to assess environmental impacts, and to exercise a watchdog role."
ArcelorMittal appealed the judgment and yesterday the matter was heard in the SCA. Judgement was reserved by the SCA, and is expected before the end of the year. VEJA's Mokoena said he is hopeful that the SCA judgment "will not be far" from the South Gauteng High Court one.
At issue is whether civil society organisations, including what are known as fenceline communities can compel companies to provide documents they need to enforce their rights. A fenceline community is one that neighbours a company and is affected by its activities.
Melissa Fourie, an attorney for the Centre for Environmental Rights which represents VEJA wrote in an email to GroundUp, that VEJA hopes to obtain a judgement from the SCA "that is binding on all South African companies." She writes, "VEJA want the SCA to confirm that civil society organisations have the right to access records they require to assert their right to an environment not harmful to health or well-being. These include records they require for exercising their right to participate actively in environmental decision-making, compliance monitoring and enforcement."
In both the High Court and yesterday in the SCA, ArcelorMittal's lawyers have argued that the public has no right to monitor the activities of private companies, and that private companies owe civil society organisations no duty of transparency in relation to activities that impact the environment.
A common criticism by civil society organisation of PAIA is that it takes very long to access information. The PAIA application here goes back three years, but the history of efforts by VEJA to get ArcelorMittal's environmental Masterplan goes back to at least 2003, Fourie told GroundUp. "If the SCA finds in VEJA's favour, there is still a chance that [the company] may appeal the judgement to the Constitutional Court instead of releasing the record," wrote Fourie.
When asked for comment, ArcelorMittal referred a representative from a corporate communication company to GroundUp who referred us to read the court documents that are "in the public domain".
ArcelorMittal was represented in the SCA by Advocates Alistair Franklin and Peter Lazarus. Their attorneys are Edward Nathan Sonnenbergs.
VEJA was represented by Advocates Steven Budlender, Janice Bleazard and Coriaan de Villiers. Their attorneys are the Centre for Environmental Rights.
Dodgy people are suing us. Please support us by contributing to our legal costs and helping us to publish news that matters.
© 2016 GroundUp.
This article is licensed under a
Creative Commons Attribution-NoDerivatives 4.0 International License
.