Another Cape Flats housing project goes bust
| Mary-Anne Gontsana
News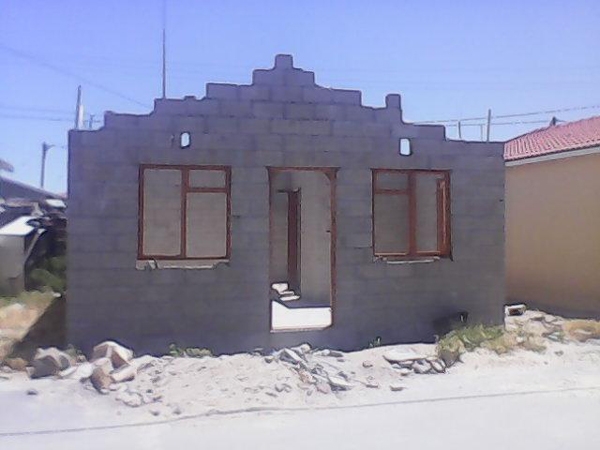 A Khayelitsha housing project has gone bust amidst allegations of corruption. Beneficiaries are frustrated that they may not get their houses, or that problems with houses that have been built will not be fixed.
Residents of SST in Khayelitsha say their two housing projects, Siyifumene and Masikhanye, which started in 2012, have not been completed.
Leo Mbobi is a resident of SST and has been living there since 1991. He is also part of the monitoring group of ten people elected by the community to find out exactly what is going on with the housing project.
"In South Africa when we want service, we demand it. We burn tyres and we throw poo but after calling a community meeting, in May this year, we decided against this. We decided to take another route. A monitoring group was appointed and we were given a mandate to go and find out why the houses were delayed, and why the houses that are already built are not in good condition.
"When we went to check out these houses we found many problems. [For example, in] one house when you flush the toilet, the faeces comes up the pipe in the kitchen sink; some of the houses are leaking; some have poor plumbing work done on them which in other cases makes it difficult for toilets to be fitted in. So those are the kinds of problems we are dealing with. We took all of these grievances to the City and we also confronted Newrest Developments which was responsible for building the units. We were told by a Newrest supervisor that they had stopped working because there were financial difficulties. Someone had stolen the money," says Mbobi.
Mbobi says they took the matter to the Department of Human Settlements and the City of Cape Town. He says the monitoring group compiled the information and gave it to city officials at a meeting held in Khayelitsha on Friday 7 November. They have given the city 14 days to respond to the findings.
The housing development is part of the City of Cape Town's People's Housing Process (PHP) project. GroundUp has previously reported on failed PHP housing projects in the city including in Nyanga and Makhaza.
According to the City of Cape Town's specialist clerk, Robin Moses, an audit at the end of the 2013 /2014 financial year was done and the delivery statistics were questioned. It came to light that a number of houses were incomplete even though the documentation indicated that they were complete. Inspectors were questioned about this and they indicated that some of their signatures were fraudulently used by the contractor at the time.
Councillor Siyabulela Mamkeli, the City of Cape Town's Mayoral Committee Member for Human Settlements says an investigation is ongoing and "linked to [a] disciplinary procedure … The inspector is still employed by the City, pending the outcome of the disciplinary [hearing]."
Mamkeli said despite this, that there would be units completed before the end of the year and others are scheduled to be completed by the end of March 2015.
© 2016 GroundUp.
This article is licensed under a
Creative Commons Attribution-NoDerivatives 4.0 International License
.