Activist harrased by police receives bail
|
Mary-Anne Gontsana
News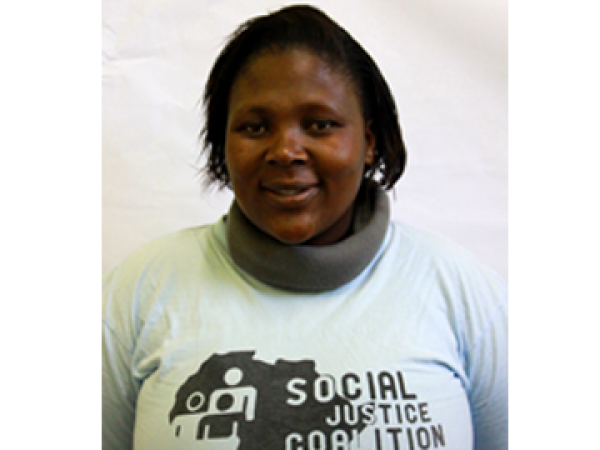 An activist who has been trying to hold the police accountable in Khayelitsha appears to be a victim of police harassment. Social Justice Coalition (SJC) activist Angy Peter has been released on R2 000 bail and her case for kidnapping and attempted murder postponed for further investigation.
Peter was arrested for the first time on 14 October 2012 together with her partner, Isaac Mbadu, and two others for the kidnap and murder of Siphiwo "Rowan" Mbevu.
Police allege Mbevu was severely burnt and beaten to death in a vigilante killing.
Peter and Mbadu were kept in holding cells at the Blue Downs police station. They were denied bail in the Blue Downs Magistrate Court on 16 October. They were remanded in custody in Pollsmoor Prison until 3 December, when they were finally released on bail.
On 7 August this year, Peter was again picked up by the police and taken to Site B police station for questioning. She is now a suspect in another kidnapping. According to the SJC's Joel Bregman, the allegation is that Peter and two others kidnapped a man at gunpoint and bundled him into the boot of a car. When the boot was opened the man managed to escape and went to report the incident at the police station. The two other alleged suspects have still not been found and Peter is the only one who has been charged in this matter.
Prior to this this arrest, Peter was arrested on 31 May on suspicion of child kidnapping and theft of a laptop. The complainant who laid the charge failed to give police the description of the missing child and of the laptop. Police searched Peter's home and found nothing. She was released hours later after her lawyer argued with police in her defence. The complainant has since disappeared.
Bregman said Peter appeared in the Khayelitsha Magistrate's Court on the original charges on 12, 15 and 16 August. She then appeared on Friday 23 August and was granted bail in the new case.
"In his judgment in Angy's bail application the magistrate essentially said that the allegations against her did not add up and the manner in which the State alleges the crime took place is improbable. He said based on what was before him it was unlikely that the State would win if the case went to trial. The case was postponed for further investigation and would continue in October," said Bregman.
Peter is actively involved in SJC's campaigns to ensure improved access and quality of basic services. Her major focus is working with victims of crime and trying to assist them in getting justice from the police and criminal justice system in Khayelitsha. She and her family left Mfuleni because of constant police harassment. Part of her bail condition is that she is not allowed to live in Khayelitsha because this is where the complainant lives.
She was not available for comment.
Dodgy people are suing us. Please support us by contributing to our legal costs and helping us to publish news that matters.
© 2016 GroundUp.
This article is licensed under a
Creative Commons Attribution-NoDerivatives 4.0 International License
.