Andile Lili sets sights on 2016 elections
|
Pharie Sefali and Alide Dasnois
News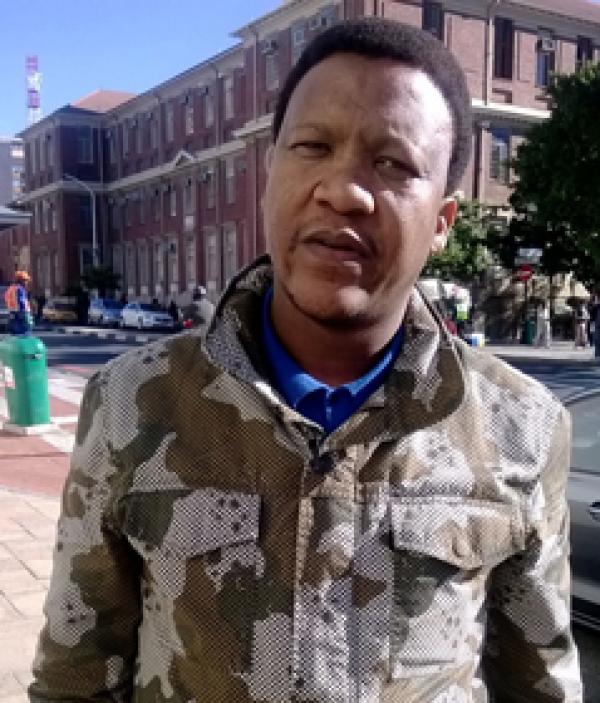 Former mountain guide, expelled city councillor, leader of the Ses'khona People's Movement: who is Andile Lili? Pharie Sefali and Alide Dasnois spoke to Cape Town's best known "poo fighter".
The Ses'khona Peoples' Movement intends to be a force to be reckoned with in the 2016 local government elections, says co-founder Andile Lili.
Deep in an armchair in his home in Makhaza, where an enormous sound system dominates the small lounge, Lili outlines his goals for the movement he and fellow "poo flinger" Loyiso Nkohla formed in November last year in the wake of the "poo protests".
Lili claims that Ses'khona already has 15,000 members "in good standing". And though the movement's stronghold is in Khayelitsha, he says membership is growing in other townships and on the Cape Flats.
"We have members in most parts of Cape Town. And our numbers are growing everyday especially in the townships", he says.
He claims "more than 700 active members" in Mitchell's Plain, 500 in Athlone, more than 700 in Philippi, 200 in Blackheath, and says Ses'khona also has members in farming areas around the Western Cape.
Members pay a R25 membership fee, and the money is mostly used to cover legal costs when lawyers are needed, says Lili.
Ses'khona was launched when the "poo throwing" activities of Lili and Nkohla got them into trouble with the ANC.
Nkohla, who had already been suspended, was expelled for bringing the party into disrepute, and Lili was suspended by an ANC regional committee.
But both were reinstated in March when the ANC's provincial structures found flaws in the regional committee's processes.
Lili says he launched the "poo" campaign after visiting a home in Nkanini in Khayelitsha, where a household in a one room shack had to use a portable toilet near the family TV.
"An old man had a tummy problem and he had to use the pota-pota while the children were watching TV soapie Generations."
The children had been taught to cover their heads with blankets when their father used the toilet. "And they got irritated. One of them asked the father if it was necessary to use it while they were watching TV."
"For a child to speak like that to a father was disrespectful. It was degrading for the father to poo in front of his children but he had no choice".
Lili's much publicised "poo flinging" at Cape Town International Airport in June 2013 was an attempt to shine an international spotlight on the poor conditions in which so many people live, he says.
The protest followed a march earlier that month, also led by Lili and Nkohla, in which portable toilets were emptied on the steps of the provincial legislature.
"Foreigners view Cape Town as a perfect city, but they do not know that poor people in the city are suffering and are provided with bad services.
"We threw poo in the airport because we wanted to show people the real Cape Town and the conditions people live in. And we are not apologetic about what we did. Some people turned their backs on us, but we made our point," he says.
"Here they have a lot of money but people are still living like this. They can't spend the budget accurately to serve the interests of the poor, even where the ANC is in power."
Even the apartheid government provided better toilets for poor people, he says.
Lili, Nkohla and seven others are still facing charges under the Civil Aviation Act. Their case will be in court next month.
In November the two led a housing protest march to the city centre which ended in chaos as protesters looted informal traders' stalls. Several traders were hurt.
Western Cape Premier Helen Zille has described Ses'khona as a "syndicate of human rights violators" working from within the ANC. But though he is still on the party's regional executive committee, Lili insists he has distanced himself from the ANC.
And he is not optimistic about the ANC's chances in the Western Cape.
"The ANC has fewer than 15,000 members here and I don't see the ANC taking over."
"We were disowned by the ANC. Now we fight for ourselves. I know some people believe that Ses'khona is funded by the ANC but that is not true", he says, though before the elections the ANC did provide Ses'khona members with several thousand T-shirts with President Jacob Zuma's face on them.
"Ses'khona does not have any funders. The organisation is currently sustained by the membership fee," says Lili.
In the May elections, Ses'khona members were urged to vote for whoever offered them land for housing. Lili says the ANC secured votes by offering three pieces of land in the Cape town area, though the land he says was offered belongs to the Department of Public Works, not to the ANC.
"We partner with any organisation or political party that is interested in benefitting the poor people in our country", he says.
He sees Ses'khona as a pressure group lobbying those in power. "We are not like the ANC's alliance partners. We want to see change in our society and we will do anything to provoke those in power."
"We will engage all races to join Ses'khona".
But his move away from the ANC has not been easy, Lili says.
Born in Lady Frere in the Eastern Cape, he grew up steeped in the history and tradition of the ANC and the trade union movement. His father was a shop steward at Murray & Roberts in Cape Town and chairman of the Cederberg ANC branch for ten years.
Part of his childhood was spent in Cape Town but in 1985 his political activities at school prompted his father to send the ten-year-old Andile and his older brother back to the Eastern Cape.
He was back in Cape Town four years later and in 1992 he was elected to the regional ANC Youth League executive. The following year he was recruited into the South African Communist Party.
Though he was an active member of the ANC he did not then think of earning his living as a politician.
Instead he trained as a trail and tourist guide, learning the names of the fynbos and the hiking trails of Table Mountain National Park. Lili says he loved his job on the mountain but left after an argument over wages in 2005.
A year later he and some friends launched a security company in Khayelitsha, but he was soon back in politics. In 2011 he was elected as an ANC city councillor, a position he held until March last year when he was expelled on charges related to the illegal demolition of houses. The Cape High Court confirmed his expulsion in November and he is now headed for the Supreme Court of Appeal, though he says he is happy to be outside the council and just wants to "clear my name".
While a councillor, Lili says he gave R7,000 out of his R30,000 monthly salary to buy food for ten families he supported, in line with the principle of sharing which he says he holds dear.
He is very critical of political leaders who move away from the townships when they are elected.
"How do you share with your people if you move away from them?
"If you are a leader you've got to stay with your people.
"Our leaders are not easily accessible. If they were, the level of poverty would not be what it is."
Dodgy people are suing us. Please support us by contributing to our legal costs and helping us to publish news that matters.
© 2016 GroundUp.
This article is licensed under a
Creative Commons Attribution-NoDerivatives 4.0 International License
.