ANC councillors in dock for murder of activist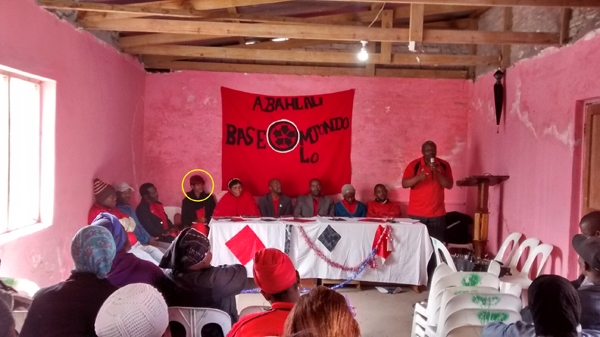 The ANC in KwaZulu Natal says it has decided to suspend two ward councillors, including Mduduzi Ngcobo, who face charges relating to the murder of Abahlali baseMjondolo (AbM) activist Thuli Ndlovu in September last year.
The men appeared alongside a co-accused in the Pinetown Magistrates Court today. About a hundred members of AbM marched on the court to oppose bail. Yet the two councillors were granted bail of R10,000 each until their next court appearance on 26 May, said police spokesman Major Thulani Zwane.
"For us this is very disappointing, because many our supporters that have spoken out against Ngcobo and opposed bail have already received death threats in recent days," AbM secretary Ndabo Mzimela said.
"Especially afraid are the people of KwaNdengezi (where Ngcobo was councilor and Ndlovu was the regional chairwoman for AbM). Because, with Ngcobo out they suspect that there may be more murders in order to intimidate and silence them."
Sma Ndlovu, a family spokesman for the Ndlovu's who still live in KwaNdengezi, confirmed to GroundUp that they were fearful for their lives now that Ngcobo is out on bail.
Ndlovu was shot and killed by a man who burst into her shack on the evening of 27 September last year.
In a statement by AbM on the evening after the murder, the movement named a local ANC ward councillor (Mduduzi Ngcobo) as a suspect in ordering the killing, and placed him at the scene an hour before Ndlovu was shot. His presence intimidated Ndlovu, AbM said, and she apparently told her mother, who was also present at her home, that "today we are going to be shot."
The movement explained that the discord between the KwaNdengezi community and the local councillor stretches back to 2010. AbM said the implementation of an RDP housing project in the area under the direction of the councillor had been corrupt, had been done without community consultation, had infringed on land settled by the original shackdwelling community and had desecrated family graves.
In response the community had launched a branch of AbM - a shackdwellers movement which mobilises against corrupt housing allocation and illegal evictions - in November 2012. Since then, the movement's members had been subject to intimidation, death threats and gun shots, read AbM's statement at the time.
Although the two councilors had a group of supporters at Pinetown Magistrates Court on Friday, the ANC has decided to suspend them until the outcome of the trial, said the party's KwaZulu Natal secretary Sihle Zikalala.
Meanwhile, a press statement by AbM on Friday praised the police for not allowing "political interference" to curtail an investigation. The organisation expressed hope that other politcians suspected of committing murder and crime against activists in KwaZulu Natal to be similarly brought to book.
Ngcobo told GroundUp that he has "never committed any crime" and that he had no connection to the murder victim.
"I have not been informed of any suspension by the ANC. That is just speculation. As far as I am concerned I am still a councillor and I have done nothing wrong," he said.
© 2016 GroundUp.
This article is licensed under a
Creative Commons Attribution-NoDerivatives 4.0 International License
.