Aerial photos disputed in Hangberg case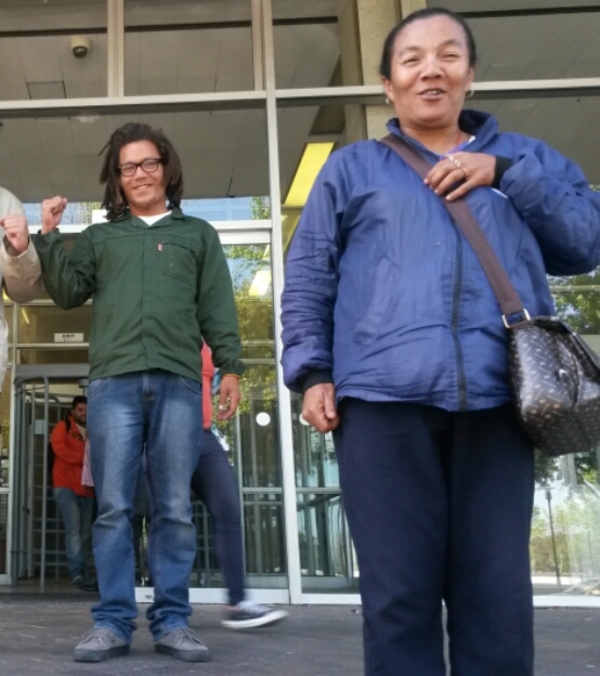 In the case against Hangberg resident, Santonio Jonkers, state witness David Nortje told the court on Tuesday that he personally issued Jonkers with a notice of eviction in September 2011.
"I had seven or eight officers with me between 5am and 6am. We did this because on previous occasions there was violence. I went to Mr Jonkers' home. The gate was locked. I explained in detail that he was in transgression of the court order," he said.
Nortje, who is the principal field officer at the City of Cape Town's anti-land invasion unit, was testifying in the hearing against Jonkers at the Wynberg Magistrates Court on Tuesday. It was his 12th court appearance following several postponements.
Jonkers is accused of contravening a 2011 High Court interdict that prevented anyone from building new structures on the Sentinel's fire break above Hangberg. Jonkers was arrested by an elite squad of police and allegedly dragged through fynbos and wattle trees in the early hours of 30 September 2014.
Following violent protests in 2010, a Peace and Mediation Forum (PMF) was elected to represent the community. However, there has been ongoing disputes between the PMF and some of the Hangberg residents.
In 2011, the PMF struck a "peace accord" with the City of Cape Town and other governmental stakeholders. An agreement within this accord, which later became an order of the Western Cape High Court, was that the unlawful occupiers of the Sentinel would eventually move off the land voluntarily. This never happened.
On Tuesday, Nortje told the court that Jonkers refused to sign or accept the eviction notice.
"I handed him a copy and he refused to take it. I put it through the gate in the doorway where Mr Jonkers was standing," he said.
Using aerial photographs, Nortje said Jonkers' shack was built after the PMF peace accord was made in 2011.
"I visited that area about 10 to 15 times. We received complaints in 2010 of the unlawful structures on the Sentinel. When we investigated on 21 September 2010, there were 29 structures. Prior to 2010 there was no new structures, but the photos in 2011 clearly shows Jonkers' structure," he said.
Nortje said that some of the vacant structures were demolished in line with the Prevention of Illegal Eviction from and Unlawful Occupation of Land Act.
"The ones that appeared to be occupied were left alone. We went to court and got an interdict against anyone intending to erect structures on the land," he said.
Nortje said a list of names of people who lived in the remaining structures was included in the court order.
"An agreement was made that they would later be moved down to vacant space. It was decided that they [PMF] would assist to monitor and prevent the community from transgressing the court order," he said.
"I got calls from members of the PMF that they were having trouble with a small group of people of which Jonkers was among," he said.
Earlier, the authenticity of three aerial photographs handed in by prosecutor Kepler Uys, sparked a heated debate in court. Uys alleged that the first photo was taken in 2010 and shows no structures above the firebreak. The two other photos were allegedly taken after the 2011 peace accord which clearly shows Jonkers' new structure.
Uys asked for the photographs to be provisionally accepted as evidence, but defence attorney Monique Carstens objected. She said the law required all evidence to be authenticated.
"We don't know where these photos come from or who took them. There are yellow markings on the pictures which clearly shows that they can be altered or doctored. The rule of evidence should apply here," Carstens said.
"The state has had enough time to hand this in. For this to be done at such a late stage in the hearing raises questions," she said.
Nortje told the court that every year the City, through a tender process, often used a private company to take aerial photographs of private and public land within their geographical boundaries.
"The pictures are uploaded on a program called ISIS. We can search for aerial images of a certain area that dates back to the 1940s," he said.
Magistrate Wezile Rixana said the photographs as well as evidence given about its contents will be disregarded if the state fails to call an expert witness to authenticate them.
Rixana remanded the case until noon on 29 October.
Dodgy people are suing us. Please support us by contributing to our legal costs and helping us to publish news that matters.
© 2016 GroundUp.
This article is licensed under a
Creative Commons Attribution-NoDerivatives 4.0 International License
.