NEWS
Activists call for fair employment conditions for community health workers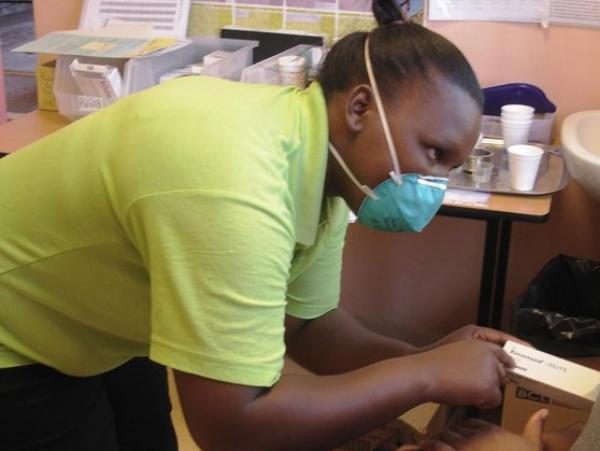 Community health workers (CHWs) are an essential link between communities and the often confusing health-care system. There are about 70,000 of them countrywide. They do a myriad tasks: visiting and assisting frail people at their homes, educating people about HIV and TB, and much more. But their conditions of employment are beset with problems.
Organisations campaigning for the rights of CHWs are hopeful that the release of a draft bill will remedy the most serious problems.
Human rights groups, including SECTION27, Treatment Action Campaign (TAC) and the Rural Health Advocacy Project, have been in talks with the national health department about the draft policy.
The policy will provide uniformity in the way CHWs are dealt with in all provinces and address key concerns about wages and employment contracts.
The department has drafted but not yet released a policy. The organisations are expected to meet with department officials soon to study this draft document.
CHWs are generally not employed directly by government, but rather by government funded non-profit organisations. For example, the Western Cape Department of Health provides funding to 120 organisations, of which 90 focus on home and community based care.
SECTION27 paralegal Violet Kaseke said the lack of communication between CHWs and the health department ultimately resulted in the challenges experienced daily.
"We have been working with the department to speed up the release of the draft. The first draft was done with the assistance of Broadreach Healthcare. Now, we will work on the second draft with various other stakeholders. We want it to address the many challenges, especially those pertaining to the conditions of employment of community health workers," she said.
Kaseke added that proposals introduced in the new policy should be beneficial and in the best interest of all CHWs.
"One of the proposals is to employ 40,000 community health workers under the department's primary healthcare programme, but then we want to know what will happen to the remaining 30,000," she said.
The Industrial Resources Group's occupational health and safety trainer, Ntombi Mfiki has been meeting weekly with a group of CHWs in the Delft South area since November 2011. She said despite having a key role in basic health care for people in poor communities, the workers were often undermined. "There is no good relation with senior staff at clinics and the community care workers. They are often undermined because they are not wearing nursing applets. When they go to the clinics with the patients, they have to stand in the queue like everyone else," she said.
Mfiki said their main objective was to educate workers on their rights and provide a space where they can raise their concerns. "When working in the field, they are exposed to TB, HIV and various other health conditions. There is no accredited training for these workers. They have to sustain their families on low wages and they are constantly dealing with the criminal elements within the community.
"During our sessions, we discuss solutions to some of the problems, but there is only so much they can do on their own. We hosted an indaba in 2012 where they along with workers from the Eastern Cape, Free State and Gauteng met to talk about their challenges," she said.
Mfiki said there was no standard monitoring process in place for Government to properly monitor how the funds are spent within the NGOs.
"Government is giving money to the organisations without any monitoring system on how it is spent. Contracts and conditions differ between each organisation. The government needs to monitor what the money is being used for and compare it to statistics. There is also a disregard for the worker's health and safety," she said.
Hélène Rossouw, spokesperson for Western Cape MEC for Health, Theuns Botha, said organisations are required to included detailed financial documents when submitting their monthly claims.
"They sign a service level agreement which indicates specific funding for staff incentives, UIF, uniforms and ten percent admin costs. These claims are sent monthly, and on a quarterly basis some organisation's books are checked against their monthly claims," she said.
In response to issues raised about the late payment of staff, Rossouw said, "Some NPOs send in their monthly claims late. Their claims then get processed late which results sometimes in late payment of their staff. The department now pays the organisation two months in advance to try to avoid this from happening."
Rossouw said CHWs were discouraged from carrying visible personal belongings.
"The carers wear uniforms so they can easily be identified in the communities. The department has provided them with first aid bags for them to carry. Most of them work in pairs for security reasons," she said.
Rossouw said they were also waiting to study the draft policy once it has gone through the national process.
© 2016 GroundUp.
This article is licensed under a
Creative Commons Attribution-NoDerivatives 4.0 International License
.