There are very few top female DJs in the official charts, but things are changing; being a DJ is no longer a boy's club. For Women's Month, Zethu Gqola speaks to two Cape Town trailblazers, DJs Sideshow and DJ Ruthy Pearl, on what it means to be female on the decks.
"I'm not a musician. I am an entertainer, a selector. I have a distinct style and I have a very active presence which helps to create an impression that is easily relatable," says Angela Weickl, commonly known on the party scene as DJ Sideshow.
Weickl frequents the biggest parties in the city and has gained a large following thanks to her ability to work the crowd into a dance-frenzy with her heavy booty bass sound.
A DJ, radio host and promoter, she is known for pushing up-and-coming talent through hosting parties and supporting music initiatives promoting and contributing to the SAE Scholarship – events held by DJs Black Coffee and Ready D.
Becoming a well-respected female DJ is extremely challenging, especially because of the insinuations that people make with regards to female success in the industry.
"Being told that you're good for a girl is challenging; your skill level is judged based on your gender," says Weickl. "You have to work that much harder for people to take notice of your work and to take you seriously. Insinuations that you may have flirted or slept your way into the favour of influential males is also a downside."
In 2008, DJ Magazine, revered in the clubbing industry as the 'black book' for DJs, producers and promoters, was put under fire for never having featured female acts in its top 100 international DJs list. Since then, only three female acts have made it on to the list: Lisa Lashes being the first in 2009, coming in at number 75, Claudia Cazazu scraping in at 93 in 2010, and the Nervo sisters smashing the top 50 barrier and coming in at 46 in 2012. That's less than a one percent inclusion over the last four years. While to call this progress would be almost insulting, it's still a big improvement for an annual international poll that's had no female DJs in its 13 years of existence.
"The industry needs more female DJs. Good role models in the industry will show young ladies that their career options are boundless and that there is a future in music production and DJing," says Weickl.
"If you love music, this is a great way to have fun while sharing your passion with the masses. Learn the technical side, learn about the gear that you're using, and dabble in production. Not everyone will be an amazing producer, but it's a lot of fun. There are really excellent female DJs getting international recognition, so hopefully the next generation will breed a ton of them," says Weickl.
Ruth Pearl Molteno aka DJ Ruthy Pearl is a 29-year-old hip hop DJ who's made it as far as being featured on this year's Cape Town International Jazz Festival lineup. With a weekly slot on Good Hope FM, DJ Ready D's show, this savvy mixer is making an impression on the national music scene.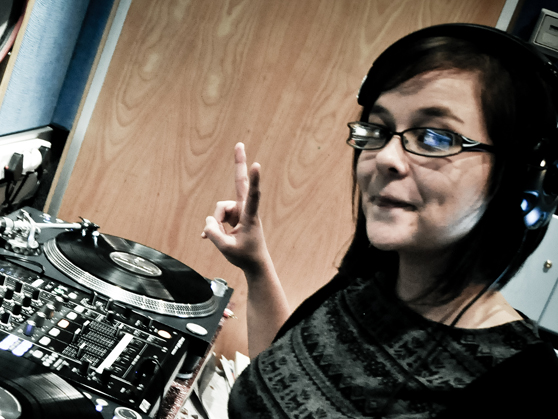 DJ Ruthy Pearl. Photo by Andy Mkosi.
"I don't think that there are many disadvantages to being a female in the hip hop scene. If anything, I think that it's an unfair advantage because there are so few females. However, sometimes I wonder if I was booked because I'm a good DJ or if they booked me because the hip hop industry is deprived of females," says Molteno. "At the end of the day it just makes me want to prove myself more. I'm thankful for the opportunity to play awesome music, no matter how it came my way. The opportunity was there for someone to take and I was brave enough to take it," she says.
Molteno also believes that there are general changes that need to be made to accommodate everyone – both male and female. Such changes include the implementation of an artist union that is run by business-minded creatives.
"It would help create some sort of fee structure determined by skills and experience, protecting the artists, female or male, from being taken advantage of. There needs to be more easily accessible and better marketed ongoing educational programs that provide an all-round understanding of every aspect of the industry," she says. "These programs especially need to be held out in our townships because that's exactly where the music is going to do the most healing and create the most difference. I have programs that I'd like to start, specifically in the Cape Flats because that's where I'm from," says Molteno.
Another DJ who shares the same beliefs as Molteno is now rated top female DJ in SA, Lady Lea. In 2009, Lea launched a female DJ agency called Divas on Decks, which aims to promote young up-and-coming female DJs, help them grow as artists, and encourage more females to get into DJing, while offering them a platform from which to take off.
Other female DJs making a huge impact on the local scene include the award-winning house-head DJs Zinhle, Durban's finest lady Cyndo, and hip hop queen Miss Cosmo.
Clearly, there's a long way to go, but it's safe to say that recent years have seen increased recognition of promising female talent and veteran femme-jocks alike. There are plenty of female DJ/producers around the world, but it's unfortunate that hardly any, and in South Africa sometimes none, are featured on the line-ups of the biggest music events and festivals. Only 10% of performers at music festivals around the world are female, and an even smaller percentage of women are on music label rosters. Despite pumping out great mixes and hard work, the recognition from booking agents and promoters – and the subsequent gigs and success – remain elusive. Hopefully the future will bring a fair representation of women on all platforms of music.