Members of the Treatment Action Campaign and residents marched today in Nyanga to protest about poor health services in Nyanga and surrounding townships.
The marchers went from Zolani Center in Nyanga East to Fezeka Health District Office, where TAC handed over a memorandum of demands.
Some of the demands set out on the memorandum were:
More dentists in the clinics so that patients do not have to start queuing at 2am
An end the disappearance of dockets in health centres
Faster treatment of patients at clinics for HCT and Pap smears
More nurses at the clinics
More doctors - at present only the Nyanga clinic has a doctor
TAC project organiser Ncedisa Ngcobondwane said Gugulethu community dental clinic was providing services to many surrounding communities including Nyanga, Brown Farm, New and Old Crossroads, KTC, Tambo Village and Philippi.
She said in the dental clinic there was only one dentist who worked only a few hours because of commitments elsewhere.
Many communities had complained about the queues and having to wake up early to get to public health facilities because of the limited number of patients that are served in a day due to shortage of staff.
She said many victims were robbed in the early hours of the morning as they left home at 2am to queue for services which they sometimes did not get.
People in the crowd complained about the disappearance of folders at the clinic and other problems.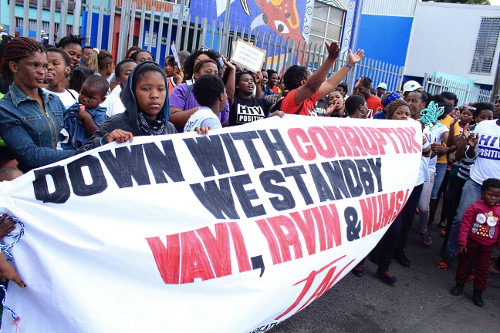 Photo by Masixole Feni.

Mziyanda Dlula told GroundUp that when he visited Crossroads clinic two weeks ago, he was told that his folder was missing and that he had to start from scratch.
"I went to Crossroads clinic for dental surgery and I was told that my folder was missing, and the dentist also told us that there were no dental tools to help us. This all happened on the same day," he said.
Nomahlubi Mhlalili said sometimes she would spend the whole day at the clinic and go home without getting any help.
Ngcobondwane said TAC had raised these problems with the City of Cape Town several times, most recently in September this year, and the City had promised that a doctor would start at Nyanga clinic on October 1, but this had not happened.
Tantaswa Ndlelana of TAC handed over the memorandum to a City manager, Thembeka Nojaholo, who said she had read and understood the grievances and would pass the memorandum on to her superiors.
Ngcobondwane said if there had been no response in 14 working days TAC would take the issue to the provincial department of health.