This was the year after Madiba died. We reported many tragic stories and breaches of human rights. But we also showed moments of happiness, beauty and dignity. Here is some of the best GroundUp photography and reporting of 2014.
Fishing the Black River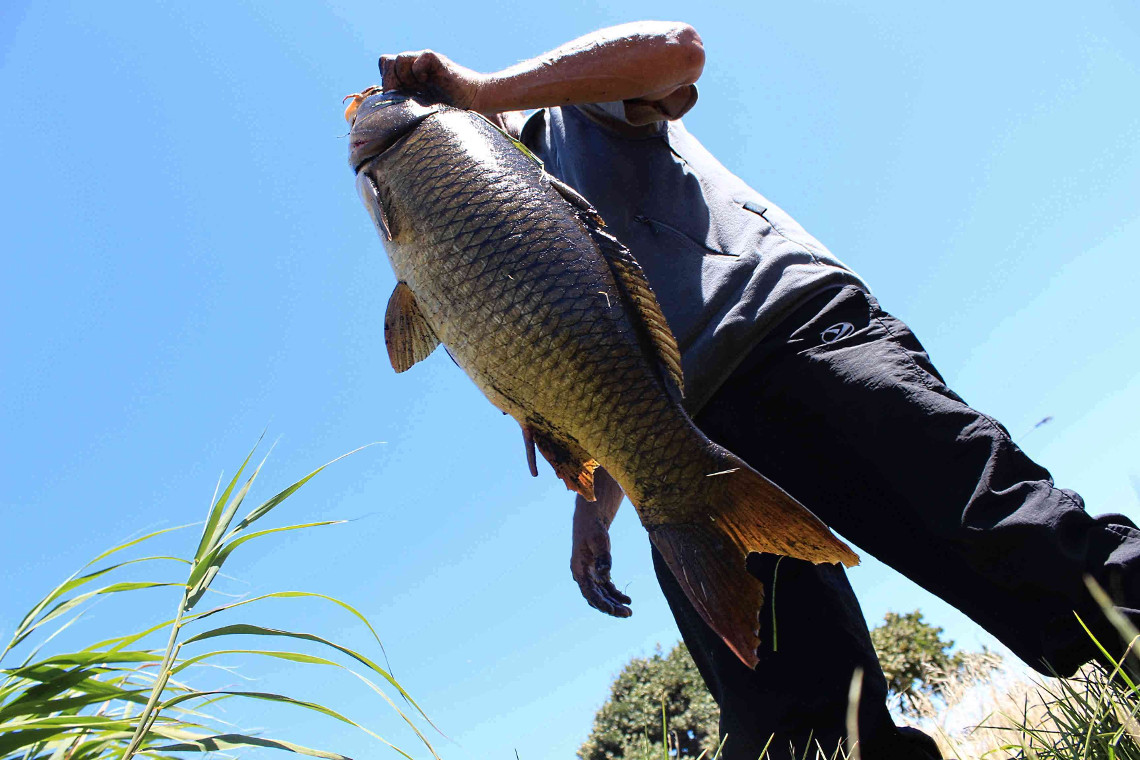 Wayne Wilke's fishing exploits in Cape Town's Black River were captured by photographer Masixole Feni.
Mpumalanga's environmental crisis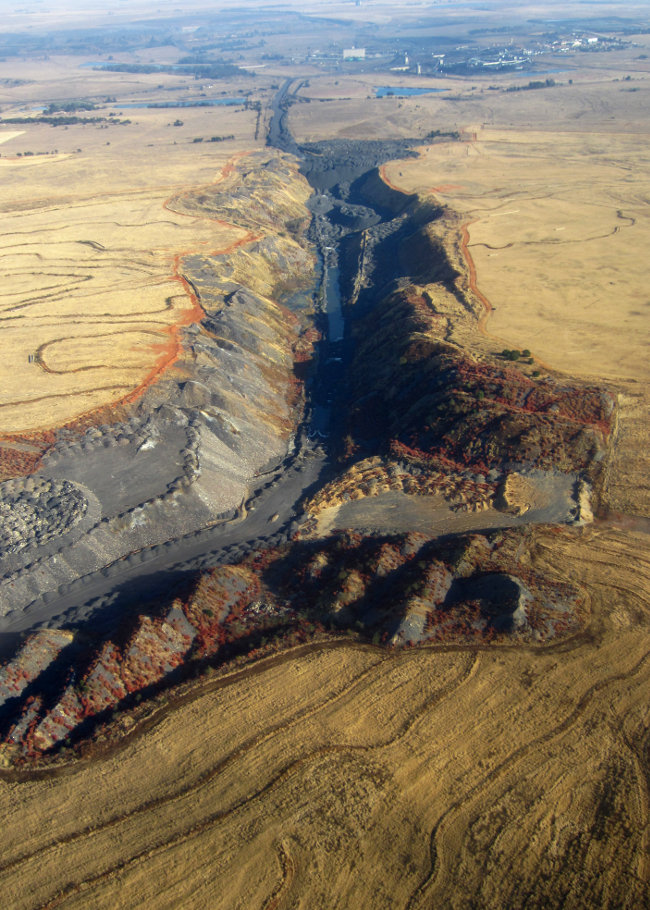 Tracey Davies of the Centre for Environmental Rights explained how Mpumalanga is being polluted by unregulated mining.
A creche gets toilets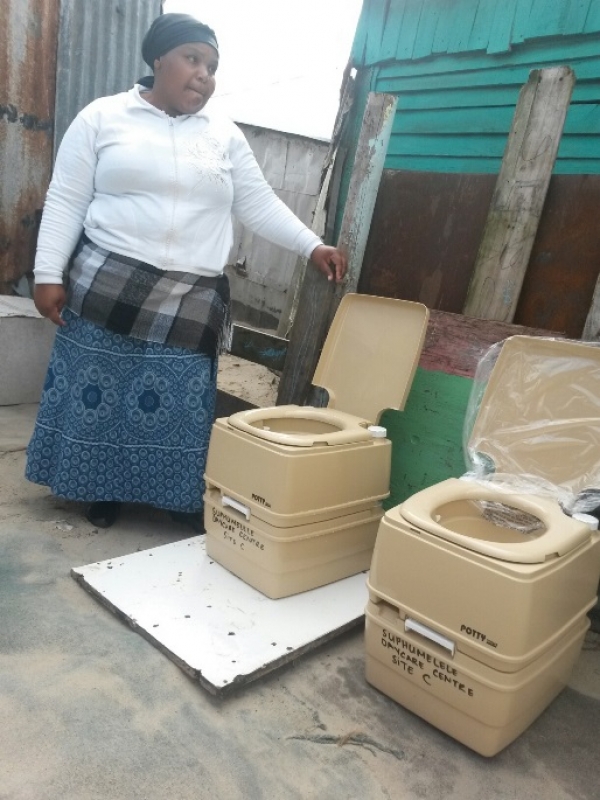 Sanitation was a recurring theme in 2014. But this story by Barbara Maragele about a creche in Khayelitsha that had no toilets, eventually had a satisfactory ending when the City of Cape Town delivered portable toilets to the creche.
To audit or not to audit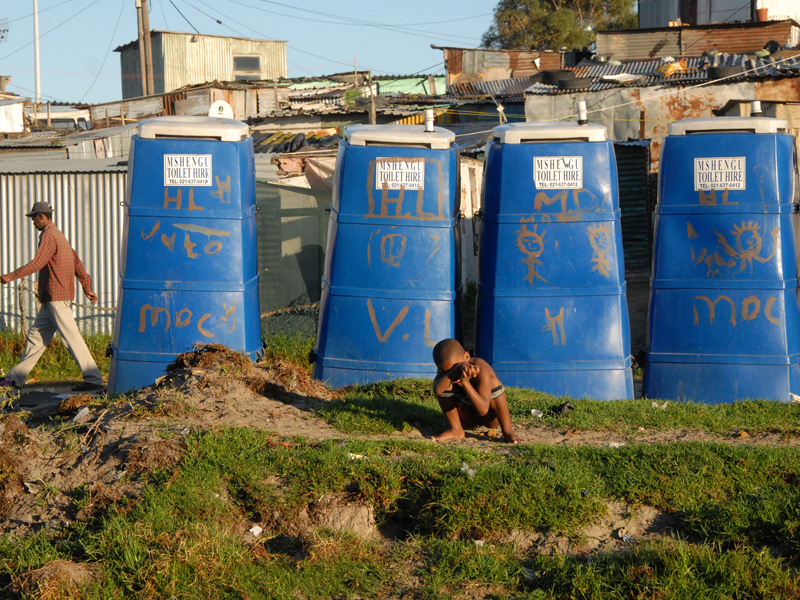 A child defecates in front of toilets managed by Mshengu, a company contracted by the City of Cape Town to provide toilets in informal settlements. Photo by Masixole Feni.
The Social Justice Coalition's social audit described problems with the delivery of toilet services in part of Khayelitsha. The City of Cape Town responded by arguing the audit was not representative of the service it provided. GroundUp carried a series of articles presenting both the SJC's and City's views.
One of Cape Town's hardest jobs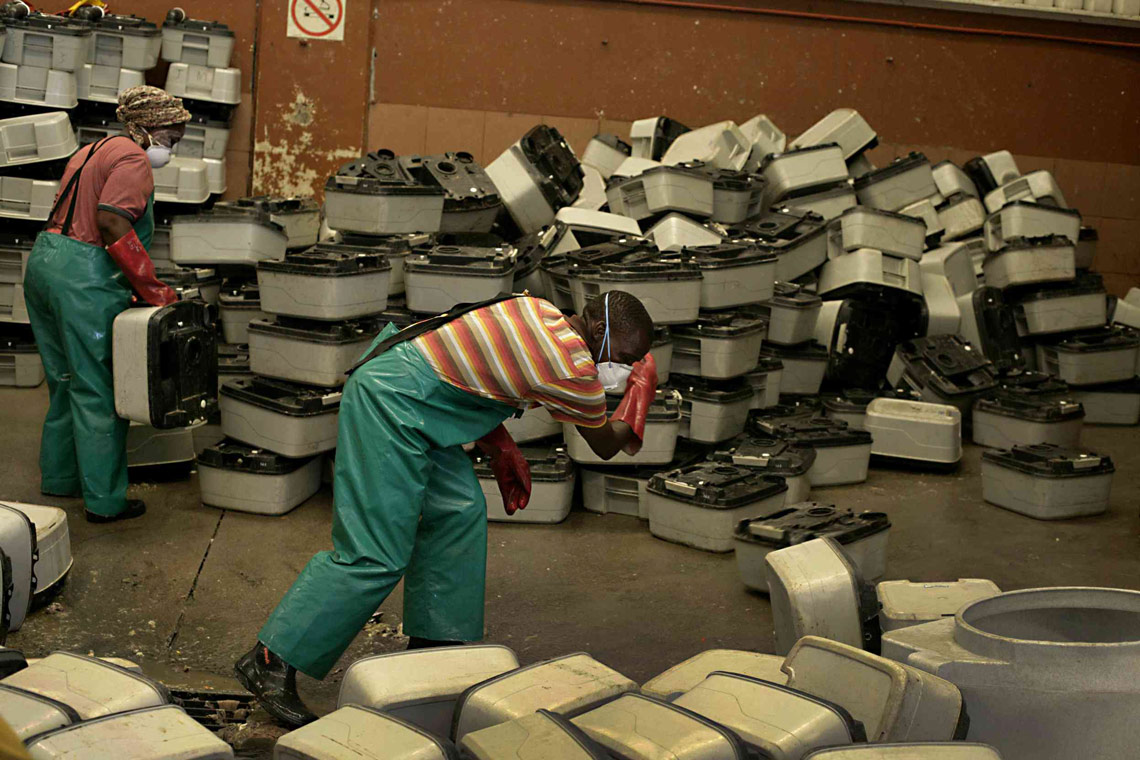 These workers at a facility in Airport Industria clean portable toilets. Zintle Swana told the story of a "House full of faeces". Photo by Masixole Feni.
Long trek to education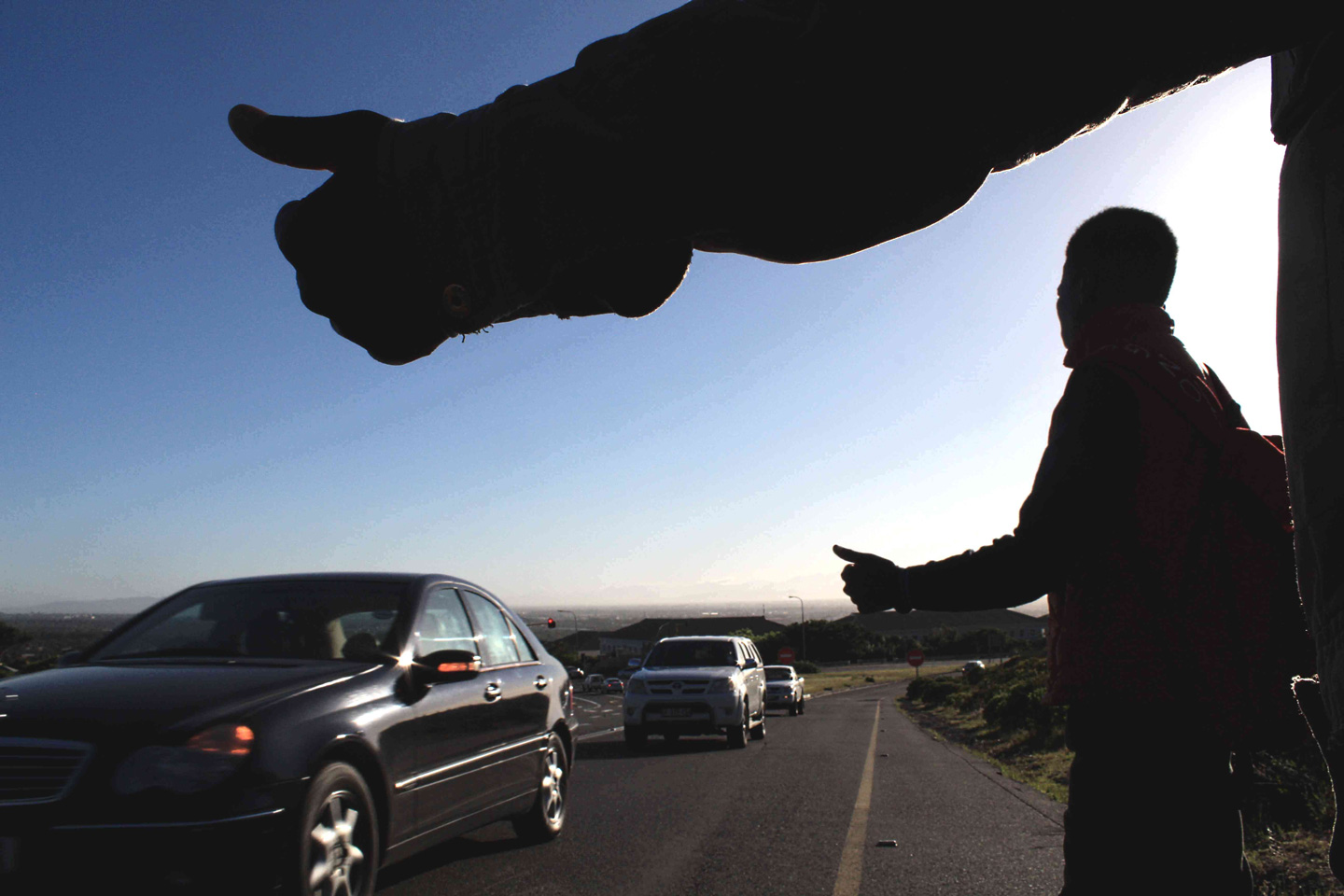 Everyday, these children hitchhike over a mountain to get to school. People do extraordinary things to get an education. Thembela Ntongana told the story of the Westlake students. Photo by Masixole Feni.
Redhill's ruins

Decades after being forcibly removed the former residents of Redhill, a beautiful area overlooking Simon's Town, are struggling for justice. Story by Barbara Maragele. Photo of former resident Margaret Constant by Masixole Feni.
Fighting Ebola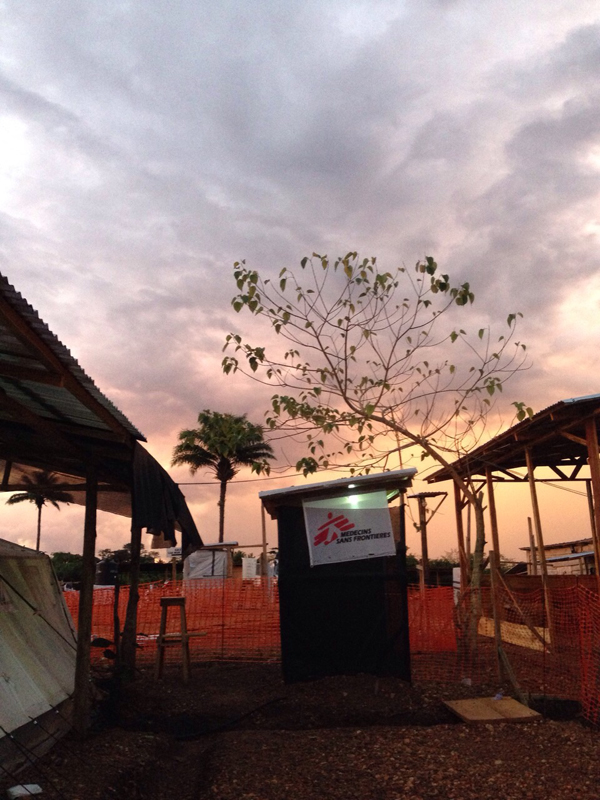 University of Cape Town epidemiologist Kathryn Stinson volunteered to go to Sierra Leone to help the effort against Ebola. Her dispatches from the front line of the epidemic were moving yet sober and informative.
A successful commission of inquiry

From left to right: Dan Plato, Helen Zille, Kate O'Regan and Vusi Pikoli. Photo by Masixole Feni.
It has been a year of commissions. But only one was completed within a reasonable period of time and also had an outcome that was broadly accepted: the Commission of Inquiry into Allegations of Police Inefficiency and a Breakdown in Relations between SAPS and the Community in Khayelitsha. Adam Armstrong reported it extensively.
How to build a shack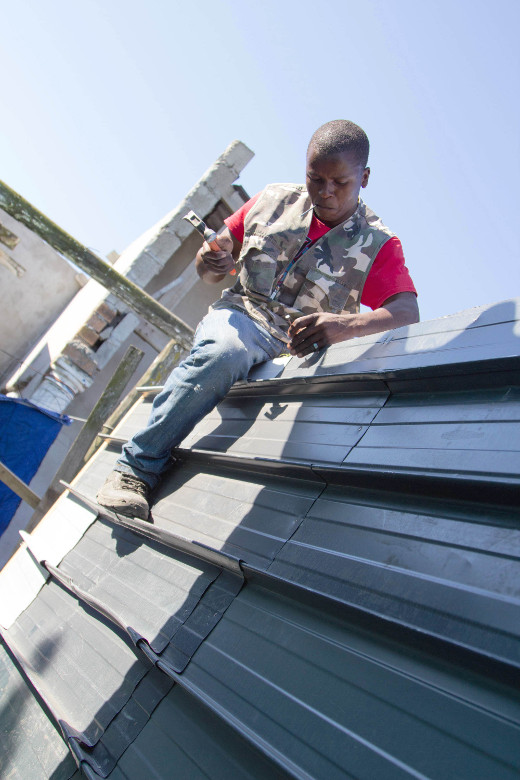 A man who only identified himself as Obey builds a shack in Philippi. Joyce Xi and Mary-Anne Gontsana showed how shacks are commissioned and built from start to finish. Photo by Joyce Xi.
Winter nightmare in Lwandle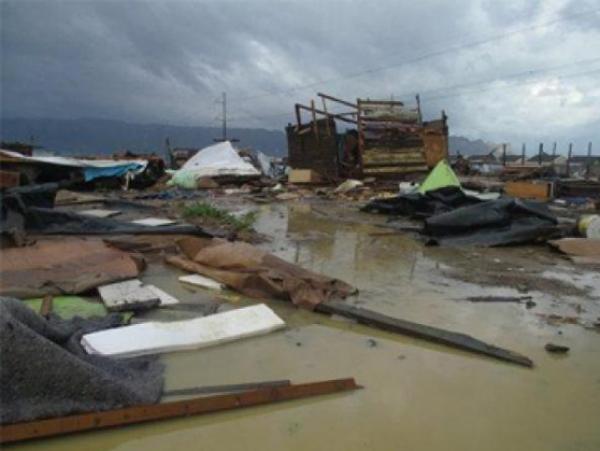 The aftermath of the Lwandle eviction. Photo by Barbara Maregele.
Residents of Lwandle found themselves in the cold when they were evicted in winter. GroundUp covered this acrimonious and tragic story in depth.
Live ammunition used against eviction demonstration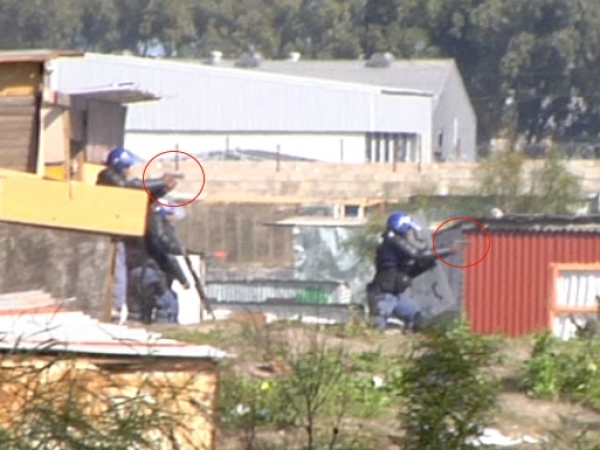 Riot police seen aiming service pistols at protesting shackdwellers in Philippi East. Photo by Pablo Pinedo.
The Philippi East informal settlement, called "Marikana" by its residents, has been a focal point of evictions. Daneel Knoetze and Pablo Pinedo were there when the police fired live ammunition at residents protesting against an attempted eviction.
You see yourself dying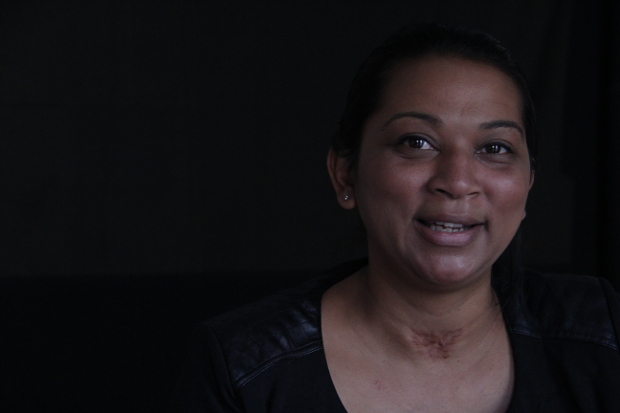 Daneel Knoetze investigated the lack of access to effective medicines to treat drug-resistant TB by telling Andaleeb Rinquest's heart-wrenching story.
Fleeced by Ellerines and African Bank

Domestic worker Patricia Qwase had to pay R26,000 to African Bank for R7,000 worth of furniture she bought from Ellerines. Michelle Korte told the story.
Using a sock as a sanitary pad
The most viewed news article on the GroundUp website in 2014 was Pharie Sefali's report telling how girls in township schools deal with not being able to afford sanitary pads. The public response to this article was generous. Thousands of sanitary pads were dropped off at our office and distributed through Equal Education and other organisations. The artwork is by Thandiwe Tshabalala (copyright on the image belongs to her).
Mayhem and violence at Home Affairs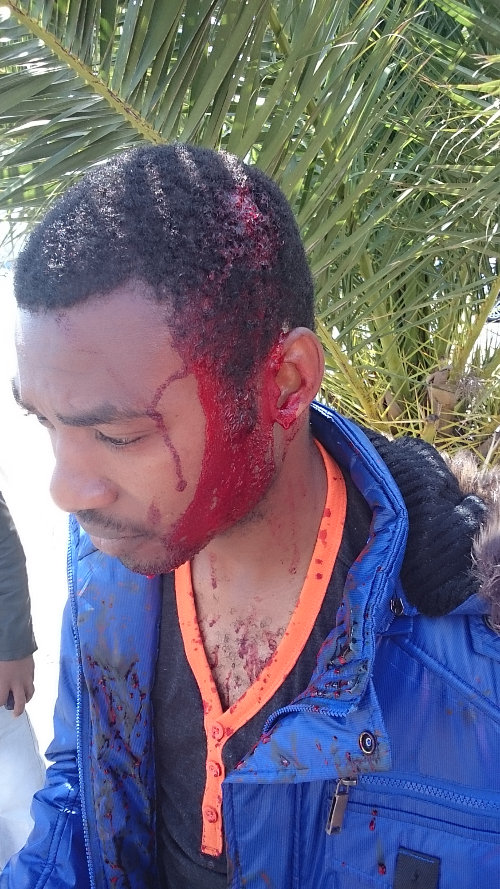 Tension at Cape Town's Refugee Centre on the foreshore finally boiled over in November. Immigrants, fed up with what they saw as incessant Home Affairs ill treatment, rioted. Police responded with rubber bullets. Tariro Washinyira was on the scene. Pictured is Tresor Mbuga, an asylum seeker from the DRC, who was injured and taken to hospital. Photo by Francois N'siku Vovelo.

Sea dwelling Cape Town resident. Photo by Masixole Feni.