The City of Cape Town has policies in place, not to make it more difficult for our residents to live dignified lives, but to ensure that land use and housing delivery is equitable. The undeniable fact is, there is limited land available. And there are many people coming into our city for a better life. So, we have to be as fair as we can.
This is a response by the City of Cape Town to GroundUp's article Shack demolished because of an unauthorised extension published on 19 February.
We have a policy that allows occupants to apply to our Informal Settlements Management section for permission to extend their structures if family circumstances warrant it. This is necessary because we have found, with much experience, that residents sometimes extend their structures so that the extended part can be rented out to a boarder.
This severely impacts on housing delivery. If the status of informal settlements is known, the City can plan in terms of services needed and future accommodation. If further illegal occupation takes place unchecked, it creates an impact on the planning being done and additional land having to be found for these additional occupants. It too creates further load on the already overstretched services in the settlements.
Importantly, allowing the extension of structures to go unchecked can often block the way for emergency personnel to gain access to informal settlements. While removing extensions might seem an unnecessary, bureaucratic action to those who don't have to deal with going into informal settlements during floods and fire, it could save possessions, structures and even lives.
In this particular case, the occupant had sufficient time to stop construction as he was served notice the day before removal took place when the extension was still incomplete. He was fully aware that what he was doing was illegal. He says he had planned to seek permission but why only do so after the fact?
Our staff advised the occupants that as they had not heeded the warning served the day before, the City would have to remove the illegal extensions. They were asked to vacate the structure for their own safety and did so.
At no time were any personal belongings damaged, nor was any loss reported to us. If the occupants feel aggrieved, they have the right to lay charges against the City for malicious damage to their property.
Also, in the report it is claimed that we removed the whole structure, which is not correct. We understand sensitivities around removals so we carefully record details. We have photographic evidence, available on request, to show that only the illegal extensions were removed.
Reddy is a spokesperson for the City of Cape Town.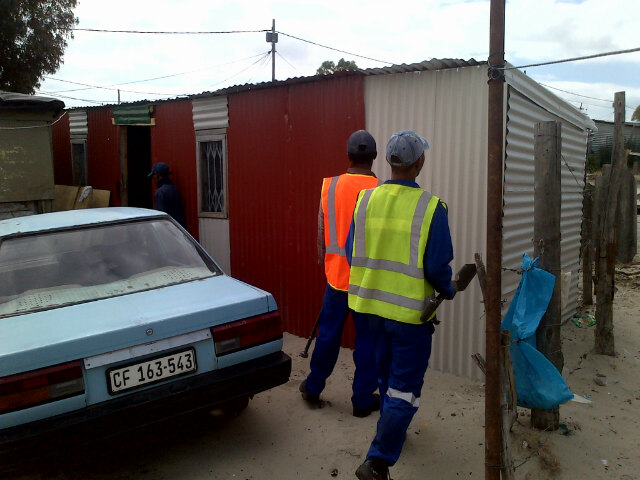 Photo of the shack in question provided by the City of Cape Town.